Home
»
China military
» 07-style dress uniforms army reserve ceremony held in Beijing (Photos)
07-style dress uniforms army reserve ceremony held in Beijing (Photos)
Date:2011-08-30
Author:admin
Category:China military
Comment:0
07-style reserve uniforms – men dressed in uniforms Spring
07-style reserve uniforms – Women's Spring Supplements
07 reserve-style uniforms – navy men spring uniforms (white)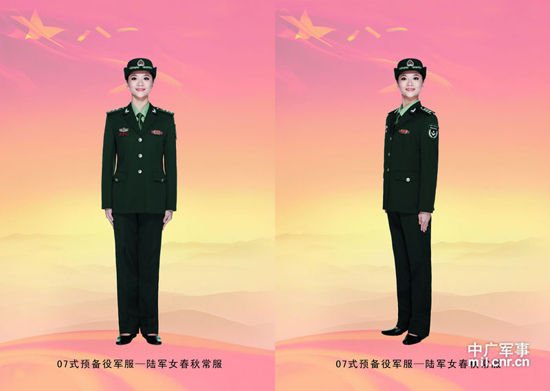 07-style reserve uniforms – Army Women's Spring Supplements
Xinhua Beijing, April 26 (Li Yun, Wu Xu) Chinese reserve army-style uniform dress 07 26 ceremony held in Beijing.
reserve forces to participate in the ceremony dress is divided into 10 square teams, showcasing the new renewal of the Army, Navy, Air Force, Second Artillery Reserve 07-style uniforms. In order to fully show the convergence of military and civilian reserve forces, and ideas established in the local industry the system the results of reserve forces, reserve forces in Beijing's part of the communication equipment, medical support, air defense, anti-chemical and other equipment have been displayed together.
General Staff, said the leadership of the Ministry of mobilization, active duty military forces after the renewal of 07-style uniforms and reserve officers and soldiers participating in military training and mission, still wearing a 87-style uniforms. With the reserve forces and active forces to carry out military training, the implementation of major tasks, the standard mix of old and new uniforms, not conducive to the management and implementation tasks. The facelift of the reserve forces to promote the construction and development, deepening of national defense education to inspire the army reserve officers and men of honor and responsibility to play a positive role.
Currently, 07-style dress uniforms reserve has been started, the PLA headquarters is a unified organization to tailor the reserve officers to ensure proper uniform body fit. 07-style uniforms will reserve the date of May 1 this year, were issued in the hands of reserve officers and soldiers.
07 reserve-style uniforms in the style, color, fabric and other active-duty military uniform and consistent, but with the active duty military uniforms, logo apparel there are four main differences: the different styles of clothing logo, logo apparel in different colors , less than the active duty military uniforms, military uniforms, variety, daily management of the root different uniforms.
According to the Chinese state and military laws and regulations, reserve forces are an important part of the PLA, the armed forces formed into the sequence, and the designation granted to flag. If necessary, reserve officers and soldiers will turn on active duty in accordance with national law.
related reports:
HD Photo: People's Liberation Army Reserve Series 07-style uniforms unveiled
HD Figure: 07 military-style reserve uniform dress ceremony held in Beijing
old army reserve uniform logo apparel there are four different (Figure)
our reserve forces Description: Artillery by the armed reserve component