Russia said two years to deliver next-generation Borey-class strategic nuclear submarine
Date:2011-08-30
Author:admin
Category:International military
Comment:0
data for: Russian Borey-class strategic nuclear submarine No. 尤里多尔戈鲁基 close-up rudder command.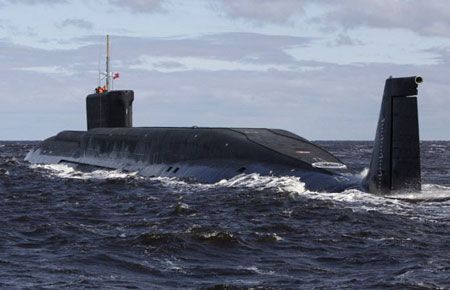 data for: 尤里多尔戈鲁基 number of strategic nuclear submarines.
Itar-Tass 15 March 2011 reported that this region of northern Severodvinsk naval machinery factory will deliver three new generation of nuclear submarines. Message from the Shipyard Nicholas Raja Forest La Tuofu.
Gary Stella Akhmetov supervision in the manufacture of nuclear submarines, said at the meeting, this year our task is relatively heavy. We deliver three nuclear submarines for the Navy, the fall will be for the Indian Navy aircraft carrier pilot. Therefore, we should step up their efforts. More than 100 at the Federal Ministry of Defense, businesses, representatives from the design side.
this year to be delivered to the Navy's three nuclear submarines are: "North Wind" class (Type 955) strategic nuclear submarine first ship, "尤里多尔戈鲁基" was, at the same level of the first mass-produced ship-ship "Alexander Nevsky" was, "Yasen" class (Type 885) multi-submarine "Severodvinsk" sign. Over the past decade Russia's purpose-built nuclear submarine shipyards have not delivered any new nuclear submarines, machine factory in the north end of a nuclear submarine built in 2001 for the delivery of the 971′s Northern Fleet, "Cheetah" nuclear submarine.
work ahead this year as well, "Alexander Nevsky" and "Severodvinsk" was going to be sailing trials. "尤里多尔戈鲁基" has completed 10 test site in several sea voyages to detect the submarine's navigation speed and mobility, and carried out shipboard equipment and weapons systems testing, the submarine also training for the missile launch.
"尤里多尔戈鲁基" submarine construction started in 1996, launched in 2007. Plant was completed in 2010, sailing trials. 955 submarines, "Alexander Nevsky" was December last year, water machinery factory in the north, the submarine spent about 2.3 million rubles ($ 8,006,000). The construction of the shipyard will continue to the next one class ship, "Vladimir Mono Mach" number.
"Severodvinsk" fourth-generation multi-functional nuclear submarine by the St. Petersburg "malachite" Bureau of Naval machinery designed in 1993 to start construction machinery factory in the north, June 15, 2010 water. "Severodvinsk" was installed in Russia for the first time to torpedo the middle of the submarine hull, and in the installation of new boat bow sonar system. Including supersonic cruise missile weapon system, multi-use self-guided torpedoes and mines. July 2009 the second ship of the class of ship, "barracks" was to start construction. "Yasen" class (Type 885) nuclear submarine were plans to build 6. (China Shipping Information Center MENG)