Home
»
China military
» Reputation of an anti-PLA deployment of a variety of UAV operations involved (Figure)
Reputation of an anti-PLA deployment of a variety of UAV operations involved (Figure)
Date:2011-08-30
Author:admin
Category:China military
Comment:0
data for: WJ-600 Chinese-made UAV and other models. Photo: cold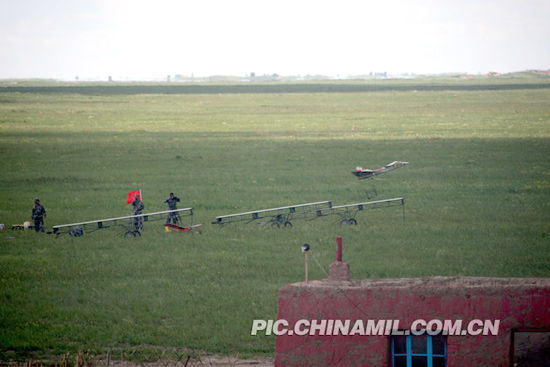 Data for: July 21, 2009, to participate in" Peace Mission 2009 "joint anti-terrorism military exercise Chinese special forces release UAV.
5 U.S. Aviation Week article said that the PLA may have deployed a variety of models is not known outside of the UAV system, will be used to implement "anti-access and area denial" capability, but PLA's experience in the use of UAVs to be improved.
article said, China has shown in dozens of Zhuhai Airshow UAVs model showed that the Chinese military industry is catching up, even more than the West will eventually UAV technology. In the defense sector, China can not count on Western technical expertise and professional supplier of commercial aircraft and helicopters as departments, but many of China's Zhuhai Air Show aircraft incredible familiarity that China is openly copied the successful design, speed UAV systems.
article points out, the display of model aircraft, or flight video you can see, the Chinese analog of Israel, "Heron," U.S. "Raven", "Shadow", "Predator" "Global Hawk." Which range from portable to the hollow and short-range high-altitude long-endurance (MALE/HALE) UAV system.
G2 Solutions (G2 Solutions) research director of market analysis partner Ron ? Stearns said that in the analysis of these videos and models, you can see the "People's Liberation Army seems the best tactic is being used, MALE/HALE design and for their own use, they copied the design maturity, faster operational concept for command and control and work to create a real UAV capability. "
The article said that China UAV development will have the scope and speed of industrial and military influence, especially for the United States. Extensive use of unmanned aircraft systems in Iraq and Afghanistan for reconnaissance and combat has attracted interest from other countries, but U.S. export restrictions by the guidelines, in order to prevent the spread of cruise missiles. China has no such restrictions, and now export military UAVs have become a new focus.
number of PLA fielded UAV mystery
The article said that China's development of unmanned military significance is more difficult to estimate, because although Beijing has been on display at the Zhuhai air show dozens model machine, but from the point of view to obtain pictures and video, only a small number of UAV flight messages from outsiders. Therefore, if any, people do not know the number of UAVs have been fielded. At present, China's control of tactical UAVs for longer than 20 years, and perhaps also the development of some of the more advanced design, or have a limited number of UAVs in operation.
MAV6 CEO and general manager of systems integration, U.S. Air Force is responsible for intelligence, surveillance and reconnaissance of the former deputy chief of staff David ? Deputula (David Deptula), said: "I wanted to understand China without the real human situation is indeed difficult, but they apparently develop and enhance their own ability to use this cutting-edge technology from the Chinese J-20 stealth fighter who, we can see that it is much more than a copy . "
in with their own design capability, the Chinese aerospace manufacturing industry to choose from Russia and other countries, a replica of the aircraft began; China UAV is to go with the similar route. While some of China's unmanned aerial vehicles to the West looks like a direct copy of the design of unmanned aerial vehicles, but other UAVs – such as BZK-005 high-altitude unmanned reconnaissance aircraft, and "pterodactyl -1″ (Pterodactyl-1 ) unmanned aerial vehicle – has been validated using the configuration to meet the needs of the Chinese people.
Deputula said, through a variety of designs can be seen that China is studying the UAV. He pointed out that China already has some relevant capabilities, and pointed out that China has purchased from Israel, "Harpy" anti-radar drones, but also the hundreds of frames made of old aircraft, such as the F-6 (J-6) aircraft converted into remote control flying bait. "Although only as bait, but they have the potential to implement any more complex operations, the UAV will continue to explore the potential."
the PLA could use unmanned aerial vehicles involved in the implementation of anti-war
article said the Chinese armed forces have to take full advantage of unmanned systems is still unknown. Deputula said: "The answer to this question is yes, it can be negative, they have many techniques, but lack of experience." However, since the United States focused on surveillance and combat, then China can be no machine for other areas, in order to gain an advantage.
Dr. Stevenson believes that China will use an anti-UAV missions involvement and regional blockade, and persistent surveillance and strike missions. He referred to the Zhuhai Air Show in the appearance of jet engine propulsion WJ-600 UAV, UAV similar to the U.S. "Tomahawk" cruise missiles, but they can carry weapons, and the call can be used to display information to combat aircraft battle group. However, Dr. Stevenson, a relatively low complexity of the WJ-600 UAV "It is surprise," adding that the Chinese UAV, "not good enough to perform the necessary task of asymmetry."
However, UAV technology by studying the West – including both public information, including the possible penetration of information obtained through the network – that China can quickly bridge the technology gap. Dr. Stevenson said: "The U.S. Department of Defense UAV research and development work in each year 50-6000000000 U.S. dollars investment funds in China in the field can be easily put into 20-3000000000 U.S. dollars of funds." (Spring)