Home
»
China military
» The names of the candidates of the two female astronauts exposure: Liu Yang Yaping
The names of the candidates of the two female astronauts exposure: Liu Yang Yaping
Date:2012-06-11
Author:admin
Category:China military
Comment:0
in 6 mid-May, the Shenzhou No. 9 spacecraft carrying three astronauts to choose the launch.
Data Figure: left-for Yaping right for the Liuyang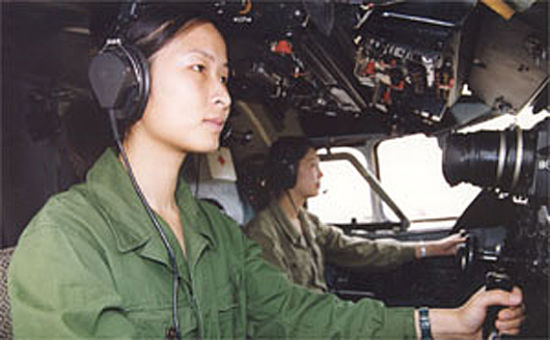 Liu Yang flight photo
the Wang Yaping flight according to June
mid-Shenzhou No. 9 spacecraft will carry three astronauts to choose the launch with the" Temple "target spacecraft rendezvous docking. China's first female astronauts also will carry the spacecraft into space, which is China's first manned space rendezvous and docking.
9
Shenzhou into the launch tower
Yesterday, the implementation of China's first manned rendezvous and docking mission of Shenzhou on the 9th spaceship, the Long March II F away nine rocket combination, from the Gansu Jiuquan Satellite Launch Center in manned space launch site technical area vertical transported to the launch area. This marks the Temple One Shenzhou No. 9 manned rendezvous and docking mission to enter the final stage of preparation.
according to plan, Shenzhou on the 9th, the spacecraft will be in mid-June to choose the launch.
the Shenzhou 九号 spacecraft propellant filling, with the launch vehicle lifting butt to form a complete combination.
9 10 at 30 minutes, carrying the combination of active launch platform pulled out of the manned space launch site, the vertical assembly and testing plant, safe transit to the launch tower, and then will be the spacecraft, rocket functional testing and the boat arrows to testing.
If all goes well, the three astronauts equipped spacecraft will enter the Temple One work and life.
the scene of an authoritative expert, said: Shenzhou has identified the first launch window on the 9th, will be launched on the afternoon of the 16th of this month.
first female astronaut into space
It is understood that the three astronauts will have a female.
Recently, the famous space technology experts, the first chief designer of the Shenzhou spacecraft Qi Faren, Chinese Academy of Engineering in an interview to confirm this news.
Qi Faren said, there are two female astronauts participating in the training, if no accident there will be a person into space.
It is understood, most notably the two female astronauts, where a man named Liu Yang; another named Wang Yaping, who served in Wuhan flight forces. Two female astronauts because of its excellent flying skills and superior mental qualities, numerous selection to determine the multiplication group of female astronauts in the first flight.
Qi Faren, said, "divine nine" and "God, eight tasks are to achieve rendezvous and docking with the" One Temple ". "Divine nine" and "God eight terms of the basic state of the spacecraft does not change the size is not changed, but different test tasks. He confirmed that the "divine nine" do not arrange the activities of the spacewalk in the cabin. According to Xinhua News Agency, the Guangzhou Daily, Wuhan Evening News reported
(edit: SN031) share: