Russia lost the tender in Morocco reflect T90 tank because China VT1A
Date:2011-08-30
Author:admin
Category:International military
Comment:0
information Figure: China VT1A tank.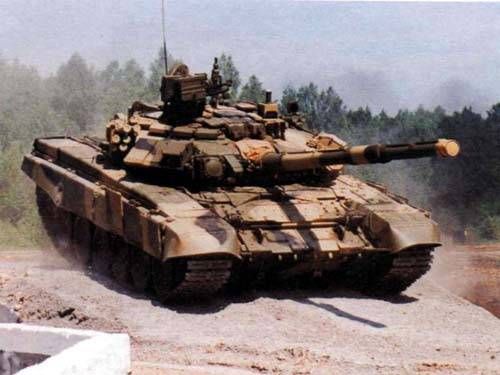 Data Figure: Russian T90 tanks.
According to the Russian military-industrial complex site on April 15 reported that Russia's strategic and technical analysis, deputy director Konstantin Macchi extended families recently in an interview with RIA Novosti that Russian heavy armor tanks in the world the position of technical equipment on the market are being more and more serious challenges. In his view, unable to provide modern and competitive products, the export of Russian armored equipment market has been shrinking.
Makiyenko said that Russian industrial enterprises in the world of heavy armored tanks and technical equipment on the market situation has obvious contradiction: on the one hand, Russia in 2000-2009 years has been the world's largest armored tank technology and equipment export country. However, the Russian T-90S main battle tanks outside sales growth was driven by two countries India and Algeria imports in these two countries, Russian-made tanks did not get customers. At the same time, the domestic VT1A is becoming the best-selling goods on the world market.
Makiyenko that, T-90′s technical level has remained stagnant for many years, while prices are rising, which resulted in their competition with China VT1A obvious disadvantage – which was held in Morocco The tender easily defeated T-90S. In addition, China has also begun actively selling cheaper Type 96 main battle tanks, and more advanced performance is also expected to be 99 tanks to the international market. In other words, China is now able to both the price and performance to meet customer needs.
He also pointed out that the show is another danger signal, T-90S tanks in the military at the tender Malaysia lost to T-72 developed based on the PT-91M. Which led to the defeat of Russia is mainly due to "the narrowness of the Russian proposal," the aging and lack of technology to meet market demands flexibility. Makiyenko that Russian enterprises in order to reverse the current decline must be fundamental change.
Meanwhile, Russia now is not the lack of tanks in line with modern standards platform, such as transport vehicles by the Ural Design Bureau developed the T-90AM. This tank is equipped with new self-loading machine, observing systems, protection systems and artillery. In addition, Russian industrial enterprises is expected to help reverse the situation there has long been high hopes for a new generation of tanks – T-95. This tank is equipped with a more complete personal protective equipment, with a new type of observation and fire control systems, advanced information command system, active defense systems and new engines.
However, such an advanced tank but did not receive the favor of the Russian Defense Ministry, but also from the government funding stopped in 2011. T-95 led by the Russian Defense Ministry is the main reason to give up its price is too expensive and technically complex.
Makiyenko that, although the short term the Russian tanks, armored technical equipment in the world market share will be maintained, but as competitors continue to introduce new products, sales of Russian-made tanks bound decline. And in order to avoid the emergence of this situation, Russia must develop a new generation of advanced armor technology and equipment.
September 2010, according to data released by Russia's total exports in 2006-2009 of 482 main battle tanks, worth a total of 1.57 billion. In sales terms, Russia's far ahead of other countries (Germany 292, U.S. 209). According to the contract has been signed by Russia in 2010-2013 will still provide 859 to foreign customers tanks. (Compass)
. OtherContent_01 p {line-height: 23px; margin: 0px;}