Japan revealed that the mind demonstrator technical details of the 13 tons of small fighter
Date:2012-04-22
Author:admin
Category:International military
Comment:0
the advanced technology demonstrator machine" open riveting ceremony, Minister Akimoto, Research Division, said: "mind" will be the highest priorities of the ministry of defense </span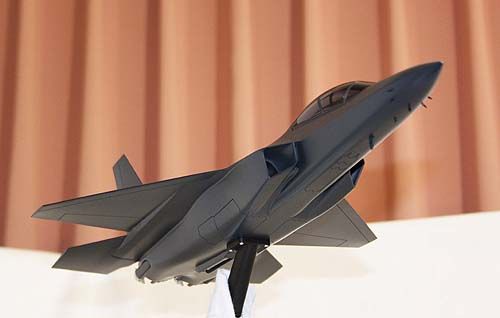 advanced technology demonstrator began to assemble the" mind "model
Japan" asakumo, News "reported on April 5, 2012 in Japan in 2000 began the development of the" pill "stealth fighter" mind " The first flight in September 2016, now finally starting to assemble.
Japan Air Self Defense Force decided to U.S. stealth fighter F-35A "Lightning 2″ as the alternative models of the F4 fighter, to live up to the domestic manufacturers in late 2011. The leadership of the Research Division advanced technology demonstrator (ATD-X, mind) March 28 to enter the manufacturing phase.
Mitsubishi Heavy Industries, the project leader, said: "'mind' is like 'Ninja' aircraft, the opponents will not be found. Superior motor performance (attack) can easily dodge engine with thrust-vectoring nozzle, usually able to stall as the low speed to maintain the flight. can quickly change the head direction. "
total investment of 39.2 billion yen ($ 490 million) development of a single Block, the most important feature of the twin "mind": (1) does not reflect waves of stealth shape, coated with absorbing materials, it has a high stealth. (2) afterburners and thrust vector so that it has high mobility.
high mobility rely on new research and development of integrated flight control system "IFPC" (Integrated Flight Propulsion Control). The pilots rely on a joystick can control both the wing and the thrust direction, the future will be impossible to achieve high maneuvers.
the other hand, high stealth, empty since the radar base station and the sea since the frigate's stealth fighter invasion exactly whether Discovery, have quickly found the ability to "mind" as a future research and development of new radar The goal of the prototype to play a role.
"mind" weight about 13 tons, according to Mitsubishi Heavy Industries produced before physical model (a total length of 14 meters, 9 meters wide) and large speculated that non-official announcement. The F-22 a total length of 19.5 m, F-35 a total length of 15.7 meters, compared to the "mind" is a small fighter. It was also known as "Heisei Zero fighter". Trials with "mind" is not equipped with high-performance radar, electronic warfare equipment and weapons systems. This is because when the fuselage of the fighter practical to load missiles and other weapons left space, the body may increase. "Mind" during manufacture, but also through training simulator to train pilots. Japan hopes to thus create Japan's own "pill" stealth fighter. (China Aviation Industry Development Research Center of Jiang Ting Yun)
. OtherContent_01 p {line-height: 23px; margin: 0px;} (edit: SN031) . icon_sina,. icon_msn,. icon_fx {background-position: 2px-1px}. icon_msn {background-position:-25px-1px;}. icon_fx {background-position:-240px-50px;} share: