Home
»
China military
» British media said China planned to have a global deployment in 10 years, the ability
British media said China planned to have a global deployment in 10 years, the ability
Date:2011-08-30
Author:admin
Category:China military
Comment:0
data for : Chinese naval fleet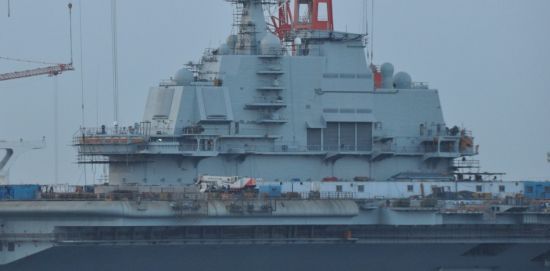 friends shot," Kuznetsov "aircraft carrier transformed field data for
BBC reported on June 8, the carrier is a Chinese military strength The most obvious symbol of the rise; China's latest big gray hull ships of 60,000 tons displacement, which is currently moored in a dock in Dalian, Hong Kong, almost ready to set sail.
the British media that the PLA do not want their first aircraft carrier to disclose any information, because it has no formal service. But Kuznetsov moored there, for all to see. Huge aircraft carrier docked there for many years, has been renovated and converted to accept. It is China's increased military strength unmistakable signal, but also reflects China's desire to go further than before the power of their vote to a place farther from the border.
British media said that China, a retired Major General said: your aircraft is a symbol of naval power. China should at least have an aircraft carrier and other permanent members of UN Security Council has the same level. Currently, seven countries have aircraft carriers around the world. Before eight, but the British had retired the last aircraft carrier, built a new have to wait a few years. "Aircraft carrier is a symbol of deterrence, as saying: mess with me; do not think you can bully me, so we want to have an aircraft carrier is a normal thing, if China does not have aircraft carriers, but I think it is very strange thing. "He also said:" Our military development and economic development should be linked; in energy and trade, our interests have expanded to the world and we need to protect some in Asia, the Indian Ocean, Africa and the routes across the Pacific, Therefore, our military forces need to keep pace with the range of economic and diplomatic activities. "
British media said that at present, the PLA Navy and Air Force is working to modernize, because they believe it is their relatively weak aspects. If the carrier into the water, will mark a great naval power of China improved. Meanwhile, the United States is close attention to all this. Since the end of World War II, more than half a century, the U.S. Navy aircraft carrier battle groups in the Asia Pacific region has not been any challenge. United States has a total of 11 aircraft carriers.
British media said the two countries are viewed with suspicion of each other's military programs; People's Liberation Army, many of whom believe that the U.S. is trying to encircle China, to prevent the rise of China. The United States believes that China's military development opaque, in secret, and true intentions are unknown.
British media said that some observers believe that China is trying to build four aircraft carriers. Fisher has been on the Chinese military for 20 years of research, he said China has "very big ambitions." He said, "This is a Chinese aircraft carrier made in 2004 in order to achieve the historic part of the effort made by the task, the task requires the PLA continued to safeguard China's national interest to provide strong strategic support." Fisher said: "The Chinese think of 2020 years, with global deployment capability, when needed to challenge U.S. interests. "
British media said, in order to improve long-strained relations between the two armies, the PLA Chief of General Staff Chen Bingde last month on a visit to the Pentagon. He tried to ease U.S. concerns that China will never seek to match U.S. military power; China behind the United States. He said: "During the visit, I saw American military power, I am shocked." China's military strength is generally believed that more than 20 years behind the United States, but it is growing rapidly. China is committed to the development of American military power failure weapons.
the British media that the PLA has invested heavily in submarines; people think it is close to deploying the world's first known as the "aircraft carrier killer" missile, which can be used to sink the aircraft carrier , can be away from the sea 1,500 km (930 miles) of shore launch. China is also manufacturing its own stealth fighter, and based on Russian design and development of advanced aircraft carrier. All of these efforts can target U.S. military bases in Asia, warships and aircraft carriers, which will allow the U.S. aircraft carrier battle groups near the Chinese coast facing more dangerous action, forcing them further away from the coast of China.
in any future conflict, the United States freedom of action according to their preferences will become more difficult. In turn, this showcase for China's own military forces in Asia to provide more space.
British media said, with a carrier to make China more powerful than ever before to obtain power projection capability, so in Vietnam, the Philippines and Malaysia have worried; because they are in the South China Sea and China There are disputes. All along, China Taiwan, Korea and Japan are dependent on U.S. security. This may make them start to question the future of how the U.S. can really protect them; one day, which may undermine the U.S. security guarantee and it's influence in the region. Aircraft carrier before becoming a powerful force, China has much work to do. However, the aircraft carrier moored in Dalian is China's naval ambitions, and possible transfer of power followed a clear signal. (Sri Lanka years)
(edit: SN049)