Lockheed Martin F35 fighter planes to sell to Korea to compete with Boeing F15SE
Date:2012-02-16
Author:admin
Category:International military
Comment:0
the the
Lockheed Martin F35 fighter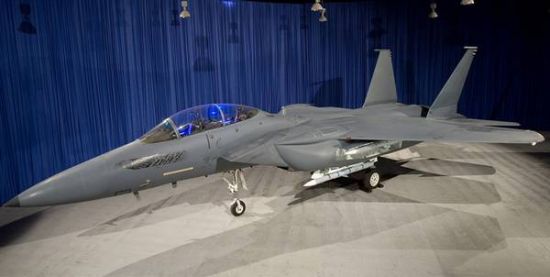 <span class="img_descr Boeing F15SE fighter
Sina aviation on the 16th the third Singapore Air Show opened on February 14th in this year's Singapore Airshow site, Lockheed – Lockheed Martin's F-35 as one of the most watched fighter. Lockheed Martin's old rival, Boeing has refused to yield, and actively promoting improved fighter F-15.
2011 in Paris, Moscow and Dubai Airshow, the Eurofighter Typhoon fighter aircraft and a wind gust of the French Dassault fighter in order to compete for potential users, staged a fierce "battle of pairs of wind . " But in this year's air show scene, the battle of the "double wind died down as if. EAB booth full flagship Airbus A330 military tanker version of the Dassault also hit a civilian business jet, and not by the waste heat of the Indian procurement gust occasion to continue to sell gust.
Therefore, the U.S. production of the fighter has become the highlight of the air show.
Japan has decided to purchase the F-35 fighter jets, the Lockheed Martin Air Show, the main task is to sell to the Korean F-35. Japanese procurement of F-35, Typhoon, F-18E/F, three fighters to compete on the same stage different. The F-35, the main competitor is the Boeing F-15SE silent eagle. Boeing is also focus on selling aircraft which, and the name of the senior Eagle "(AdvancedEagle) exhibited F-15 Improved cockpit full of fifth-generation fighter style. Contrast two fighters, the F-35′s performance is more outstanding, but there are still technical risk, and F-15 technology is mature, and the Republic of Korea Air Force Materiel experience, each have their advantages.
Aviation Week magazine editor RebenFJohnson expresses the strength of the Korean Air Force itself is actually enough to overwhelm the Korean Air Force with its air defenses, and the plans to buy advanced fighter was intended to deal with China. In view of China, Chengdu and Shenyang Aircraft Manufacturing Company was in full swing development of new fighters, as well as China's growing influence on North Korea, making Korea are feeling the pressure, the need to purchase new fighter aircraft to cope with. (Liu Xuan)
. OtherContent_01 p {line-height: 23px; margin: 0px;} . Icon_sina,. Icon_msn,. Icon_fx {background – position: 2px-1px}. icon_msn {background-position:-25px-1px;}. icon_fx {background-position:-240px-50px;} share: ~ (function () {var ids={"data": [{"id": "1902836015,1088019384,1214703374,2318028647,1499104401"}]}; var src="http://widget.weibo.com/relationship/bulkfollow.php? refer="; var rest=" & color=cccccc, f5f8fd, 000099,666666 & showtitle=1 & showinfo=1 & count=5 & sense=1 & wide=2 & verified=0 & ch=sina-mil-zw-1-0 & dpc=1 "; var page_href=http://mil.news.sina.com.cn/2012-02-16/location.href; page_href=page_href.replace (/#/g, "% 23″); src +=page_href; src +=uids="; x=Math.round (Math.random () * ids ['data'] length); if (x==ids ['data']. length | | x <0) {x=0 ;} var recids=ids ['data'] [x] ['id']; src +=recids + rest; var iframe=document.getElementById ("ipylcf01"); iframe.src=http://mil.news .sina.com.cn/2012-02-16/src; iframe.style.display="block";}) ();
related topics: 2012 Singapore Air Show