Home
»
China military
» Experts said China Jian Shi modification or gust fighters to compete with India
Experts said China Jian Shi modification or gust fighters to compete with India
Date:2012-02-02
Author:admin
Category:China military
Comment:0
data for: 2007 Paris Air Show debut of the Rafale B fighter.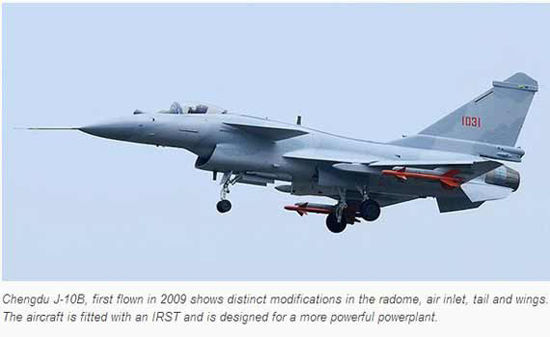 foreign media published the Chinese J-10B fighter pictures
published February 2, according to the "Global Times" reported that the French presidential palace announced on February 1, the Dassault "Rafale" fighter in the Indian government's massive procurement program in the win. The contract worth $ 12 billion so far in India is not only the biggest single military procurement spending, will also be the arms trade in recent world's most expensive single.
French "Le Nouvel Observateur newspaper," said one of Dassault's recipe for success is to make the Indians believe, select the "gust" to work with China to counter a growing number of new fighters. "India Times" quoted sources as saying that the first delivery of aircraft may be deployed in the western region of Pakistan defense, then defense will be deployed in eastern China.
According to the Chinese military analysts described the aircraft and the aerodynamic layout of the Chinese J-10 is similar, but in the avionics, engine performance, it is higher than the J-10. However, the F-10 fighter of the future may be improved and "gust" to compete, and the Chinese Air Force's F-11 series improved, it may press on the performance of the "gust" one. From this perspective, the "gust" It's hard to bring immediate benefits to the Indian Air Force.
researcher at the Institute of Contemporary International Relations China Maccabees force on the 1st of the "Global Times" correspondent says India to buy aircraft is a necessary step in the modernization of the Indian Army, but China does not want to see is that it as enhance the national defense force against neighboring countries, especially against China.
(newspaper in India, France, Japan, political and military reporter Liao Li Zhen Yang Liu Yang ● Drainage reporter Wang Zhen Xiang Zhang Qi)
copyright works without the "Global Times" written authorization is forbidden and offenders will be held liable.
share: