Home
»
China military
» Russian media said that China and the L-15 trainer aircraft L-7 with the new Russian descent
Russian media said that China and the L-15 trainer aircraft L-7 with the new Russian descent
Date:2011-08-30
Author:admin
Category:China military
Comment:0
Data Figure: China-made L-15 Falcon advanced trainer aircraft sideways hovering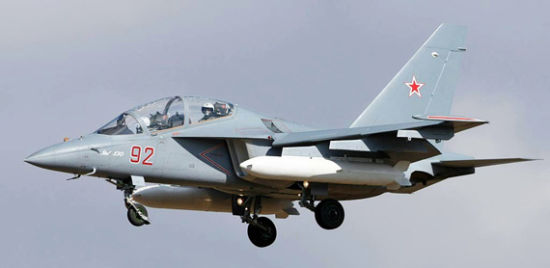 Russian Yak-130 trainer aircraft
data for: Airshow China's first live show -7 trainer
According to Russia's "off" magazine website reported that the Chinese military pilot training programs of concern, in addition to Jacques -18 based on the current rare CJ-5 (CJ -5 ) and the apparent aging of the CJ-6 (CJ-6) piston trainer aircraft to the MiG-17 F -5 imitation-based JJ-5 (J -5) jet trainer aircraft, as well as K-8 Domestic type JL-8 (coach -8), the Chinese still 俄罗斯雅克夫 Lev design bureau developed the active participation of experts L-15 jet latest Asia/supersonic Higher Education (coaches fighting) machine and L-7 ( CJ-7) CJ piston machine, which resembles the L-15 Jacques -130, L-7 plans and Russia is not yet successfully developed, Jacques -152 difficult to distinguish you and me.
L-15: to conquer the Chinese version of the sonic barrier Jacques -130
Russian media said that China Airlines Hongdu developed subsonic L-15 Higher machine in a two-seater has a higher complete state, had been participated in several Zhuhai Air Show. March 13, 2006 two Slovak assembly of the first DV-2 engine aircraft L-15 test sample machine (01 Demonstrator) first flight took off in Zhuhai. May 10, 2008 to participate in the Zhuhai Air Show 03 successful first flight demonstrator was installed Wukelanzha Baltic city heat produced AI-222K-25 engine thrust 2500 kN, no afterburner, in fact, Russia Yak-130 is also used in this engine. June 8, 2009 installation of 05 Ukrainian demonstrator engine successfully launched. In the 2010 Zhuhai air show debut of the 06 samples of Ukrainian-made machines used AI-222K-25F afterburning engines, thrust 4200 kN, has been able to reach supersonic speed. As the use of new power plant, L-15 supersonic version of the engine compartment have also been modified accordingly, also changed the body first, it is longer. Development of staff said that if the development of air version of the L-15, there may be configured to target airborne radar and other equipment.
Russian media said that although the supersonic version of the 06 L-15 Higher machine August 15, 2010 before the factory from Hongdu company in less than a month away from opening when the Zhuhai Air Show (Oct. 26 ) successful first flight, but this does not prevent it actively participate in exhibitions, and for aerobatics. On the development side in the Zhuhai Air Show, announced the assembly AI-222K-25F engine L-15 to achieve supersonic flight speed, the specific parameters for the Mach 1.4, the maximum of eight units in overload and maximum angle of 30 degrees to fly under attack. With the previous version of the production of subsonic L-15 verify the machine compared to supersonic version of the L-15 on-board equipment also constitute a significant change, including multi-function cockpit displays before and after the number by two to three, thereby able to fully simulate a variety of modern fighter aircraft.
Russian media said that China-based version of the supersonic test at the beginning of L-15 at the same time, relatively low cost is not ready to give up some of the subsonic version. Zhuhai Air Show last year, before the use of AI-222K-25 non-afterburning engine L-15 test aircraft, the main task has been finished and ready to flight certification, Hongdu companies have started manufacturing the first mass-produced high subsonic version of the complete The L-15. The use of AI-222K-25F afterburning supersonic engine version of L-15′s certification is expected to commence in 2012, followed by mass production. In short, the two types of L-15 will be in volume production, and fitted out in the Chinese Air Force teaching center. Given a high degree of integration between the two levels of the Chinese Air Force is fully capable of reducing expenditures in the case of the ability to improve the training of military pilots. In addition, China made no secret of the world market is prepared to sell L-15′s intent, supersonic and subsonic existence of two versions of models to more fully meet the needs of potential customers.
L-7: with Chinese characteristics Jacques -152
Russian media said the Russian prospect piston machine Jacques -152 While CJ was in Russia Air Force to win the tender, should purchase the Russian Defense Ministry and the Higher machine with the Yak-130 Russian Air Force fielded a unified teaching and training system, but due to various reasons, this project did not receive production orders being unable to realize. But China Airlines has Hongdu in 2010 to create a similar product, codenamed L-7. China is from 2006 and Yakovlev design bureau developed with experts in L-7, so the machine is actually China's new CJ Jacques -152 completely repeated design is not particularly surprising.
L-7 using the piston engine, 360 hp power, landing gear front pillars away, maximum takeoff weight of 1430 kg, length 7.274 m, a wingspan of 8.82 meters, the maximum speed of 360 km in maximum of 9 units (sports models) and 7 units (coach models) overload of completing a variety of aerobatics. L-7 to be used to replace the aging of the CJ-6 (PT-6) trainer, which is permitted under the Soviet Union to China Jacques -18-based imitation of the CJ-5 (PT-5) trainer development model . Last fall the first aircraft L-7 test samples immediately after the machine left the assembly plant took part in the Zhuhai Air Show, is expected to complete the relevant flight test, Science and the company expects to get at least 300 orders for L-7 aircraft, fitted out after the Chinese Air Force Code may be CJ-7. (Compiled: Shu-shan)
(edit: SN049)