Home
»
China military
» China aircraft carrier sea trials back third tower hanging flag (Figure)
China aircraft carrier sea trials back third tower hanging flag (Figure)
Date:2011-12-30
Author:admin
Category:China military
Comment:0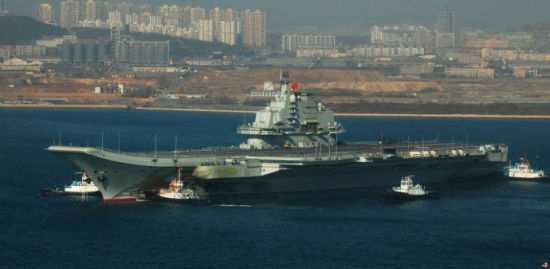 returned from sea trials at the highest carrier platform with side of a new control tower five-star red flag flying
According to Hong Kong's Wen Wei Po reported that at 12:30 on the 29th or so, China's aircraft carrier complete platform for 9 days, the third task of sea trials, dock berth Dalian, Liaoning Province. According to China's military position, the carrier platform to carry out sea trials and training related to the future may become the norm.
Dalian Maritime Bureau had issued navigational warnings show that the northern waters of the Yellow Sea southeast of Dalian at 8:00 on December 21 to at 10:00 on December 29, "OC30000-5″ boat sailing waters in the Yellow Sea north testing, prohibited from entering the ship. In at 11:10 on the 29th or so, China's aircraft carrier platform appeared at Dalian port anchorage area, further confirmed the "OC30000-5″ and the relevance of Chinese aircraft carrier platform.
29 morning, the aircraft crew training and comprehensive support ship 88 aircraft on the mooring platform berth in the vicinity of Dalian Port. 11:10 or so from the port direction can already see the aircraft carrier platform to enter the field of vision.
12 时 24 points, pier salute sing for 5 minutes. Salute only, carrier platform 3 whistle sound. The assistance of the tug, 12:55 or so to complete the carrier platform dock.
returned from sea trials at the highest tower of the carrier platform with side of the new flag flying, according to military fans than the previous two trials of the picture, the location of the flag tower seems to be only the third time trials high-profile appearance.
share: