Home
»
China military
» Russian media said the Chinese aircraft carrier in 2nd sea trial was coordinated training with F -15
Russian media said the Chinese aircraft carrier in 2nd sea trial was coordinated training with F -15
Date:2011-12-15
Author:admin
Category:China military
Comment:0
Chinese Navy carrier aircraft F -15.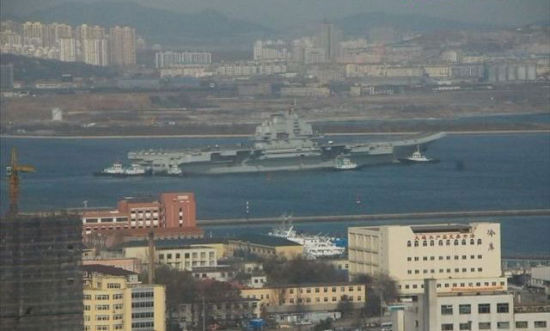 microblogging platform for users to upload the second Chinese carrier sea trials photos.
According to the Russian military news network reported on December 14, from the former Soviet Union "Varyag" was converted into a Chinese navy's first aircraft carrier recently during the second sea trial program with the first and F -15 fighter for joint exercises, but have yet to try landing on the deck.
Russian media said that Japan's "Yomiuri Shimbun" quoted a Chinese diplomatic source as saying the Chinese F -15 aircraft carrier-based fighter and collaborative exercises in the "Varyag" was the second sea- test period (November 29-December 11) for the main exercise of the fighters and aircraft carriers synergies subjects. However, due to the "Kuznetsov" aircraft carrier deck installation to ensure that no landing of aircraft equipment, so no test for carrier-based aircraft landing deck. It is reported that China can not import the equipment from overseas, their military enterprises are not able to self-development and production.
Itar-Tass that in addition to F -15 fighter, the second trials of the "Kuznetsov" aircraft carrier also found that the presence of a helicopter. All appearances, ship-based helicopter pilot in the sea during a major exercise on the deck of the aircraft carrier takeoff and landing subjects. Chinese sources said, in general, "Kuznetsov" aircraft carrier of the real progress of preparations for sailing quickly, than the original expectations. China's first aircraft carrier sea trials Aug. 10-14 in the successful completion of the. After the news, the main Chinese navy plans to "Kuznetsov" aircraft carrier as a carrier-based air force pilots and maintenance personnel training base.
Russian media said, in addition to $ 20 million purchased from Ukraine, "Kuznetsov" aircraft carrier, the Chinese in 2005 also from Russia, after another three decommissioned aircraft carrier "Minsk" was , "Kiev" and "Novorossiysk" number, two of which have become a theme park. It is said that China is in Shanghai to build another one domestic carrier. (Compiled: Shu-shan) ★
share: