Home
»
China military
» Nanjing Massacre Memorial held candlelight vigils activity (Figure)
Nanjing Massacre Memorial held candlelight vigils activity (Figure)
Date:2011-12-13
Author:admin
Category:China military
Comment:0
12 December, on behalf of the Nanjing students placed in the festival field Candle. . Jpg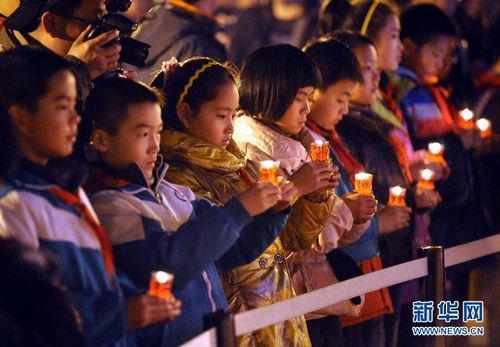 12 12, primary school students on behalf of the Nanjing Massacre as candlelight vigils. . Jpg
12 12, primary school students on behalf of the Nanjing Massacre in Nanjing candlelight vigils. . Jpg
12 December, visitors are Japanese invaders in Nanjing Massacre Memorial Hall visit. Yang Bo agency issued photo. Jpg
China news agency, Nanjing, December 12 (Reporter Zhu Xiaoying) – 12 evening, the Japanese invaders in Nanjing Massacre memorial festival ground, " Christmas Eve – for the victims of the Nanjing Massacre cum candlelight vigils to pray for peace party "held in 3000 Candle in the wind swaying in one hundred international friends of the Nanjing Massacre candlelight vigils.
December 13 is the Japanese invaders in Nanjing Massacre 74 anniversary of fellow victims. Each year, December 13, Nanjing will host a variety of commemorative activities to commemorate the victims in Nanjing massacre compatriots.
Japanese invaders in Nanjing Massacre Memorial Museum curator, said Zhu Chengshan, tonight's wake event is organized by the museum since 2009, the third wake events total from Korea, Japan and other International friendly people, Jiangdong Gate primary school teachers and students about 150 participants.
Festival venue, offering a long fire shining on the field around a seat on the monument without the word, Jiangdong Gate primary school children, Japanese friends, staff presented candles around the memorial. Nanjing Pilu Temple abbot Evergreen monk monks chanting scriptures first rate, to pray for the victims compatriots, then, the Japanese Shingon school Higashi Honganji Otani, Japan Aomori Yunxiang Temple monks recite the prayer song. In the sound of chanting monks, to all the staff of the Nanjing Massacre victims Buddha, Feng candle, pray fellow victims rest in peace, I wish peace and human night stay forever.
Nanjing Jiangdong Gate fifth grade students ZHANG Wang said: "We come here every year to participate wake activities, holding a candle, think of those people killed in the war, I really hope the world will never war, peace forever. "
(edit: SN049) share: