Pakistan, a military aircraft crashed in a number of media that lines Xiaolong fighters
Date:2011-11-15
Author:admin
Category:International military
Comment:0
Pakistan Air Force plane in 14 training mission crashed due to technical failure.
crash site pictures, from the engine nozzle, one can confirm Xiaolong fighter.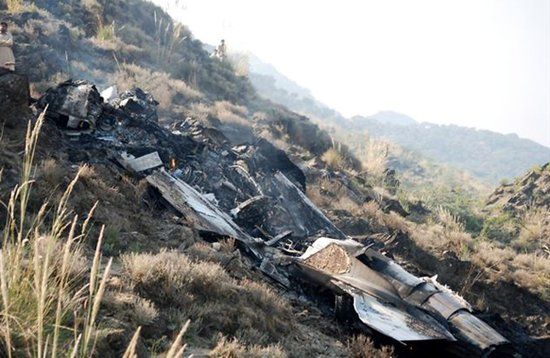 Pakistan crash scene pictures
World Wide Web (microblogging) reporter Zhong Weidong reported that Pakistan Air Force November 14 news release, said the Pakistan Air Force aircraft in 14 training mission crashed due to technical fault the pilot were killed in the accident.
Associated Press, Pakistan Air Force said in a written statement, the crash occurred in the capital, Islamabad, about 70 km west of town attock. There is no cause for crashes and property damage were reported.
In addition, the Pakistan Air Force said it has been for the crash investigation. Pakistani media said local police had cordoned off the crash site near the Pakistan Air Force has sent rescue teams to the scene to clean up debris.
Although the Pakistan Air Force crashed aircraft model is not confirmed, but India and Pakistan are a number of TV channels and websites reported that the plane crashed is "Fierce Dragon." If this message is confirmed, it would be the first aircraft crash of the "Fierce Dragon" fighter.
. OtherContent_01 p {line-height: 23px; margin: 0px;} . Icon_sina,. Icon_msn,. Icon_fx {background-position: 2px -1px}. icon_msn {background-position:-25px-1px;}. icon_fx {background-position:-240px-50px;}
share: