Home
»
China military
» Russia, Taiwan and Ukraine that China purchased 250 afterburning engine with L15 Falcon
Russia, Taiwan and Ukraine that China purchased 250 afterburning engine with L15 Falcon
Date:2011-11-08
Author:admin
Category:China military
Comment:0
Russian media log of AI-222 aircraft engines.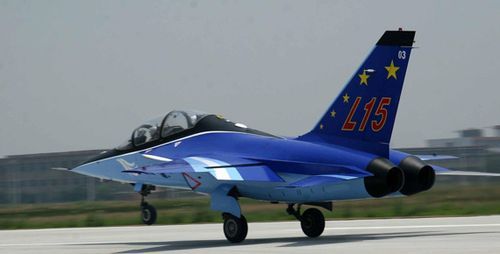 data for: homemade 03 L-15 Falcon advanced jet trainer flight
According to Russia's "ties", Nov. 7 reported that China has ordered Ukraine 250 equipped with afterburner AI-222-25F jet engine. At present the total amount of the deal is unclear. Military experts believe that China's Hong Doufei machine manufacturing company will use the engine assembly, and its L-15 trainer aircraft developed from the L-15 LIFT light coach – fighter. Chinese Order of the AI-222-25F will be Wukelanzha Polo Day "progressive" machine manufacturing company in charge of production.
In addition, Moscow's "salute" the company will also participate in the production of these engines work. According to data provided by Hongdu, AI-222-25F of the thrust of 2500 kgf, hair L-15 can double the maximum speed of 1.6 Mach (1,800 km/h). Ukraine delivered starting in 2012 about the first engines and complete all deliveries in 2015.
Ukraine from China which is the second high-volume orders for aircraft engines. July this year, there was news that Wu has been signed at the beginning to provide 250 AI-222-25F engine contract.
L-15 is China's most developed so far advanced trainer aircraft, and its maximum takeoff weight of 9800 kilograms, service ceiling 16,500 m, fuselage length 12.27 meters, a wingspan of 9.48 meters. L-15′s fuselage structure, 25% of carbon composite materials. The life of the aircraft up to 10,000 hours, can be used to train fighter pilots to master the skills of third-generation control.
It is reported that recently appeared in the first six L-15 prototype's body size has been magnified in order to accommodate the new airborne phased array radar. In addition, the pilot in the cockpit were also installed before the Screen and three multi-function display. This aircraft L-15′s tail and flaps has also been redesigned and is made entirely of composite materials.
It is reported that, in addition to meeting domestic demand, China will also sell to the international market, L-15, which will lead to Russia's Yak-130, South Korea T-50 and M-346 in Italy competition as well. (Compass)
share: