Home
»
China military
» The main field army food hot food to ensure that five dishes and one soup still living in the jungle
The main field army food hot food to ensure that five dishes and one soup still living in the jungle
Date:2011-10-27
Author:admin
Category:China military
Comment:0
cook cooking pot take place.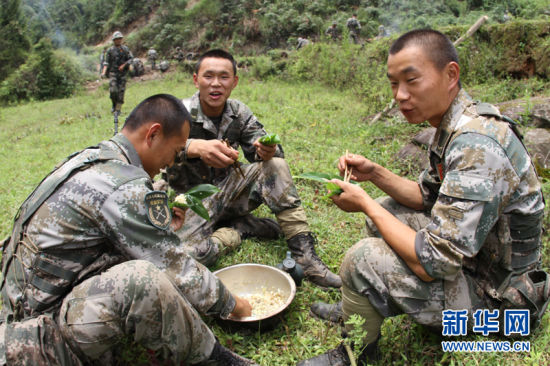 officers and men in the jungle dinner.
LONDON: As the saying goes: "People are iron, steel, rice is, do not eat a meal hungry." Officers and men in the tropical mountain jungle, how to eat? In late October, we follow the Chengdu Military District tropical mountain jungle workout unit, feel the jungle "to eat."
near noon, we smell the incense bursts meals, follow the scent, find three connected Chuishi Ban. I saw disguised by tight shed easy to operate, monitor Li dry with two cooks intensely busy, Caipen where candy is ready Spicy chicken, bamboo shoots, pork pieces, ribs stewed winter melon, bitter gourd scrambled eggs, vegetarian fried cabbage five dishes, plus a bucket of millet and mung bean soup, a few watermelon.
"I did not expect in the mountains inside, food is also so rich." We are rather surprised. "Eat attached combat, combat first to solve the food problem." The leadership of the Ministry, said that they tropical mountain jungle warfare training for the special study to explore the hot water-based, field, supplemented by the implementation of food catering to car-based cooking, field equipment, supplies, supplemented by the implementation of safeguards, the main center of life, the path of the company, supplemented by raising materials. Training, they follow different training intensity, training background, climatic conditions, development of several sets of healthy menus and a variety of ways to implement safeguards to make recipe, "Kitchen" to go along with the training, officers and men of appetite as the battlefield changes.
in communication with Chuishi Ban, cooks are trained as soldiers prepare to go to the mountains, "Battlefield fast food." We see, cooks skilled operation button, set the rice cooking process, transform vegetable processing, fast production of ingredients Ding Ding is, film is film, wire is wire, which is quite uniform. Less than 40 minutes, food production is completed. Cook quickly to a special snack food packing within each code into the special plastic box and then, in turn egg soup with gland-packing insulation in plastic bucket.
"in the tropical mountain forest in the production and shipment of hot food, is not an easy task." Yang Meng said the Department chief of staff, due to unique circumstances, the officers and men to disperse and frequent changes in training, " Tangtangshuishui "It's hard packing transportation, and study their trial to explore the mountain jungles to adapt to the" Battlefield fast food "delivery method of packing, so that officers and soldiers in the" front line "is also hot to eat nutritious food.
next day, we conducted field with Eren mountain survival training. The approach of noon, Liu Yang, open classes four times a squad leader with the unit field kitchen equipment supplies, supplies of housing unit is actually a square steel pan, a pot within the sleeve, divided into two levels, equipped with a pot holder, spatula, knife and 2 software objects such as water bag. Liu Yang, the whole class using quantitative two vegetable oil 2 cups rice, and each one focused on the latter, began making "potato meal": wash rice, cut potatoes, with smokeless solid fuel ignition, frying oil, fry the potato pulp, turn on the water , salt, stir the rice down, cover plus the fire, soon, potatoes, rice has a good stew.
"potato meal" is only one food. Each company is different classes of food: some burned bamboo rice, some fried water celery, fern, and cooking fish, shrimp or picking wild fruit to eat. The field officers and men to carry the food is also quite rich: a new compression dry food, dehydrated rice, dehydrated noodles, a variety of canned meat and vegetables, as well as Pickle, mustard and other "small snacks."
"reflects environment Everyday, by water, drinking water, in the tropical mountain jungle warfare training, must have the ability to place feeding." Yang Jiansong long police investigation and again and again pointed to "common edible tropical plant and animal identification mountain jungle map "for us that the local growth of lily, watercress, bracken, prickly pear and wild strawberries and other 32 kinds of common vegetables and fruits, can be eaten in moderation, so that officers and soldiers on the ground to master these" delicacies "of the name, shape and edible note, is a necessary element of the training.
"Come and eat!" Young company commander in the warm greeting, we try to use the bracken with rice, astringency was heavy, hard to swallow. Look around, though surprised to find men eating these delicious fresh but not wild food, all accustomed to, with relish. It seems that only appetite to adapt to the battlefield, is the qualified combatants! (Zhang Qi, Tao)
share: