Declassified U.S. Navy Seals: All-Star team member Jieao uninhibited
Date:2011-08-30
Author:admin
Category:International military
Comment:0
U.S. Army Navy SEALs mission.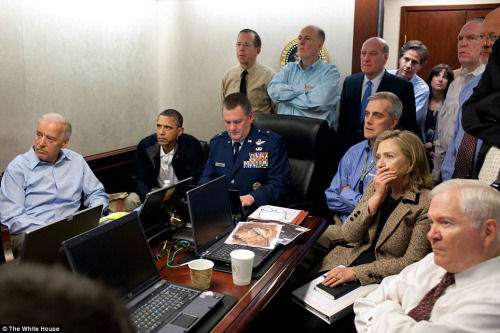 assassination of bin Laden senior U.S. site to watch the video.
According to the U.S. "New York Times", "Washington Post", "Atlantic Monthly" and other reports in the early morning of May 2 killed in terrorist actions tycoon Osama bin Laden, the U.S. Navy Seals cause the parties concerned. This is a what kind of troops? Osama bin Laden killed that team members is what kind of person?
listen to President disposal, no matter where
local time at 0:30 on May 2, under cover of darkness, the U.S. military two heavily The Black Hawk helicopter carrying 20 armed than SEALs, to avoid Pakistan's military radar surveillance from the outskirts of the Pakistani capital Islamabad, Ghazi Air Force bases, to more than 60 km outside the town of Abbotabad.
helicopter flew over a house in Abbottabad, well-equipped commando instantaneous abseiling, raids on homes. After 40 minutes of fighting, the United States wanted for many years, "base" Qaeda leader, Osama bin Laden, the terrorist was killed large Hengaosama.
bin Laden was killed quickly spread the news of the world, people kill Osama bin Laden's special forces – Navy Seals curious about the sixth squad.
Navy Seals (SEALS), also known as the U.S. military amphibious commandos, SEALS is "Sea, Air, Land" or "sea, air and land" for short. Commando 1962 by President John F. Kennedy approved the formation, it was a Navy underwater demolition teams, expanded to 7 in 1988 a small team, the number of about 1600 people, 2010 has grown to 3,000 people, 10 teams, the implementation of the United States small wars, cope with emergencies killer commandos who participated in virtually every major modern warfare and counter-terrorism operations.
the implementation of hunting Osama bin Laden tasks SEALs sixth team, under the U.S. Joint Special Operations Command. In 1980 the United States to rescue the hostages in Iran failed, the team started coming into sight. At first, the size of the force highly confidential, it is estimated that there are currently 300 members. The team undertake a series of special tasks, listen to the President on a global scale disposal.
maritime operations is the sixth team ever of patents, however, "9.11″ incident, it is increasingly involved in ground attacks on Iraq and Afghanistan.
"all-star team" players Jieao Boogie
SEALs 10 teams, some based in Coronado, stationed in Virginia as part of Beach City, and only the sixth team stationed on the beach Oceana Naval Air base city, age over 30 years of age.
"I have dubbed it as the old club." 49-year-old Rui An Jinkai sixth team member said. He said the sixth team players have personality, "their proud self-confidence, Jieao uninhibited."
want to enter the Navy Seals, candidates should be considered by the world's toughest military training in the most demanding special training and sometimes live ammunition, training candidates in the plight of perseverance and team operations capacity. Ultimately, 70 percent of candidates were eliminated. Become a Navy SEAL team, almost the highest honor an American soldier.
Seals must accept the years of brutal training, including Coronado, California for six months underwater demolition training. In the five and a half days, "Hell Week", the soldiers have to continuously running, fighting in the cold water, roll in the mud in a total of only four hours of sleep.
into the "elite of the elite", "Super Squad", "All-Star team," said the sixth team, it is difficult. Navy Seals hone in several years, was selected to the sixth squad of soldiers, not only to accept not wear oxygen masks, parachute from a high altitude training, but also learn to control the hijacked cruise. The training, half of the candidates will be eliminated.
British "Daily Mail" reported that the sixth team players were all great talent, each at least one foreign language to master. Bin Laden's hideout in the implementation of the raid before the team members received training in Arabic.
will even drink too much secrecy
addition to the rigorous military training, the sixth team's players had to learn to keep a secret.
a U.S. military officer said: "Their families do not even know when they leave, where to go, when to go home."
resident beach in the city, local residents of the force is poorly understood.
"Washington Post" reported that the beach city of 433,000 inhabitants, killing bin Laden after, there are no public celebrations. Seals do not want to talk about it for fear of retaliation.
Richard De Boli military base in the beach near the city operates a used car shop, he said he knew a sixth team players, but friendship can not get any information about bin Laden that he was killed details.
"I do not try to dig his head from these materials, he will not say." Debo Li said, "Even if you put them drunk, they will not tell you a little about their tasks. They will not say his wife. "
the sixth team member who retired not disclosed information. Espionage had a sixth team to inquire into the first team inside, got this answer: "You know I want to help out, but on the sixth team, which I have no comment, because there is no sixth squad. "
Western Holmes Beach Mayor Will that Seals bin Laden's operations in the raid, the first reaction was" excited and proud. " "The whole city is proud of their actions, if possible, I have to find a way to hold a celebration of the General Assembly, but it is very challenging." Western Williams understand SEALs sixth team will not show their faces.
SEALs Mark Di Weien former commander said, local people have identified Seals from the approach. "The players are the very type of body, always wear similar clothes, wearing similar sunglasses from walking posture can tell the difference."
kill Osama bin Laden is just an ordinary mission
5 6, U.S. President Obama, Vice President Joe Biden, a non-hunting public to meet with bin Laden in the form of a "seal" who give them "President troops Award." This is the highest U.S. troops to get a collective award. In his speech, Obama said, killing bin Laden is "the most successful in American history and military actions of the intelligence."
reputation because they have played, originally launched in late May, the team from the memoirs written by former members, "Seal Team VI: sniper elite SEALs Memoirs" will launch early. According to CBS (CBS) reports, not yet published, the book's popularity has soared rapidly in the Amazon Web site.
U.S. Joint Special Operations Command, Lieutenant General William McRae text, directing the hunt for Osama bin Laden done a great action is expected promotion to the highest level of U.S. four-star general. Some Members even said McRae Man War fame, promotion is not a problem, "(Members) will grant fast enough too."
successful operation, all right, but if the failure? Former member of Tangxipuli SEALs, said: "This action can only have two outcomes – either a hero or worthless!"
This is the elite of the price – only be allowed to succeed, not fail! U.S. First Special Forces soldiers before organ Fox Geli Pu said: "Their job is to kill the terrorists, they are our trump card when we need to use the powerful, superior forces, they will think of them." There The source said: "(kill bin Laden's) task is completed, they only consider how to withdraw from each team are well prepared to sacrifice there."
killed bin Laden, the sixth squad players return to their posts, as usual. This action is only an ordinary task, this task they have performed many times.
"bin Laden killer" annual salary $ 50,000
Recently, three former Navy SEAL team – Eric Grameen Constance, Richard Dema Cink, Stewart Smith – accepted the "Washington Post" interview, that were killed bin Laden described the sixth team member.
According to reports, this "killer bin Laden" has a bachelor's degree, or PhD, is a white man, a wife and children, looks rough, muscular. He might have a task previously performed or scars left by shrapnel, hands calloused.
Richard Maxin Ke is the sixth team in one of the founders, is also a writer of military novels. He revealed that this "bin Laden killer" is likely hidden in the dirty appearance. To perform this task, he may glue a beard, wear a wig in order to integrate themselves into local people in Pakistan and Afghanistan.
alleged, "bin Laden killer" may be 26 years of age to 33 years old – on the one hand he must be young enough to have sufficient training and physical response to a devil's mission; other hand, he must be a bit older, in order to gain valuable practical experience.
surprising is that "bin Laden killer 'salaries are not as high as people think. According to data released by the U.S. Department of Defense, one has 12 years of experience in the elite SEALs, the annual salary of about $ 54,000, and the United States a considerable income school teachers.
the U.S. military will "bin Laden killer" to impose strict protection, at least in the short time his message will not be exposed, and this may make the world's media (and perhaps the "base" organization) disappointed.