Home
»
China military
» Chengdu Military Region, nuclear, biological, chemical groups organized rescue military exercise (Photos)
Chengdu Military Region, nuclear, biological, chemical groups organized rescue military exercise (Photos)
Date:2011-08-30
Author:admin
Category:China military
Comment:0
chemical unit reconnaissance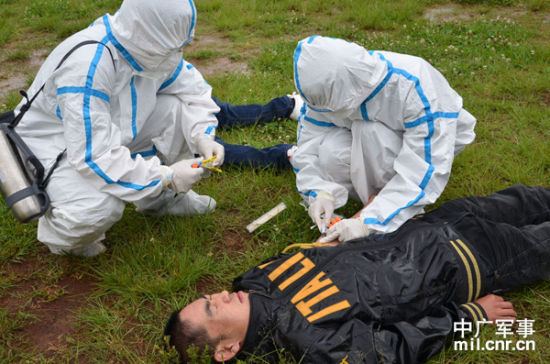 affected personnel in the implementation of the ambulance
anti-source unit for reconnaissance of the affected region
sprinkler on the affected area to implement decontamination
in wide net Beijing on June 29 message (correspondent Guo Fei Jing) "resident Richter 7.0 earthquake near the epicenter Institute 201 nuclear device is damaged, the adjacent chemical plant chemicals leaked, the earthquake occurred is unknown epidemic, now order you corporations rushed to the affected areas of nuclear, chemical and biological emergency rescue mission. "After receiving the orders of superiors, Chengdu Military Region, a chemical group quickly activate contingency plans, a team of chemical reconnaissance, decontamination spray, biological reconnaissance and other specialized forces rescue teams composed of the rapid build-up, rushed to the designated area rescue mission. June 29, a nuclear, chemical and biological emergency rescue military exercise in the regiment began training ground.
"anti-source unit to the affected area to implement rapid testing; anti-chemical warfare unit responsible for the contaminated air, water, geography, equipment and food to sample and detector; anti-health unit immediately set up mobile biological detection inspection laboratories, the occurrence of respiratory symptoms who secretions, vomit acquisition testing … "As the commander issued the command, the rescue squad perform their duties quickly operational.
disaster is an order! Reporters saw at the training site, along with the rapid siren, a vehicle radiation reconnaissance vehicles, bio-detection vehicles, spraying cars in entering the training field. Contamination of the surrounding area reconnaissance vehicle reconnaissance, determine contamination level of alert sealed boundary delimitation; sprayed the crew set up decontamination stations at the flat area on the affected vehicles, personnel decontamination decontamination; anti-health unit staff use of biological detection vehicles biological detectors set up laboratories to determine the type of epidemic. Atmosphere of intense battle scene, one dressed in protective clothing fighters display their skills blend of God, the teams act in harmony, rescue work in an orderly, methodical. After 40 minutes the officers and men's efforts, a nuclear, chemical and biological emergency response made perfect victory.
The delegation headed Xiexing Li told reporters: "In recent years, focus on my mission mission mission to continuously improve the emergency rescue plan, organize training officers and soldiers, officers and men to feel the real atmosphere, hone combat skills. The exercise , is a new attempt, a qualitative breakthrough, further regulate the troops carry nuclear, chemical and biological emergency rescue procedures and methods to effectively enhance the troops ability to perform diverse military tasks. "
(edit: SN038 )