Home
»
International military
» Analysts say the Indian Army saved the expense of others trapped fatal weakness of position on two fronts
Analysts say the Indian Army saved the expense of others trapped fatal weakness of position on two fronts
Date:2011-09-30
Author:admin
Category:International military
Comment:0
2011 年 1 15, New Delhi, India, Indian Army soldiers participated in the parade celebrating the 63 anniversary of the Army. CFP for map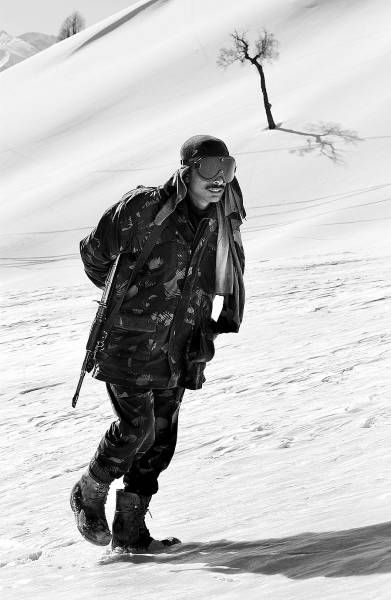 an India-Pakistan-India border troops from the ceasefire line in less than 6 miles Gomal patrol. CFP for map
recent years, the development of India surprised the world. Former U.S. Secretary of State Henry Kissinger predicted that in the 21st century, the ranks of multi-polar world may include India.
starting from Nehru, India's ancient leaders regard "to become a world-class power," as India's national strategic objectives. Among them, striving to become a military power in India a top priority target.
from 1998 nuclear test, India has become a de facto nuclear weapons state. Together with the recent India-US strategic interaction into a reminder, the US-India civilian nuclear cooperation plan by making access to India's nuclear status is actually the acquiescence of the United States.
In this context, the Indian Army has increased the intensity of the construction of conventional forces, especially naval and air force modernization process. Over the past 10 years, the Indian military build "generous" are frequent, often so amazed the world, also led to different opinions. The strength of the Indian Army was blowing somewhat esoteric, it has been denigrating the Indian strength, such as "junk." So, how does the strength of the Indian Army?
Army: military services from conventional assault against military services to the strategic transformation
evaluate the strength of the Indian army, the amount shall be from the soldiers, the deployment of troops, weapons, combat ability, command structure, strategy and other aspects point to measure, and not simply a test of a few new weapons to see several military exercises, or guess its some kind of military movements, and so on.
On the whole, India's current total strength of about 1.145 million, the fourth largest in the world soldiers. Among them, the Army is about 920,000, divided the eastern, southern, western, northern and central five military regions, there are four major Army Field Army and 12. In addition, Army aviation, and militia forces.
Indian army fully equipped with advanced T-90S main battle tanks, "Prithvi" to-ground tactical missile, a large number of various types of artillery, a variety of types of surface to air missiles, armed helicopters and transport aircraft, equipped with strong fire and attack capabilities.
focusing on deployment of Indian Army in Pakistan, India, a total of 35 infantry and armored divisions, only the Line of Control in Kashmir and India-Pakistan border on the official deployed 20 divisions. In the border areas to deploy nearly 10 divisions.
armed forces in the Indian Army in the most massive scale, because of India's military strategy has changed to "pre-emptive" as the essence of the "deterrent punishment" strategy, requiring the Army military services from conventional assault against military services to the strategic restructuring, we must focus on development of a strategic strike force, with three-dimensional attack, long-range strike, and rapid reaction capabilities. Therefore, the Indian Army is adjusting the mix of branches, increased technical arms, optimize organizational system to form a strategic strike capability as soon as possible. The main measures include: restructuring of armored forces, enhance its ability to quickly spot; adaptation of Army aviation, the number of dependents independent infantry brigades or mountain trip turned into the air mobile brigade, the installation of transport helicopters, improve mobility; formation of the air assault division, with attack helicopters and light armored vehicles, to improve the Army's three-dimensional capability; equipment, more long-range precision strike weapons, improve battlefield surveillance capability, the Army's battle with a powerful counterattack capability.
Navy: the goal is full control of the Indian Ocean into the Pacific Ocean
total strength of the Indian Navy is about 5.5 million, ranking seventh in the world, including 1,200 naval 5,000 marines and naval aviation. Compiled with the east, west, south and the Far East four regional headquarters and East and West two fleets. Another series with submarines and naval aviation command headquarters. Coastal areas in India has 10 military bases.
Indian Navy has 151 ships of various types, with an active aircraft carrier, the number of ships and tonnage ranked tenth in the world. In addition, India purchased from Russia, "Gorshkov" aircraft carrier is modified, is expected to be delivered in 2012. Meanwhile, India is also a new self-built aircraft carrier. Indian-made stealth destroyer of 6800 tons has been officially launched.
established under India's new "strategic concept of the Navy", the Indian Navy is stepping up from the "regional deterrence and control" strategy to shift offshore. Indian Navy's goal is full control of the Indian Ocean into the Pacific Ocean, in 2013, to build a team of three aircraft carriers as the backbone, plus a large fleet of 200 warships.
for the early completion of the "blue water navy", India proposed a period of 22 years, the navy's modernization program, is preparing to invest U.S. $ 62 billion to upgrade its surface ships, submarines and naval aircraft, including a being implemented code-named "Project 75″ submarine construction program. This project aims to build 24 attack submarines equipped with long-range cruise missiles and several nuclear-powered submarines, and joined the Navy in the next 30 years active duty. Indian Defense Ministry has also invested billions of dollars to buy six French "Fish" class submarines.
Air Force: military procurement to enhance its combat capability
Indian air forces of 14 million, ranking fourth in the world. Points west, southwest, east, south and central five military, command structure is divided into five operational headquarters and logistics and Training Command.
Indian Air Force fighter squadrons, including 17 attack, 20 fighter squadrons, 40 armed helicopters, six Il-78 tanker aircraft, 230 transport aircraft, 130 helicopters and an unspecified number of multi-purpose helicopter , also equipped with hundreds of anti-aircraft missile launchers, including the "Phalcon" AWACS aircraft, including the number.
through military procurement in recent years, the Indian Air Force has been equipped with several advanced squadrons of Su-30MKI fighters, as well as MiG-29, Mirage-2000 fighters and other advanced, with a strong air assault capability and long-range attack capability. Among them, some of the fighters also have mounted air-launched nuclear bomb.
In addition, India is also prepared jointly developed with Russia, the fifth-generation fighter, the latest fighter jets to the United States and the procurement of large transport aircraft. It is reported that India is developing a new generation of medium-sized multi-role fighter.
focus of the Indian Air Force deployed in the border region between India and Pakistan, has deployed a total of 19 squadrons, 285 aircraft, air defense accounted for 59.1% of the total number of combat aircraft; the eastern region to deploy four squadrons, aircraft 149, 31% of the total; central deployment of two squadrons, 48 ??aircraft, accounting for 10%.
development trend: the establishment of a "future military"
After the Cold War, because Russia's brief interruption in supply of spare parts of weapons, the development of India's military severely affected, this profound lesson to the Indian Army to make the Indian Army recognizes the importance of self-defense, and to proceed with the military system.
in the late 1990s, India continued to introduce advanced weapons and equipment have also begun to adjust its military policy, on the one hand the implementation of the diversification of sources of weapons, weapons procurement to prevent over-reliance on a single channel. The other hand, started their own military-industrial complex mechanism, structural adjustment, integrated military enterprises, to accelerate technology transfer and absorption, and made more obvious achievements.
fact, not only in India in recent years, land, sea and air armed services three traditional areas of "Great Leap Forward", but also in aerospace science and technology (such as "kill ten Star", a manned mission to the moon), the aircraft carrier plans, long-range ballistic missile, rocket research and development, radar technology development, nuclear deterrence, military software development, C4ISR construction and development of a full range of sophisticated weapons, etc., have made remarkable achievements, with the United States, Russia, France, Israel, Korea, Japan and other countries of military-technical cooperation, etc., seem to occupy the right place. India comprehensively promote military modernization also developed a 2015 plan to become a world military power, and vigorously promote the Army, Navy, Air Force transformation, with a view to establishing a future-war needs, fit with national strategic goals of "future army. "
fatal weakness: the expense of others, landed himself on two fronts disadvantage
whole, the Indian military developed rapidly, but rational and objective analysis of , and its fatal weakness is very obvious strategy.
see from the size of the army, the fourth largest number of Indian Army, but its combat capability is not necessarily so.
First, the Indian management and performance are crippled. Indian born British colonial government of the Indian army, the army's military administration and military training standards in full accordance with the British, the Indians did not command the army, which the Indian army's localization process from the outset was extremely restricted .
due to historical inertia, the Indian Army has not completely get rid of historical trajectory. India also retained the military compiled traces of the colonial period, such as the nature of certain ethnic or religious wing, which is difficult to ensure the management and effectiveness of the military uniform.
Secondly, the Indian Army's combat capability lower than imagined. Although the Indian Army participated in World War II, some of the campaign, made some record, but it is under the command of British officers in the combat, tactical ability, but there is lack of strategic and operational thinking.
from several wars between India and Pakistan, India, Pakistan war in the first although the win, but India was Pakistan's military strength and investment, but in reality is a failure; second India-Pakistan tied for the war, but failed; third war between India and Pakistan reached a dismembered Pakistan's strategic objectives, but more out of a Bangladesh rivals, can only say that strategic tactical victory; 1999 Kargil conflict, Pakistan suppressed , but did not reach the established strategic objectives; 1998 successfully conducted nuclear test explosions, has established the largest nuclear rivals. India is always caught in a tactical victory and strategic drop points, strategic goals are too large to the old problem of lack of strategic capability.
Third, there is a fatal strategic weakness of the Indian Army. The deployment of troops from India and the strategic intent can be seen in India as Pakistan as the imaginary enemy, in fact, the expense of others, to place itself in the adverse situation on two fronts, this is the strategic taboo. To this end, India must invest significant resources to deal with the so-called two-way threat, both to diversify its military strategy, resource allocation, but also directly drag on its economic development.
fourth, the Indian Army combat equipment dependencies lead to greatly reduced. From the last 1970s, the Indian military strategy began to move south, still south, which is firmly in the Indian Ocean strategy, which focuses is to strengthen the construction of sea power.
India in the next 20 years to build a modern fleet around the Indian Ocean, but its backward status of the shipbuilding industry to become the biggest obstacle restricting their ambitions, we can only select outsourcing of ships, or to seek with other countries technical cooperation.
India almost had to use advanced weapons technology abroad, the Indian Army's weapons seem so advanced, in fact it is a million domestic products. This leads to performance can not be fully its weapons, weapons parts difficult to uniform, equipment management chaos, combat effectiveness was seriously constrained the army's combat capability greatly reduced.
Fifth, India's financial and social realities will limit the huge military spending. In recent years, India's rising military spending, military spending in fiscal year 1992 in India is about $ 6.7 billion in fiscal 2007 rose to $ 21.8 billion, in 2010 to $ 32 billion. In fact, the majority of India's arms purchase plan does not include within the defense budget, such as some military modernization program, dual-use projects.
India's national strategic goals is to eliminate poverty and achieve fair, but poor in India accounting for almost half the illiteracy rate is almost half the domestic polarization, social justice is difficult to guarantee. Large increase in defense spending is bound to seize the social resources, the Indian authorities must consider this reality.
Indian Army does have a certain level of world-class level. However, from the ultra-light multi-role aircraft in India development time and performance deficiencies, Arjun main battle tank development time and low operational efficiency, "Project Seabird" Repeated delayed plan period and so can be seen, the Indian Army in recent years developing really fast, but for "the establishment of a future army," the goals and objectives, long way to go.
(Author Department of Strategic Studies, Dr.)
. OtherContent_01 p {line-height: 23px; margin: 0px;} . icon_sina,. icon_msn,. icon_fx {background-position: 2px-1px}. icon_msn {background-position:-25px-1px;}. icon_fx {background-position:-240px-50px;} share: