Jones Beach Air Show held in New York (Photos)
Date:2011-08-29
Author:admin
Category:International military
Comment:0
Air Force Air Show at the entrance to the cartoon characters. Mu-photo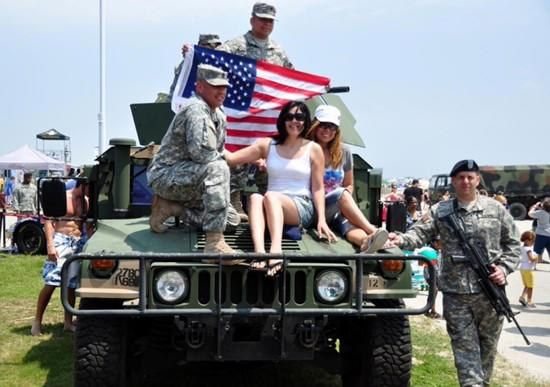 photo of tourists and soldiers. Mu-photo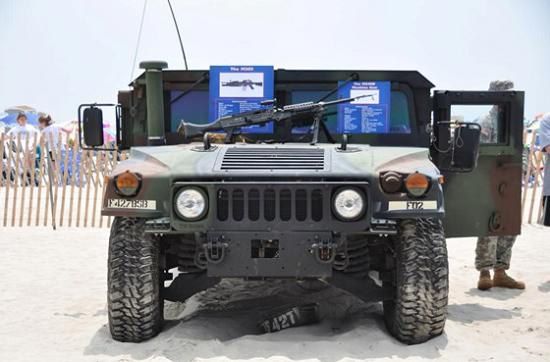 jeep is equipped with a weapon to attract the eye. Mu-photo
parked in an armored military equipment exhibition area attracted visitors. Mu-photo
People in New York, May 29 (Reporter REN Jian-min Li Mu) annual air show Jones May 28 to 29 in Long Island's Jones Beach, New York held a two-day air show attracted more than 300,000 spectators attend.
kind of weather, blue skies, a few kilometers of the beach, crowded, crowded. Visitors stand or sit, holding the camera and some quick photo, and some hilarious play with his family.
new active-duty Air Force fighter planes from World War II in the classic models, and the Air Force Golden Knights parachute team, dedicated civil flight team for the wonderful tourist stunt flying. During performances, the audience provided by the event organizers with wireless, then Michael has been the scene of the pilot to maintain communication, interactive perfect climax continued.
Meanwhile, the U.S. Army, Navy, military equipment on the beach exhibition area showing a variety of armored vehicles, automatic rifles and other modern weapons and equipment, attracting men and women gathered to watch.
is the eighth year at the New York Air Show no fees, has become a popular New York City and surrounding areas of Mardi Gras.
. OtherContent_01 p {line-height: 23px; margin: 0px;} (edit: SN038)