Home
»
China military
» Pakistan Xiaolong fighters have been equipped with Brazil MAR-1 anti-radiation missile
Pakistan Xiaolong fighters have been equipped with Brazil MAR-1 anti-radiation missile
Date:2011-08-29
Author:admin
Category:China military
Comment:0
Data for: Pakistan Air Force fighter Xiaolong combat exercise.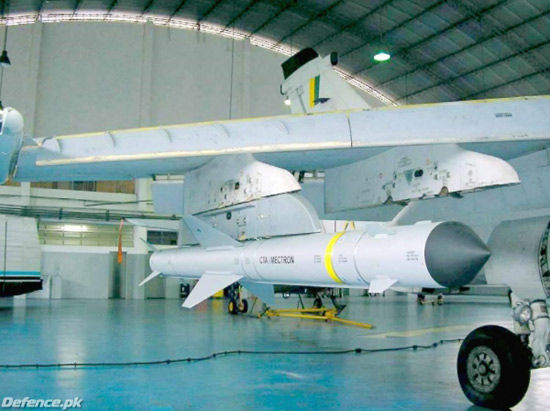 data for: Brazilian-made air-MAR-1 anti-radiation missile
According to the Russian military news network on July 18 reported that Pakistan Air Force has successfully completed the development of China-Pakistan joint The JF-17 "Lightning" (ie, China and Pakistan jointly developed the "Fierce Dragon" fighter) fighter assembly Brazil MAR-1 air-anti-radiation missile integration, greatly expanded the aircraft performance.
2008 年 4 月 巴西迈克特 Long Company (Mectron) and Pakistan signed a total of $ 107.4 million of the 100 MAR-1 anti-radiation missile supply contract. Pakistan's refusal to disclose relevant details of the transaction, but that will fulfill export contracts have been signed to supply the Pakistan Air Force, known as "Radar nemesis" of advanced missiles. Unofficial sources said the missiles for the Pakistan Air Force modified to "Mirage 3″, "Phantom 5″ and in 2009 fitted out in the JF-17 "Lightning" fighter on.
JF-17 is made in China and Pakistan jointly developed the advanced fighters. Pakistan Air Force announced in April this year, the second JF-17 combat aviation brigade was officially formed, and the third brigade JF-17 project completed before the end of the year. Integration for the JF-17, mounted Brazil MAR-1 anti-radiation missiles, the fact that Pakistan already has a self-improving the ability of the fighters. This is the Pakistan for the JF-17 assembly of the second non-Chinese aviation ammunition, Pakistan Air Force is the only use the most advanced anti-radiation missiles.
MAR-1 is the U.S. AGM-88 HARM anti-radiation missiles, high-speed version of Brazil, is Mike Trondheim Brazilian Air Force's 1998 A-1 fighter (ie AMX fighters) developed. It uses a broad spectrum of radiation characteristics of a passive radar guidance system that can effectively destroy ground-based radar, but also anti-ground and surface targets. MAR-1 anti-radiation missile with two engines, the maximum flight speed between Mach 0.5-1.2, up to more than 10,000 meters from the air-launched, according to the eight kinds of pre-set program targets, the maximum range of 25 km. In the low-altitude launch, the missile will be increased to 3100 meters in the air, then dive near the goal attack. (Compiled: Shu-shan)
(edit: SN049)