Home
»
China military
» Military honor guard asked me 40 seconds without blinking greet the sun with a machine gun
Military honor guard asked me 40 seconds without blinking greet the sun with a machine gun
Date:2011-08-29
Author:admin
Category:China military
Comment:0
7 21, open to the media on Chinese military honor guard, an officer checking whether soldiers trained neat. Photography/Correspondent Xue Jun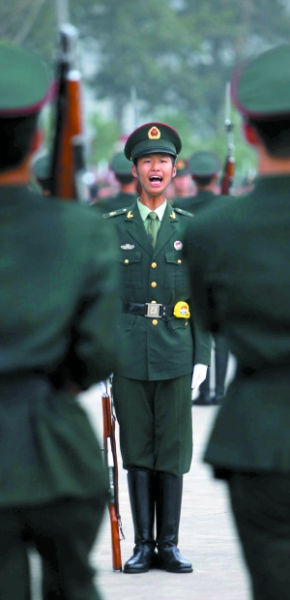 an honor guard officers are trained soldiers.
in the parade, they stay in the forefront in the previous foreign heads of state and government leaders to visit China, they are in China concierge desk, an important part of … "August" on the eve of Army Day, dozens of media reporters yesterday, a military honor guard into the Chinese camp, close contact with them.
military honor guard commander Colonel Liu Shi-Xu said, a military honor guard team built nearly 60 years, the Division completed a total of 3200 times ceremonial ritual tasks.
military honor guard lined up to specification according to visitor status may be different. Generally meet foreign heads of state and government leaders of the highest specifications, guards of honor from the 151-member team; if the senior generals of foreign armies in China, the number is 127 honor guard; there is a specification by the 101-member honor guard of a single military services, the main foreign troops to meet a single armed services commander.
Liu Shi-Xu said in the 1950s and 1960s, a military honor guard ceremonial tasks each year only 3 to 5 times, seventies and eighties, ceremonial tasks to 50 to 60 times, far from the nineties each year up to 130 times the ceremonial tasks, which means that on average once every three days there will be ceremonial tasks.
■ Secret
selection must be 1.8 meters tall and more than
Earlier, media reports, now The honor guard height requirements in the selection of 85-1 meters 1 meter 90 between the strict selection of no less than pilots and divers.
Liu Shi-Xu told reporters that the guard of honor of the selection is mainly issued from the headquarters of a unified recruitment notice to the local armed forces honor guard for conscription. In addition to meeting the military enlisted recruits the basic conditions, the guard of honor requires recruits at 1.8 meters.
honor guard with national leaders and foreign heads of state have close contact, so the military honor guard recruits meet the political tighter than normal. Also, examine their overall quality, such as size, appearance, physical fitness and so on.
training greet the sun 40 seconds without blinking
military honor guard of military training is very strict. Liu Shi-Xu said the military honor guard in the annual military training time of 132 days a total of 1164 hours, the time of the main training in military theory, tactical coordination, weapons firing, physical training.
On this basis, but also the guards of honor of 800 hours of training in specialized courses. A guard of honor after the first recruits to be completed five months of basic military subjects, assessment is completed into the guard of honor to the professional subjects.
honor guard of professional training, including action, psychological, physical, face training. Motor training, the guard of honor requires men walking paces nothing is not bad, not bad to go one hundred meters every minute. Honor guard of soldiers station Junzi in the scorching sun and biting cold to stand motionless for more than three hours. Reporters learned that the British Queen Elizabeth II's visit to China, as Elizabeth II of the protocol soldiers standing seven hours straight, so that the Queen of England was shaken. A soldier told reporters that officers and soldiers from the parade ground into a parade ground, each person an average of 7 pairs of shoes to be worn.
In addition, they will have 3 times per week, 5 km cross-training, each participant is asked to use cross-country team training more than 20 minutes to finish the course.
In addition, the expression will be training officers and men to do his voice, reasonable manner, greet the sun or against the wind in 40 seconds without blinking, without tears.
soldiers are equipped with light weapons experts
military honor guard at various protocol tasks, are equipped with an executive team leader, he was armed with knife protocol, responsible for call the task password. In honor guard at the top is a standard-bearer standard-bearer and two retaining, behind them are armed guards of honor. The armed guards of honor guard of honor in front of each military branch, has a hand-held sub-protocol saber captain, responsible for their own honor guard.
the general public is only seen on television honor guard holding the gun protocol. In fact, the protocol only honor guard gun out of protocol officers and men in the mission equipment. Military honor guard comes with automatic rifles, machine guns and other kinds of classes with light weapons, the soldiers or the use of various types of light weapons experts.
■ visit
favorite after-school billiards Go
retired last year, 160 officers and men three percent when the "less empty"
military honor guard officers and men, rich leisure life. Reading, playing pool, chess men are their favorite.
reading their place is called "pleasure reading Square." "Pleasure reading Square" in the military is not only a wide variety of books, there are many extra-curricular books, including inspirational books, classics and best-selling novels. A soldier told reporters, here is the place most often go to the officers and men in training, after dinner, many men will choose to look at the book here.
general military honor guard soldiers of the service for 2 to 5 years, the specific service the age of 18 to 24 years. Because the officers and men to return after serving the community, so in the army, the guard of honor will be special arrangements for officers and men of learning-related knowledge, 90 percent of the soldiers during their service in obtaining various types of academic certificates.
in the "pleasure reading Square" next to a men's room, where chess, chess and other chess everything, near the activity room there billiards room. The soldier said, no shortage of chess and billiards in honor guard master, we often together to demonstrate their skills.
in the food, the military honor guard of soldiers is also very rich. Soldiers generally about $ 1.6 per person per day seven meals, and their basic meals a day per person $ 29 which also ensures the training of officers and men for a long time nutritional supplement.
the veterans, the military honor guard of soldiers is a social enterprise of the "meat and potatoes." Last year, about 160 officers and men of the guard of honor veterans, seven of whom passed the state civil service, 53 became the major airlines' empty little ", while more than 100 large and medium state-owned by the country and private enterprises to employ. (Reporter Xing Shiwei)
(edit: SN049)