Home
»
China military
» Japanese media questioned China's R & D Star Wars missile defense program similar
Japanese media questioned China's R & D Star Wars missile defense program similar
Date:2011-09-04
Author:admin
Category:China military
Comment:0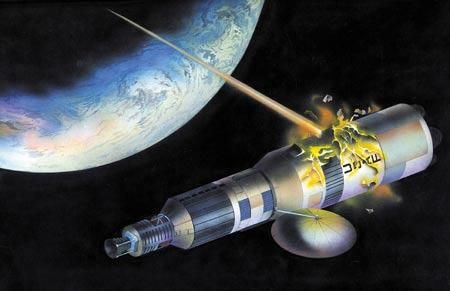 missile to shoot down satellite simulation diagram.
According to Japan's "diplomats" magazine official website on August 31 reported, the United States in the latest Pentagon report said China's military power, China is developing a crisis of conflict to enhance the limited space and equipment to prevent the opponent ability to use multi-dimensional programs; article asking the question: This is similar to China to "Star Wars" missile defense system has taken a new step?
South Korea, "Chosun Ilbo," citing the Pentagon to the U.S. Congress report to be submitted to the relevant analysis confirmed that the 2011 China Military Power Report said: "China is developing a way to make the outermost layer in the atmosphere and more foreign floor space with a missile defense system, which integrates technologies such as laser beam and the kinetic energy interceptor technologies high-end technology. "
the report entitled" 2011 China's military and defense development ", in the past 12 months to evaluate China's military development, including the potential space-based application engineering. The report notes that last year China had a record-breaking 15 space launches, expanded its space-based intelligence, surveillance, detection, navigation, weather information access and communications capabilities.
report, "China in 2010, nine occurred in remote sensing satellites with dual-use civilian and military in 2010 in Beijing has also launched two communications satellites (a military , a civilian), a weather satellite, two small experimental satellites, and a second lunar exploration program. "
It is reported that China's space technology development so that China gradually have interference conventional satellite communications and global satellite positioning system receiver signal reception capability. Meanwhile, "China is improving the ability to track and identify satellites, this ability is to carry out effective space applications projects, a prerequisite for precise control."
the United States and his country's military analysts, despite their ability to master a number of Chinese military intelligence in other areas of the upgrade, it is difficult for China's military intentions actually draw definite conclusions. (Sri Lanka years)
(edit: SN015) share: