Home
»
China military
» 022 missile attacks on military exercises launched missiles hit enemy ships at sea
022 missile attacks on military exercises launched missiles hit enemy ships at sea
Date:2011-09-04
Author:admin
Category:China military
Comment:0
welcome to the brigade missile fleet out to sea the "enemy." Wang Songqi photo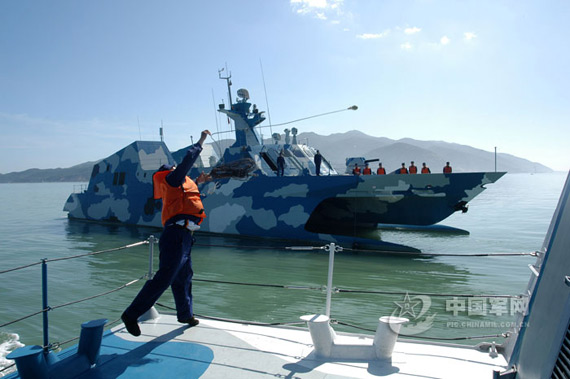 2 26 afternoon, navy 022 stealth missile boats to participate in combat training

South China Sea Fleet missile boat brigade equipped with the new stealth missile boats
February 27, reported Qingdao Xinhua Huang Binbin, special correspondent Li reports: the surging Yellow Sea, a clean sweep. Spring season, a complex electromagnetic environment of the system-wide simulation exercise defense and missile attacks began. Reporters on the scene, the Navy North Sea Fleet missile unit three new missile boats like sword-like gash Pictorial, towards the depths of the sea. The battalion Qi Zhongqiu mysteriously told reporters: "Do not go God, fighting broke out at any time!"
10 am, under the guidance of the warning aircraft, missile boats formation of new high-speed dash, rapid access to state of combat readiness . Zhang Limin, missile boats, the captain of a side of the "enemy" feeling threatened solver, while the ordered set by attacking elements of Moroto. A moment later, he decisively ordered: "Missile attack ready!"
correspondent Taiwan watch: At this point missile boats are rough seas on the way, have not yet reached "mass point", how can we attack? At this time, the reporter's camera shows low battery, then quickly back to the cabin to fetch spare battery.
a moment, the reporter returned to the podium, hear the dispatch group came Herald: "missile accurately hit the target, attack work!" "Kick it? When playing?" Reporters surprise, Zhang Limin, Oh Direct Music: "Tell you do not go god! see, did not photograph it!"
"In the past, often in accordance with the enemy, expand, attack, withdraw from the program for the exercise, war is often like model boats take the 'cat walk', all the way step by step, generally less than the specified 'mass point' is not an attack. "Captain Qizhong Qiu told reporters:" With the development of equipment and technology, 'found that the destruction' has become the generally accepted rules of the warring parties and since weapons have been shrunk, you can not apply the traditional model of training, whether in rough seas on the way, or to meet the enemy on the way, fighting broke out at any time and this is the essence of the new program. "
Just then, came the warning aircraft and "enemy threat" briefing. Reporters found that the missile is not straight as they used to "target" away, but advancing at full speed toward the flank. At this point, the missile launch trumpeter Zhoujiang Hao has been ready for battle. Zhang Limin, the order, two "missiles" flying volley, the "enemy" ships suffered heavy losses.
victory across the board, three missile boats sea evacuation drills. Return voyage, Qizhong Qiu told reporters that the new war boat performance, known as "sea snipers." Therefore, commanders do not have the ability to "exact footprint" on the juggling. Under the new framework is currently training facilities, top priority is to quickly explore a new set of tactical combat equipment, the path, the "sea sniper," the potential to tap out.
"fast" like a knife
a missile battalion Qizhong Qiu
now out to sea against the exercise, Whether we, or opponents, their heads hung a knife: "Quick!" We have a common feeling: to "find that the destruction" as the characteristics of modern naval warfare, has reached the threshold of time in seconds, fast one s victory, leap second to be doom.
"fast" like a knife, forcing our brains time to prepare compression operations, keep bow miss state, ready to be "enemy" shot. This is a "knife", the cut is coming along, "fat", not between the exchange rate is the sense of urgency. Outline of the new troops under the new training facilities, commanders at all levels should fully understand the new features of new equipment, new equipment, according to the advanced performance pay close attention to explore new tactics, do not let the head of this "knife" rust out.