Home
»
China military
» Chinese Air Force fighter pilot, first female fighter squadron took off driving
Chinese Air Force fighter pilot, first female fighter squadron took off driving
Date:2011-09-04
Author:admin
Category:China military
Comment:0
Chinese Air Force lined up eighth female student pilot approach.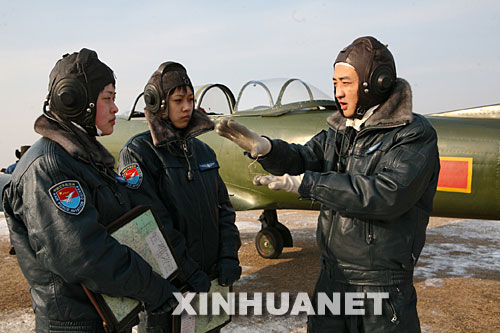 female flight to flight instructor for flight students before commenting (February 19, photo). Xinhua News Agency issued
Xinhua Beijing, March 8 (Xinhua) northeast of an airport, China's first female fighter pilot has control, "FT-eight" opened a two-ship formation training courses of the curtain. China's future will also benefit from this group of female fighter pilots in the selection of the first female astronaut.
According to the "Liberation Army Daily" reported on October 12 last year, 16 female fighter pilots in the Air Force the first new aircraft in China to achieve a successful solo from here, marking the Chinese army has a female fighter pilots become a reality.
Institute of Shenyang Air regiment commissar Lei Changgui a flight, said that 16 female pilot has successfully completed all the CJ machine training courses, Higher machine has completed the landing, flight, instrument , special effects and other training courses, conducting a formation training flight per capita has been nearly 90 hours.
It is understood that fly fighters, not only the technical difficulties, and physical requirements of high flying fighter for women's physical, psychological and operational skills and so presents a challenge. Currently, only the United States, Britain and a few other developed countries to develop a small number of female fighter pilots, while China has just begun.
Chinese Air Force fighter first female student pilot, was in September 2005 from 12 provinces, more than 200,000 female high school graduates fresh selected. A total of 35 was selected, but by the Air Force Aviation University 2 and a half years of basic education training, Shenyang Air Flying School six months early to teach a machine to another training flight and Shen empty Higher machine training college more than six months, has been grounded 19 . Currently, 16 female cadets is a flight Shen empty-year colleges Higher machine fighter training, they will be in the ideological, technical and physical aspects, to meet the more severe challenges and tests.