Home
»
China military
» Chinese SWAT Goddess Double Tap: shooting 200 meters away eggs eyesight
Chinese SWAT Goddess Double Tap: shooting 200 meters away eggs eyesight
Date:2011-09-04
Author:admin
Category:China military
Comment:0
high Wenjuan in training. Chen Bingshe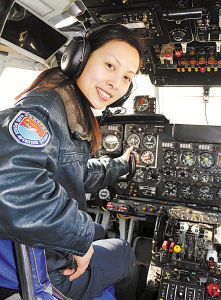 Wang Yaping ready to pilot a plane to artificial rainfall. Shenling She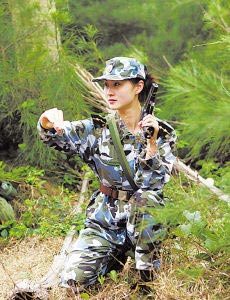 Song Lina is organizing tactics training. Zengqing She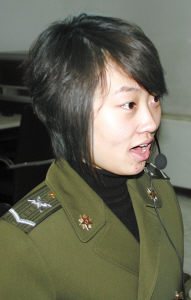 Liu Xiaona machine is on duty. Dongbin She
Editor's Note Today is the 99th, "March 8″ International Women's Day, we worked hard in the army and armed police forces in different positions on that holiday greetings to sister and greetings! Female is a green square in the bright flowers, is the hot barracks in a beautiful landscape, they shook the middle of the blue sky pilot, a dashing Marines, have to seize the high ground of military communications … … female beach-goers who use their hard work, focussed on the business, portrait in the barracks, the harvest of fruitful results, showing a gorgeous feminine style military uniform.
high Wenjuan: SWAT "Gunslinger King"
■ newspaper reporter Haihua
long 1.5 cm wide and 0.762 cm, a 77 grain brass pistol cartridge in the shooting of an established brick wall, according to the sun it became a bright spot.
10 meters away, a special police dressed in combat uniforms of female gun, shoot, "pit" is heard, shell trace.
mouth a touch of Alice, the shooter has given him a high Wenjuan little encouragement.
became apparent, high Wenjuan quiet and graceful. She is the armed unit known if women SWAT team points leader, I really thought she was a white-collar office.
army for 10 years, tempered, shooting, wrestling, climbing, make-up surveillance … … high Wenjuan each subjects are excellent, but the most prominent was still a shot.
high Wenjuan shoot, almost times and full ring, whether it is 25 meters with a pistol shot chest ring target, or use the sniper rifle, 200 meters away eggs; whether it is playing a fixed target, or on the move special police brigade in the shooting … … the leaders said: the task to the high-Wenjuan, we are assured.
early women's SWAT team, high Wenjuan humble, to become soldiers in the same year the first subjects to participate in fire fighters, by now is a love of her pondering tenacity. "If I got to shoot a shooter every muscle involved in every nerve to remember the feeling of hitting the target, shoot when you can aim at a target."
heart gun-in-one, is the pursuit of high gunmen state, Lianqiang but also to training the mind. Alignment of the watch's second hand, pin the eye to go away. Hone the end turn out to offer all kinds of distractions, and now she can use on rice in a drilled three needle eye. According to the gun, and pressure ligament, running is known as the College of the three special police "torture." Pistol bricks or dumbbells hanging rod, Duanqiang aiming for 5 minutes a group of at least 20 groups; target practice rifles, a lie for hours in the summer can print out a human form of sweat on the floor … … 10 years as one day High Wenjuan motivate yourself again and again past the physical and psychological limits.
Wang Yaping: "Swift" sprinkling rain
■ newspaper reporter Tan Jie
like Brisk Swift, Yantai Wang Yaping girl flew straight jump to light blue sky, between the rough sea of ??clouds churn for the rain to drought in Shandong ground spraying.
20 consecutive days, at the captain and his comrades Yaping Wang Hui, Wang Dan were driving a transport aircraft, perform artificial rainfall several tasks.
jumped, jumped, Wang Yaping calm to grip the sky. She was born in Shandong small village, but doing since childhood dream of flying. One in a 7 to become the first batch of female Air Force student pilot, a member of the first plane is to go skydiving. When the door opened, she did not hesitate to follow his comrades jumped down! White canopy bloom, she fly like a bird on top of the motherland and the blue sky, shouting excitedly.
few minutes later, a large group large groups of fog suddenly hit! Instrument shows "great water vapor, mild ice." Wang Yaping calmly change the height level, quickly leaping out of ice clouds.
in relief last year, Ya-Ping Wang and Zhao's husband, fellow pilots take off together, work hard for seven days and nights. Shuangliu Airport in Chengdu, with landing, but due to busy task, meet only a short 30 minutes. Have not seen her husband face six months of taking a closer look Yaping excitedly pulled her husband. Suddenly, the new emergency tasks assigned, the couple were flying again immediately disappeared in the Mangmangyunhai.
new layer is still covered with a high degree of risk of the pillar of cloud, Wang Yaping leading visual and radar detection unit based on a common judge, they must attack to cast more than 200 pieces of silver iodide shells after the flame started flying return.
rain soon bear fruit through the thick fog, the aircraft landed firmly on the slippery runway. At the same time, Chen Yu, Cao Yanyan, Li Li, Zhang Zhongfang other young female pilot who also go into battle, flying toward the vast night sky, the artificial rainfall.
Song Lina: "amphibious King took"
■ our reporter Wang Lingshuo
marines women's team a trip amphibious reconnaissance team known as the "amphibious Overlord Flower", Captain Song Lina not only looks beautiful, and military quality of first-rate!
this day early in the morning, Song Lina and her soldiers to the beach drag (lift) ammunition box training. This is a physical exercise training courses, a dozen 30 kg weight of the green ammunition boxes lined up on the beach, Song Lina and all the players, like truss arm band, carrying a spear, with two pairs of way prostrate caisson side, ready for battle.
suddenly, Song Lina gave the order: "Start!" I saw her and the group of players immediately ammunition boxes dragged on the beach crawl. Armed holding her hand box, hand brace, teeth, quickly crawl forward in the sand. "To maintain speed, and sisters Come on!" 500 meters in this training is very tough, female on the beach were like a blue-green and white dragon, strong and vigorous forward!
this training has just ended, Song Lina and another female who boarded the boats, the sea started shooting. 150 meters of the target for the waves when hidden, the girls must be in the dark within the time prescribed beach five hydrogen target destroyed. Reporters saw Xiang Pizhou have been buried around the point on the deep-fried, deep-fried sea from the sky from time to time in the water column.
Song Lina lying in the boat first start shooting, just listen to a bunch of shots between the sea and the sky, hit four goals, and the rest is still a target floating in the sea breeze. Song Lina Duanzhuo Qiang target in the storm, but not long guns, bomb at the soldiers point of control for her to sweat: "approaching the specified time, the bombing of two burst point to remind the captain now!" Carter down, a few meters away from the boat ten meters from the water column blow her whole body wet, rolling boat sway in the waves. At this point, suddenly a gunshot, then hit the final target fly. Boat gently landed, Song Lina beautiful face showing a smile of victory.
Liu Xiaona: Xianzhi with Quartet
■ newspaper reporter Zou Weirong
female witness traffic Bing Liu Xiaona work is really a beauty to enjoy. With cries of sweet norms, smooth sounds of words, waves footed, busy every second counts, I saw multiple phone as noisy as the tide was her Xianzhi that their orderly flock to far apart.
Liu Xiaona is a communications group Jingxi General Staff squadron level non-commissioned officers, two weeks ago, less than 10 days of leave back to her squadron, and his comrades joined together with two communications support tasks.
squadron leader fee-ling said: "Liu Xiaona is the fourth year in two sessions, the task of providing communications support as Squadron backbone, Liu Xiaona duty not only to the machine, even with all the 3000 daily remnants of pre-screening telephone maintenance, rely on multi-skill the hard effort. "
" Do you know her arduous? "squadron leader to reporters just T account, only memorizing phone number, for example, if she mean memorizing 2000 numbers, roughly equivalent to recite pi to 12,000.
Liu Xiaona army before the Shenyang Conservatory of Music Dance undergraduates, not at all based communication services. Has always been the first fight, admit defeat, she launched the sprint to the new target. Female general needs 2 to 3 years can be employed, in particular the exchange of technical, professional institutions, graduate students go through three to four years to be competent, and Liu Xiaona just two years became a foreman.
soldier's first Spring Festival, Liu Xiaona requested duty in the engine room. New Year's Eve when the clock strikes zero, phone suddenly increased, many users turned to her and his comrades sent New Year wishes. At that moment, she never produced a sense of pride.
like dance Liu Xiaona, spare time composing dance "key memorial Ming", the first variety show to obtain communications station. Reporters can not help but sincerely praised her, is really a "key memorial Ming," the soldier girl.