Home
»
China military
» Guangzhou, China, Pakistan Navy would like to have the same type of warship number (Figure)
Guangzhou, China, Pakistan Navy would like to have the same type of warship number (Figure)
Date:2011-09-04
Author:admin
Category:China military
Comment:0
Pakistani Defense Minister Muck Rosenthal (left) and the Navy Chief of Staff Al-Bashir (right)

" Nasser "sign oil supply ship pipeline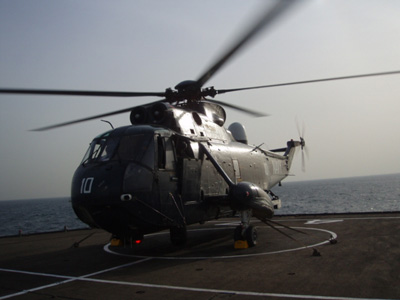 Pakistan Navy helicopter 10 to reach" Nasser "was oil supply ship

"Guangzhou" and the U.S. Navy guided missile destroyer, "Chamberlain Lake" cruiser fleet sailing. Xinhua News Agency reporters Cha Chun and Ming She
China Daily AP: "The good goes without saying that China-Pakistan relations, mutual trust between the two countries stand the test of time!" March 11 Pakistani Defense Minister Muck Rosenthal says.
the same day, Pakistan's Defense Minister, Chairman of the Joint Chiefs of Staff and the Navy Chief of Staff Tariq Bashir, came together to participate in "peaceful -09″ multi-national joint military exercise at sea in Pakistan, "Nasser" No. oil supply ships, the ships participating countries reviewed, the technical concept of Moba naval action.
Navy Chief of Staff, said al-Bashir, Chinese warships "Guangzhou" was coming to him very happy, "Guangzhou" was a beautiful ship, Pakistan, we hope to have such a warship.
he said: "The Chinese Navy's extremely well, they not only have beautiful ships, more well-trained sailors, and I welcome their arrival."
in China News reporter Ti Wenshi answer, he said Pakistan hopes to deepen cooperation and the Chinese Navy, in particular, hoping to strengthen the armed forces in scientific research, military procurement cooperation. Pudong, Shanghai, China at present there are three Pakistani naval shipyard under construction, expected the first one launched in August this year.
visited "Guangzhou" was the commander in chief Asef fleet participating in the exercise of Pakistan to see the reporter joked: "Your ships too good, it is better to leave it."
day, containing national guests, "Nasser" was China's Dalian Shipyard is the oil supply ship the product, manufacture date is 1988. 20 years later, the world situation has undergone tremendous changes, "Nasser" was always the same between the two countries to undertake the task of peacemakers, long-term power to provide for the China-Pakistan friendship. (China Daily correspondent: in the Union)