Home
»
China military
» Yunnan border armed police cracked the case of cross-border trafficking of drugs seized 2152 grams
Yunnan border armed police cracked the case of cross-border trafficking of drugs seized 2152 grams
Date:2011-09-04
Author:admin
Category:China military
Comment:0
Armed Police drugs found in the tank soldiers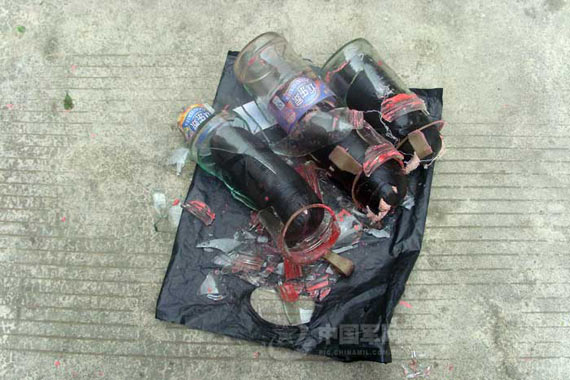 drugs were seized in Yunnan China military networks, March 18, Xinhua reported Chen Yi declared: March 17 Yunnan Public Security Border Defense Corps daluo narcotics smuggling along the border check points uncovered and arrested the suspect three, and seized 2152 grams of heroin, ice 316 grams, trafficking a car.
3 月 17 日 凌晨 4 30 AM, daluo border officers in the investigation of point Mengban open Jinghong bound direction from the Daluo close a license plate, "Love for All Seasons" on the Beijing conduct a public investigation of the modern car, they found the car also has a women and two men with a child, talk nervous, suspicious look, and many places have a black car and oily stains. Position in the front row next to the driver found "Nutrition Express" on the drink by asking the driver said he drank, feeling very suspicious men, one shake bottles heard rustling sound, open the bottle which is equipped with yellow medicine pouch and red flake drug suspicious objects. So focus on examination of the vehicle, found the spot in the fuel tank is equipped with 9 bottles of socks wrapped tightly wrapped condoms, drug use canned suspicious objects bottles. Total gross weight 2468 grams of drugs, including heroin, 2,152 grams, 316 grams of ice.
Cengmou account, according to drug trafficking suspects, two of them are also drug traffickers, would like to buy some drugs from Burma back to Guizhou home yourself, the way and then make some money. Wanted wrapped in layers of drugs hidden in the tank so hidden place, would certainly not be found, and the evening departure should not have any more problems. Wishful thinking, but they did not expect miscalculated, and finally count the hands of armed police to the Chinese border.
present case is still pending.
Atlas: Yunnan border armed police cracked a transnational drug smuggling case