Home
»
China military
» Jane's said the China R & D 250 kg guided bombs specializing in graphite grid
Jane's said the China R & D 250 kg guided bombs specializing in graphite grid
Date:2011-09-04
Author:admin
Category:China military
Comment:0
data for: U.S. BLU-114 graphite bomb diagram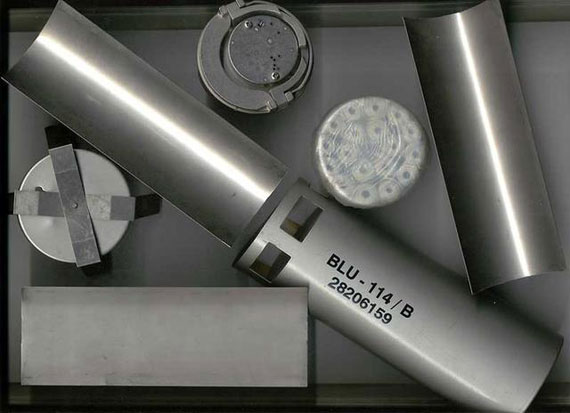 data for: BLU-114 bombs details
ink Global Times special correspondent in the United Kingdom Hao Ping report: British "Jane's Defense Weekly" March 11 carried an article saying that China developed by the weight of 250 kg cluster bombs filled with carbon fiber. This is specifically for a bomb attack and disable the power grid and designed.
article said, graphite bombs with 147 submunitions, each one containing 32 bundles of carbon fiber. When the bomb was detonated in the main missile body, the release of sub-munitions, the carbon fiber would be to throw out into the group, covering a large area. When the carbon fiber will hit the high current short circuit. In 1999, the United States during the Kosovo war in a similar weapon CBU-94/B to disrupt the power supply.
new graphite bombs is modeled after the British company's original design BL755 cluster bomb-making one of several bombs. Britain has been sold to Pakistan the bomb. Started with the Chinese version of the cluster bomb is a weight of 250 kg combined effect of the bomb (CEB), and is now the emergence of new variants, including graphite bombs and equipped with inertial navigation system, precision-guided bombs.
unguided cluster bombs in low-altitude (from the ground 30-500 m) delivery, speed up to 1100 km. Each carbon fiber cable 30 meters long, a bomb can cover 60 square meters of range. Graphite bombs can destroy all the 100 kV to 330 kV high-voltage power grid within the scope of work.
article mentioned that China has also developed a weight of 250 kg inertial guided bombs. Increase in inertial guidance feature, the power of unguided cluster bombs greatly enhanced. Inertial-guided bombs can be put in the remote high altitude, but the bomb can still use inertial navigation system successfully sailed right over the target area to throw point.
graphite bomb there will certainly be worrying. Experience in Kosovo and earlier for some time in 1991 "Desert Storm" operation in the use of similar techniques to prove this point.