Home
»
China military
» Russia said the Chinese Type 90 armored personnel carriers and Russian-made BMP-1 is very similar to
Russia said the Chinese Type 90 armored personnel carriers and Russian-made BMP-1 is very similar to
Date:2011-09-04
Author:admin
Category:China military
Comment:0
Domestic 90 style armored personnel carriers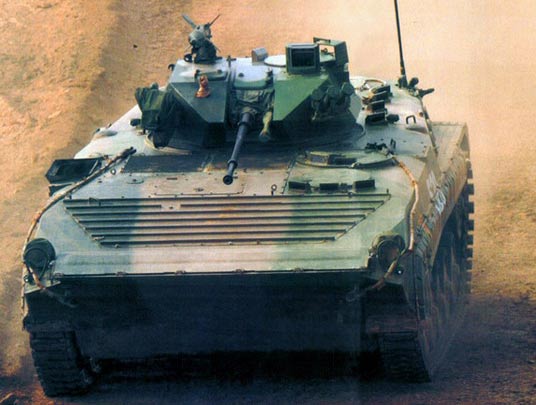 Chinese Type 86 infantry fighting vehicles improved

Russian-made BMP-1 infantry carriers
Russian armored vehicles, recently published an article on the network developed by China Type 90 armored personnel carriers of the development process and performance is analyzed. The article pointed out that 90-style armored carriers born in the early 1990s, research and development units to China North Industries Corporation. Structural design of the car by the former Soviet BMP-1′s effect on, or, more precisely, the latter being a replica of China – "86″ type armored transport impact. 90 welding rolled armor plate on the body tilt angle and position with the BMP-1 are very similar. As in the past, Chinese people have developed a new type of equipment will always be active after its international market. Therefore, people will see on the exhibitions in a variety of weapons and 90 armored vehicles of promotional materials.
90-style armored personnel carriers from the homogeneous steel armor plates welded together, the side shape of the low, easy-to-cover. Positive for the sharp wedge-shaped body, the front armor plate thickness 20 mm, has a good ballistic performance. Power plant in the right front side of the body, completely covered by the armor, power plant and other parts of the body between the internal heat of the bulkhead by the noise resistance are isolated.
90 armored vehicles on the installation of a Chinese manufactured under license in Germany BF8L413FC type 8-cylinder supercharged diesel engine machines, power of 360 horsepower. Car combat weight 14.5 tons, two control staff, can carry 13 fully armed soldiers. 90-long 6.774 m wide and 3.184 m, body 1.7 meters high, the maximum highway speed of 67 km/h, water exercise maximum speed of 7 km/h, maximum 500 km road trip, climbing degree 32 ° vertical obstacle 0.7 m , the more trench width 2.2 m, engine power 235 kilowatts. The car is equipped with a diameter of 12.7 mm machine gun, the direction of fire 360 ??°, the level of fire -5 ° ~ +85 °, payload 1050 issue of the empty target shooting distance of 1,600 meters, the car body is also set seven shooting holes (three on each side of the body, the rear one).
90 armored vehicles equipped with the front of the two smoke launchers. In addition, the interior is also a more complete set of three anti-system.
type of armored personnel carriers due to the overall performance, China North Industries Corporation is also based on it developed a series of variants, including a tracked armored command vehicle, tracked armored ambulance, self- mortars, rocket launchers and their own anti-tank missile launchers and so on. (Spring)