Home
»
China military
» Jian Shi Li Feng successful handling of the pilot remember a first prize danger 200,000
Jian Shi Li Feng successful handling of the pilot remember a first prize danger 200,000
Date:2011-09-04
Author:admin
Category:China military
Comment:0
Video: Tu Yu Jian Shi training fighter pilots successfully landing failure Source: CCTV "news network"
grade pilot Li Feng was a first time Air Force in mind, The picture shows the Li Feng short speech. Xinhua News Agency (Chen Lingshe)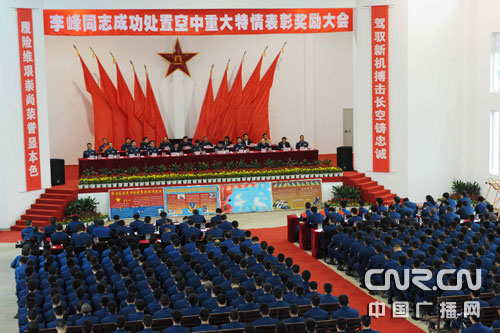 Li Feng successful handling of major air special circumstances awards ceremony venue

Yang Dongming, deputy commander of the Air Force in the air for the successful handling of major special conditions issued by Li Feng, a first grade pilot certificate and a Gold Medal Air Force Meritorious pilot
China news agency, Beijing, March 26 – (Wuyi Li Po was Yu Tao Shelan) March 7, safe driving in the 1000 meters altitude aircraft successfully landed without power Jian Shi regiment, deputy head of the Air Force, pilot super Li Feng, a first time recorded by the Air Force, and awarded the "Air Force Meritorious flight crew gold Quality Medal ", and give $ 200,000 in incentives.
26 morning, the air force unit of the Air Force was held in Guangzhou Li Feng successful handling of major air, the General Assembly recognition awards of special circumstances. Air Force and the wide air forces at all levels of authorities and representatives, nearly a thousand men in the decoration of a new cultural center of troops witnessed this moment.
March 7, air force regiment to organize inter-day and night flight, Li Feng, the implementation of combined tactical maneuver flying exercises in the open afterburner to do, "Sharp upward instantaneous" action process, found that "turn down light "shining. He was alert, immediately report to the commander, and increase in height, stop the engine quickly do a good job handling the preparation. When the "lights turn down," shining again, stop the engine, airborne equipment in the four displays and electronic flight indicator appears black, the commander ordered the case ready to jump, his calm, fearless, bold raised floor landing request. With tenacious fighting style, excellent quality and superb driving psychological techniques, visual manipulation he risked his life successful aircraft landing air slide in order to avoid major losses of state property to ensure flight safety has made a significant contribution to creating the Air Force in the history of a miracle.
made a special trip to attend the awards ceremony of the Air Force deputy commander Yang Dongming, Xu Qiliang on behalf of the Air Force commander, political commissar Deng Changyou to visit the troops. At the meeting, the Political Department of the Air Force announced the Air Force leadership award orders. Li Feng to the podium to accept the Air Force awarded a first head of the Air Force Meritorious Medal and Gold Medal and award flight crew. Wide air commander Gao Wei Li Feng command to the successful landing at the same time the commanders issued a second class certificate and medal.
Li Feng said that as an Air Force pilot, will face off every time the risk of one kind or another. The encounter special circumstances saved the day, have a good psychological and flight technology is one aspect of open space also contributed to the success of landing closely with the major factor. As a pilot, but do be do. (End)
have _COUNT_ -bit user comments I want to comment
Related reading:
Photos: Jian Shi pilot made a forced landing was recorded a first gold medal
Jian Shi Air Force sources said the value of over two hundred million a successful forced landing technique (Figure)
Air Force Jian Shi whether people respond to quality problems (Figure)
expert analysis of five key Jian Shi successful forced landing four break points (Figure)
Photos: pilot Jian Shi Li Feng driving experience 104 seconds thrilling moment