Home
»
China military
» Tianshan Mountains, Xinjiang Armed Police Force alone Kulie Shi Qingming sweep Cemetery (Photos)
Tianshan Mountains, Xinjiang Armed Police Force alone Kulie Shi Qingming sweep Cemetery (Photos)
Date:2011-09-04
Author:admin
Category:China military
Comment:0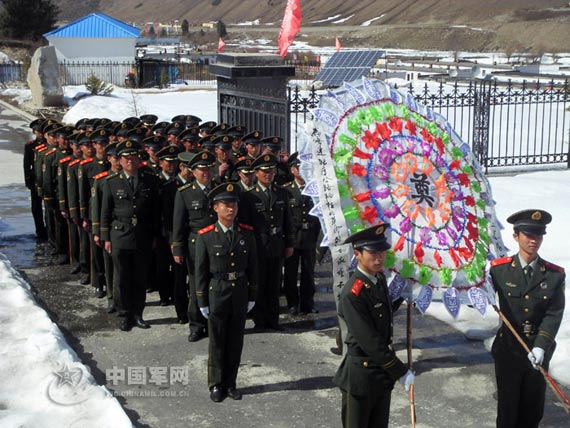 during the festival take the task of road rehabilitation and expansion of Tianshan armed police detachment of six men to carry out a variety of transportation activities, sweep Martyrs, cherish the memory of martyrs, We inherit our ancestors a glorious tradition of encouraging, promoting the spirit of the Tianshan, Tianshan Road, with the actual action repaired practice the core values ??of modern soldiers. Yining, Xinjiang China military networks
April 4, Jean Ping, Liu Feng Xinhua reported skin: during the festival, Qiao Erma Nilka County, Xinjiang Tianshan Duku highway Martyrs became the resident troops, schools, and the masses Ching Ming Festival sweeping education base. Previously, the Liberation Army Daily, China Central Television and military networks and other central media have reported that Duku highway Martyrs veterans grave keeper's deeds, caused a strong reaction.
Qiao Erma State Road 217 at Highway 315 wire line and the intersection of State Road 217 is the line Dushanzi to Korla to go through the land.乔尔玛烈士 Cemetery burial of the 168 national defense construction of the Tianshan Duku highway martyrs, towering Monument to the Martyrs and the new Revolutionary Martyrs Cemetery, Tianshan single library together constitute the Tianshan Highway Memorial pay tribute to the martyrs memorial road area.
martyrs cemetery, according to the manager of traffic two armed police corps veterans Chen Jungui, the "Tianshan Duku Road Museum" and heritage has been preserved in showroom traffic two armed police officers and soldiers built roads Corps Tianshan road number one hundred year tools, photographs and drawings and other in-kind.
According to incomplete statistics, more than 5,000 people have visited this year sweep of the Martyrs. So far only from April 1, there are more than 300 soldiers and the people made a special trip to come to cherish the memory of the resident for the construction of the Tianshan Duku highway and infrastructure engineering heroic devotion of the PLA (People's Armed Police Corps transport two predecessor) road officers and men.