Home
»
China military
» China should be built with a large patrol boat the Coast Guard maritime law enforcement
China should be built with a large patrol boat the Coast Guard maritime law enforcement
Date:2011-09-03
Author:admin
Category:China military
Comment:0
Data Figure: China Marine Surveillance maritime law enforcement patrol boat No. 83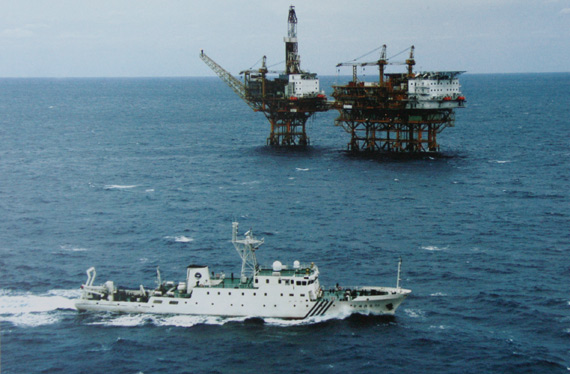 Data Figure: China Sea, Coast Guard boats patrol supervision departments in the East China Sea oil and gas fields
Fang Chunxiao Russia and Canada has said it will set up a series of force protection in the Arctic, the Arctic national interest, concern is Russia and China and Canada in the regular Defense Forces, but also set up a paramilitary force like the U.S. Coast Guard, and is used in the Arctic Ocean ships of other countries to start fighting at sea. In fact, conflicts of interests with the increase of the world's oceans, national marine law enforcement methods are becoming increasingly similar to the United States, South Korea, Brazil and other countries had already set up their own Coast Guard. Refer to this model, for China's handling of the complex marine environment there is considerable reference.
paramilitary forces like the Coast Guard such as the wide participation of the usual sea management, salvage, marine environmental protection and marine disaster prevention and other activities, use less scruples; dispute in the event of maritime rights and interests when it is non-military party's identity but also to some extent, to avoid escalation of the conflict; support the Navy in time of war but also to supplement the loss. The U.S. Coast Guard, for example, it is the originator of the Coast Guard around the world, is the only comprehensive American maritime law enforcement agencies. Usually, it is the Ministry for the implementation of the humanitarian aspects of the U.S. task; wartime U.S. Navy is a highly specialized components. To this end it has more than 200 ships and medium-sized ships and small ships more than 1,400 ships, there are more than 200 types of aircraft fixed-wing aircraft and helicopters, large scale that it was "the second U.S. Navy" in the title. Often infested waters of the Diaoyu Islands, Japan Coast Guard ship is of the same nature. Japan Coast Guard's 11 maritime patrol boats district has 50 kinds of various types of more than 700 vessels. It is not only sea disputes with neighboring countries play an important role in the North Korean missile launch, the Coast Guard were also west of the Sea of ??Japan in Akita Prefecture sent aircraft and patrol boats in the Pacific North Korean missile sent to find the wreckage of the aircraft.
with maritime law enforcement forces in these countries compared to China's current maritime management model has become outdated. Border, marine police, maritime surveillance, fishery and environmental protection departments lack the necessary horizontal linkages, rapid response is difficult to respond to emergencies; same time, this led to scattered resources, inability to concentrate financial and material resources to purchase modern marine equipment, the lack of a displacement of 3,000 tons , equipment, information equipment, helicopters and ocean-going patrol boats, and would not have dozens of ships, on the one hundred law enforcement fleet scale.
future China would set up similar to the Coast Guard maritime law enforcement power, we can carry out its features ideas to promote our country's future maritime struggle mode gradually clear up. First of all types should be equipped with a full range of large, medium and small sea craft, and to a displacement of 3000-ton patrol boat as the main medium. The level of patrol sized, fully functional, airworthiness good, to cost-effective, perform a variety of maritime missions; then large-scale displacement of more than 5,000-ton ocean-going patrol boats for the vanguard, the main implementation of ocean and ocean routes The handling of unexpected events at sea, with large patrol, the Coast Guard can our global marine law enforcement, for the growing integration into the global economy of China to defend the full range of export-oriented economy; because China has 18,000 km long coastline, coastal law enforcement task is arduous, so a lot of equipment but also a displacement of 1000 tons of small patrol boats. The level of patrol flexible, fast response, large quantities can be constructed, called offshore enforcement of the "generalist."
addition to the full range of surface ships, but also equipped with shore-based and carrier-based fixed-wing aircraft and helicopters. Coast Guard aircraft advantage is speed, range far more than can be equipped with mission equipment, and rushed to the Marine in the first scene, investigation, warning ships of illegal surveillance and monitoring of the implementation of the whole. States Coast Guard is currently equipped with shore-based patrol aircraft primarily HC-130 "Hercules", P-3C, Il-38 and other large long-range fixed-wing aircraft, Coast Guard ship is equipped with various types of major helicopter. Coast Guard small boat can be equipped with similar HV-911 "Eagle Eye", "elf" and the like unmanned aerial vehicles, can also be undertaken by helicopter to complete the traditional maritime law enforcement tasks.
Furthermore, since the vast China Sea, the sea conditions complex, requiring zoning management, Fenpianbaogan to achieve the long arms of law enforcement marine patrol, rapid response, fixed in place. Natural conditions may be generally the Bohai Sea, Yellow Sea and East China Sea, South China Sea is divided into four districts, the creation of four marine guards Inspection Detachment, then under certain special circumstances set up a special area of ??special police district, for example, consider the mouth in the Bohai Bay, Yangtze River estuaries, Zhoushan Islands, Taiwan Strait, the Diaoyu Islands, the Pearl River estuary, North Bay, Sea, Nansha and other Sea Patrol special police team set up to deal with unexpected, complex and dangerous situations at sea and maritime disputes. (The author is a Chinese naval expert)