Home
»
China military
» Chinese Navy Aegis warships Song-class submarine appeared Qingdao (Photos)
Chinese Navy Aegis warships Song-class submarine appeared Qingdao (Photos)
Date:2011-09-03
Author:admin
Category:China military
Comment:0
Photo caption: in port 170 missile destroyer.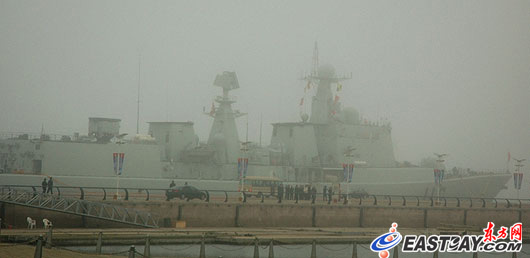 Photo caption: Olympic Sailing Center dock at 116 missile destroyer.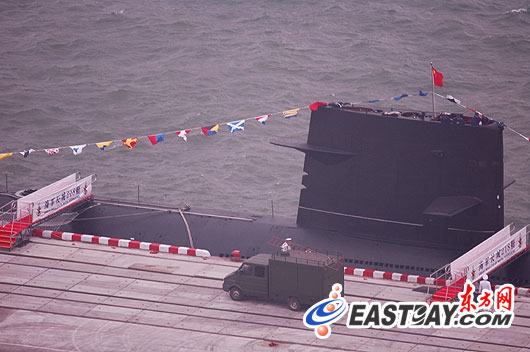 Photo: Great Wall of China Navy Song-class submarine No. 218.

Photo caption: 054-class guided missile frigate No. 526.
21 from 14 countries gathered in Qingdao naval vessels yesterday. People's Liberation Army Navy Commander Wu Shengli 6 pm last night in Qingdao Port, announced the official opening of the multi-national naval activities. The "harmonious ocean" as the theme of multi-national naval activities aimed at strengthening maritime security cooperation, to create harmony marine environment.
Navy Commander speech welcoming guests
Wu Shengli behalf of the Chinese naval officers and soldiers, who came to participate in the activities of national leaders and Navy officers and sailors to express my sincere welcome and heartfelt thanks.
Wu Shengli and hope to promote the exchange of navies, build a platform for mutual understanding, understanding of China and open a window to understand the Chinese Navy.
joint multinational military band playing
delegation visiting navies, naval officers and men in 14 countries representatives and 21 representatives of Chinese sailors in Qingdao City community attended the opening ceremony. Opening ceremony, a joint multinational military band playing.
invited to China's 29 national naval delegation will participate in the next few days, high-level multi-national naval discussions, multi-national naval parade ships, warships professional exchanges, cultural exchanges and sports competitions and other activities at sea sampan.
"Dokdo" assault ship finally arrives
more than an hour before the opening event, the South Korean navy "Dokdo" amphibious assault ship slowly sailed arrived in Qingdao Port, which is the last one to participate in the activities of foreign military ships arrived in Green. First arrived in the Mexican Navy 18 "boast Ute Mock" No. Sail Training ship.
divers troops to defend the port security
by Beijing Olympic Games organizers in security standards for foreign ships and representatives to provide services. Chinese naval warships berthing pier also deployed special forces divers to defend the national security of ships.
Qingdao border check points also greatly reduces the clearance of foreign warships, in the past four hours to take three after finishing the customs procedures, this less than 10 minutes; Qingdao expressway entrances and exits of the city has arranged a large exhibition, the city's main streets are hoisted flags and banners. The famous naval port city has clearly immersed in the festive atmosphere.
Chinese naval parade big exposure
which Chinese naval parade debut in the sea, has been the focus of attention of all walks of life. Reporters saw yesterday, the Chinese Navy's 170 ships, 527 ships, 528 ships, 886 Song-class hospital ship and a submarine full of flags have been hung up in Qingdao port, the other a 116-ship is docked at the Olympic Sailing Center area. These ships are likely to appear in the parade.
"Chinese Aegis" dressed appearance
170 "Lanzhou" is a 052C class guided missile destroyer, the first time China has installed a vertical ship launch system, built-sea red -9 anti-aircraft missiles, known as the "Chinese Aegis" destroyers; 116-ship "Shijiazhuang" China is No. 051C-class destroyer, equipped with Russia's most advanced carrier-based regional air defense missile systems, has been called " Russian Chinese Aegis "destroyers; 527″ Luoyang "number and 528″ Mianyang "are considered 053H3 frigate type, equipped with two 4 C802-mounted missile launchers, the red flag -7 eight-mounted air missile, one pair mounted 100 mm guns and other weapons made.
first naval hospital ship appearance
866 "Daishan" hospital ship is China's independent design and construction of the first two large specialized hospital ship, the world first a large-scale professional hospital ship. Entered service last December. The ship is not the end of the Chinese navy hospital ship large format history of its hardware equivalent to land the top three hospitals.
Chinese navy arms will see
Song-class submarines by China independently developed a new type of submarine, the submarine design with a drop of water, underwater noise greatly reduced, it can be said is the real "underwater killer." The parade, the Chinese Navy will participate in the various branches of the military, including naval aviation and to time various types of fighter aircraft, AWACS, etc. will appear, military fans can see them all. According LONDON barracks
foreign military ships full scan star ship is magnificent
correspondent yesterday into the park's foreign military ships in the port of Qingdao, take a closer look These friends from afar.
"star" ship to attract attention
"Kuznetsov" was iron-gray hull reveals share solemn, like a tip shark ship The first goal seems to always be able to tear around the eight missile launchers huge visual impact is great, really live "aircraft carrier killer" reputation; contrast, "Fitzgerald" appearance much more gentle, but the phased array radar is very "cool"; as the world's first equipment "Aegis" destroyers, the United States, "Arleigh Burke" class guided missile destroyer indisputably reached the surface ships of the contemporary a peak.
can also be regarded as "gunboats", there is a new generation of maritime combat forces as a milestone in Singapore's "awesome" missile frigate, South Korea, "Kang Gam-chan" missile destroyer India "Mumbai" missile destroyer and so on.
variety of old and new ships
supply ships, patrol boats, landing ships, frigates, destroyers and support vessels …, every ship to China ship has its own story.
Canada from more than 25,000 tons of "protector" of supply ship, to only 270 tons in Australia, "Perry" was patrol; from the original plan to Somalia to combat piracy in Korea, "Kang Han
praise, "the destroyer, to make Indians proud of" Bombay "missile destroyers; retired from the UK" re-employment of laid-off, "added the Brazilian Navy," Garcia de Vera "amphibious landing ship to 2007, just a good service while several new ship. Countries gathered in Qingdao ship models, the performance of various sizes, the Qingdao Port dress was colorful.
According to Xinhua News Agency experience
Qingdao Port as a closed military zone
Chinese navy naval parade will be launched in Qingdao yesterday Correspondent interview and experience the work to the strict security.
Qingdao police patrol the streets
the event of security work, is based on security standards for the Olympic Games in Qingdao's main street, the police have patrol. Qingdao Port in front, more police patrol cars stationed, police and security checks of vehicles entering and leaving strict. May be out of the ordinary civilian port of Qingdao, is now only the card holder before they can enter.
to make weather protection of multi-national naval activities, Qingdao Meteorological Bureau since April 18 from entering the state emergency response level Ⅲ. The requirements of the contingency plan in case of fog, high winds affect weather, will enter the state emergency response Ⅰ level.
Qingdao Port as a closed military zone
present, originally for the civilian-military port of Qingdao Port has been designated as national warship "habitat" and is listed as closed military zone, any foreign vehicles without valid documents and personnel are unable to port door. It also has a foreign crew who arrive out of trouble. To solve this problem, the relevant departments with special bus, shuttle crew members to and from. When the crew arrived at port gate, can take a taxi to go out to visit to play.
Olympic Sailing Centre, the most stringent security
in the upcoming multi-national naval sampan race Qingdao Olympic Sailing Center, there are a large number of police officers standing guard, and police patrol. Warships shooting of tourists, the police will be discouraged. However, strict security measures did not affect the enthusiasm of visitors, there are still a lot of tourists take pictures at the Olympic Sailing Center. According LONDON
related topics: navy 60 years