Home
»
China military
» U.S. Navy says Chinese military parade by showing military deterrent (Figure)
U.S. Navy says Chinese military parade by showing military deterrent (Figure)
Date:2011-09-03
Author:admin
Category:China military
Comment:0
mighty spectacular sea-past Chinese military photo picture Center Correspondent Qiao Tianfu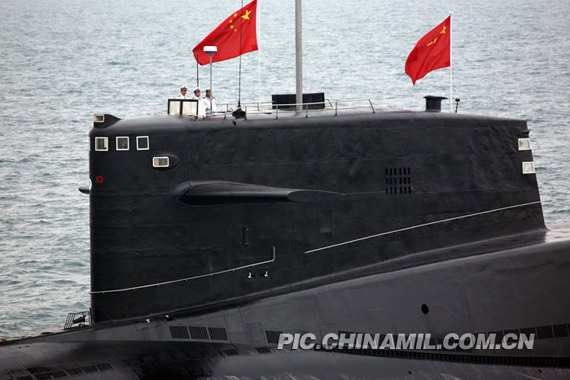 flag and the flag flying in the military picture Chinese strategic submarines Center Correspondent LONDON, April
Qi Xuan 24 News: April 23, will be held in Qingdao, People's Liberation Army Navy Marine massive military parade to celebrate the People's Republic of China Navy, and the 60th anniversary of the formation.
as at 1 October of this year's National Day military parade, the Chinese maritime military parade is intended to show pride. Exhibited a series of naval modernization achievements, the PLA Navy's most advanced warships and fighter jets to observe and foreign personnel to show in the majestic. Another multi-national naval fleet and senior foreign officials were invited to observe the scene.
many military observers pointed out that the marine parade will further highlight China's military deterrence concept. Parade and invite foreign guests to observe PLA strategic deterrence theory has been an important part. While some questioned the lack of transparency in China's strategic intentions, but in fact multi-level deterrence strategy, the PLA has been many times in a large number of military newspapers and magazines, official publications, especially the PLA Academy of Military Sciences textbook multiple times. The "strategy," a book already published in 2001, and in English in 2005 alone.
"strategy," a book deterrence strategy will be defined as "a state or political group show of force or show determination to use force, forcing the enemy to yield to the wishes of a person, not to take hostile action or escalation of hostility military behavior. " In addition, strategic deterrence is to reach "an important means of military strategic objectives." In fact, by their very nature, the purpose of deterrence is to change the enemy's psychological.
"strategy," a book also states that "armed forces fighting and deterrence are the two main functions." Therefore, China is not only the task of the armed forces ready to fight, but also to prevent conflict through deterrence. In particular, "China's strategic deterrent role to prevent foreign invasion, defending the sovereignty and territorial integrity and national interests, at home and abroad trying to split and crush the conspiracy to subvert the Chinese behavior, protect the country's political situation and stability, safeguard the territorial integrity and national unity."
addition to military forces, such as territorial size, population, economic strength, political and diplomatic ability to form a country's comprehensive national strength of the non-military factors, but also the strategy an important part of deterrence. The content is also Beijing's defense white paper released over the years has been explained. For example, in 2008 China's defense white paper, writes:
"China pursues a military strategy of active defense policy, focusing on containing the crisis and war, and utilization of military struggle and political, diplomatic, economic, cultural, legal and other means efforts to create peace and security environment, and actively prevent and defuse crises and deter conflicts and wars, strictly self-defense principles, careful use of force, war and strive to effectively control the situation, efforts to reduce risks and costs of war, which requires building effective deterrent and flexible use of various means of deterrence. "
both in strategic offensive posture, or in the posture of strategic defense, can take deterrent measures. The former is not to war in case of force the opponent to comply with its requirements; while the latter is to make "rivals that of its offensive, or may fail more harm than good." At present, China in the international arena is a strategic defensive posture adopted, but it can affect the perceived stability of their domestic or threat to national unity, the Chinese government will turn to strategic offensive posture.
"strategy," a book that the deterrent force of the three essential components: First, a "sufficient deterrent", that is capable and reliable power; Secondly, the use of these forces have determination; Finally, deterrence is deterrence between the parties and exchange, to ensure each other aware of and believe that the reliability of deterrence and the other will use it.
a strong military deterrent is the foundation. The PLA's modernization (especially in the last 10 years of development) has made the power of the force not what. Now, the People's Liberation Army to its "core military capability" as "winning the information under the conditions of local wars"; its second goal is to carry out military operations other than war in addition. As "strategic," a book described as: "strategic deterrence to combat operations as the basis of … … the stronger, more effective deterrence … These make pure bravado and coercion can not create a deterrent threat … …."
new equipment is a major part of the PLA's modernization, but more important is its personnel, organization, force structure, training and logistics quality. Despite the ability of the PLA has been significantly improved, but with the continuous progress of its modernization process, it still will face many challenges.
China needed to convey the use of force to the enemy's will, which the enemy must understand China's ability and determination. Deterrence side need to build "momentum" so that other people believe he is serious: "By showing their strength to the enemy to rally the other side a clear understanding of one's deterrent force, and thus the psychological pressure on the enemy, so fear, eventually forcing its surrender. large-scale military parade, joint military exercises and military visits are frequently used form of deterrence.
held in Qingdao and Beijing military parade can be seen as China for its military the results of a modernization campaign performance to help China's deterrence strategy, however, although just from the hardware point of view, Qingdao and Beijing's parade may give people left a deep impression, but that does not show the real the People's Liberation Army operations in accordance with its theoretical advantage of these new weapon systems capabilities, can not be that far away from home in the harsh conditions of the region's ability to maintain these weapons systems.
In fact, in Qingdao and Beijing Exhibition the People's Liberation Army conventional military weapons and strategic nuclear weapons delivery systems, in part because of China to foreign visitors declared to defend the frontiers, to defend sovereignty (including a dispute with other countries in areas) the ability of these weapons systems have demonstrated to the Chinese people in Beijing Government investment in the military field results, but also to "terrorist, separatist and extremist forces" to pass the Chinese Communist Party and Chinese armed forces to safeguard national stability, defend the country from riots affected people's determination.
"strategy," a book that: At present China has a limited but effective nuclear deterrent force, with relatively strong conventional deterrence, and the great people's war deterrence (p. 222), its nuclear forces for deterrence nuclear attack against China (or extortion); conventional forces to stop (if necessary, defeat) of China, "national sovereignty, security, territorial integrity" of the threat, to defend the "interests of national development." These tasks include protection from mainland China invasion of other countries, as well as a wide range of development interests to protect China.
Chinese "Anti-Secession Law" states that "to oppose and contain" Taiwan independence secessionist forces of "Taiwan independence" in the name of Taiwan's secession from China to promote peaceful national reunification, safeguard cross-Straits peace and stability, safeguard China's sovereignty and territorial integrity, safeguard China's national fundamental interests, which China's deterrent strategy extended to the "Taiwan issue", China has always opposed any form of external forces interfere with their peaceful reunification (p. 445), its development over the past 10 years a variety of combat – some of which may appear in Qingdao and Beijing in the Exhibition parade – is to prevent other countries (such as the U.S.) from the island of Taiwan interference of air or sea around the Taiwan issue.
At the same time, the Chinese People's Armed Police Force (part of the Chinese armed forces, but is not affiliated with People's Liberation Army) have been given a "stop and deal with threats to public safety emergency. "According to the National Defense Law of the People's Republic (1997) provides that the PLA and the militia in accordance with the law can assist in maintaining public order and the Chinese People's Armed Police and the Ministry of Public Security police department is to maintain domestic stability first line of defense.
Finally, the "strategic learning" project, said: "China's access to space power of deterrence that day is not far away" (p. 217) 2007 Chinese anti-satellite test, the Chinese Academy of Military Science researcher Xiu Bao Shi said in his article: "At present China has no clear space theory of deterrence … China's use of nuclear weapons with nuclear theoretical point of view provides important guidance. Mao Zedong and Deng Xiaoping's development to maintain the stability of deterrence still apply in space environment. "Mao Zedong believed that the" technology gap, especially with the gap between the United States in the military field, if not impossible to fill, but it is also very difficult ", and make concludes that "Even if China has a space weapons, their quantity and quality will limit their ability as an effective defense mechanism, will not become a threat to other countries. "
Chinese military literature of its strategic intent, strategy and overall ability to make professional and realistic assessment of a multi-level People's Liberation Army military deterrence posture is the theory of indispensable part of China is may be in China within the next few months and show the world its fielding of new equipment, but China has not used its armed forces in joint operations against the enemy of the new theory, based on the operation and maintenance of the new weapons and training The remains unknown.
Therefore, the "strategic learning" at the end part of the proposal carefully, said, "never allow the use of force to make rash decisions. Army exists to prevent and win the war. We may not launch a war hundreds of years, but never for even a day of war unprepared. "So, people need to PLA modernization process in the background, its strategy and theory, and the threat environment in Beijing Qingdao parade and display of weapons assessment (Compiled: Spring)
related topics: navy 60 years