Home
»
China military
» Remote sensing satellites for the PLA to provide tremendous support precision firepower
Remote sensing satellites for the PLA to provide tremendous support precision firepower
Date:2011-09-03
Author:admin
Category:China military
Comment:0
exercise took command of the officers.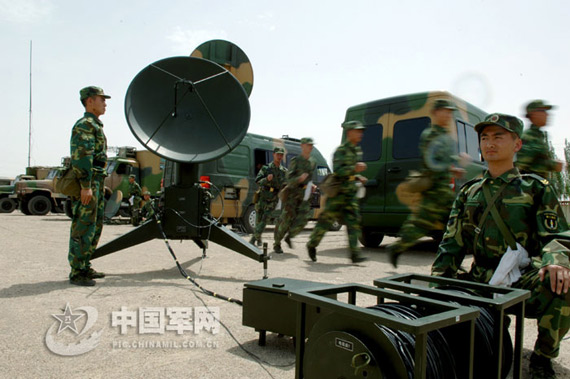 People's Liberation Army soldiers in the implementation of satellite reconnaissance and anti-reconnaissance.
WASHINGTON Liu Jihong, Zhu of reports reporter: April 28, by the General Staff of the Bureau of Surveying and Mapping, "Matrix 2009″ Mapping security drill in Nanjing ended. Command from the heads of major military units and institutions for training, surveying more than 180 research institutions led experts to observe the exercise and exchange of experience, a number of new information technology equipment in the exercise of mapping support appeared.
Mapping Agency, according to the General Staff leadership, the current exercise to information under the condition of mapping support joint and combined arms operations as the background, relying on the command platform and existing mapping support systems and equipment, take off-site operations and simultaneous real grouping military exercise methods, exercises of various branches of the military mapping support integrated joint operations, planning and action to implement the organization, improve command and control protection, weapons and other kinds of mapping support equipment support plans to further sort out the operational requirements, streamline command relationships, innovation and support model to test the mapping of information technology to protect the new achievements and new means to demonstrate the military mapping support the new achievements.
command in the drill hall reporter saw the space remote sensing satellite images to accurately assess the effects of firepower and targeting tools to provide advanced, satellite navigation and positioning system for accurate monitoring of the implementation of the battlespace situation, the new platform and precision information data provide strong support for the command and decision, headquarters within the military branches, cluster mapping to protect co-operation and intelligence-sharing … … gratifying scenes changes, marking a positive means of surveying and mapping support our military operations information into the various security agencies by the respective the war system of comprehensive support to the transformation of information mapping support joint combat capability of the new increase.