Home
»
China military
» PLA commander like to study the latest trends of international military
PLA commander like to study the latest trends of international military
Date:2011-09-03
Author:admin
Category:China military
Comment:0
data for: NATO exercises in the battle group preparing to attack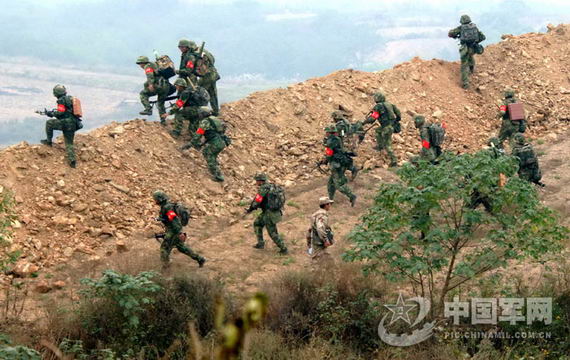 Data for: People's Liberation Army soldiers in combat exercises in the attack

Photo: High-bright (left) and division political commissar of the research work together.
I think my teacher when Debu tired
"from commander to commander, which one do you think the most difficult period?"
"during which I did not feel hard. "" soldier for 29 years, had ups and downs you experience it? "" no. "
" Remember You come across the most difficult, the most memorable thing do? "
"seems to be no."
very high brilliance "helpless" to see the reporters, as if the reporter can not provide for themselves, "a difficult one experience" and regret, along with the export, then more "gas "and:" I think my teacher when Debu tired. "
fresh, for the first time encounter that they do not tired of the leader.
"to better the division of people say you are in the office at night to work overtime."
"sometimes overtime, more time is there to read."
"to see what book it?"
"it more, mainly two types of bar, one with work-related, and second, the current social hot spots, what friends as the financial crisis, including popular fiction. "
" work of it? "
" work area can be divided into two categories, one now working urgently needed, and second, is not now seem on, as I like to see research international, national strategies, tracking regional war, the military world, tracking and management of change in the book, these things can not help you immediately look to solve specific problems, but it helps you broaden their horizons and improve the level of thinking, improve planning, decision-making ability. "
" You just asked me did not come across difficult fact, the reason why people feel that it is hard because of lack of capacity, not only find it difficult to solve. more learning, capacity improve the quality, go to the face is not that difficult. "
have not tired of the premise that ability.
"may be just one hundred eighty some of the grass-roots cadres are often called the 'two eyes opened, and busy lights out" ah! "
" thing to say when a teacher certainly missed But my principle is: teachers, teachers live dry, dry commander commander live. "
in the last interview, the reporter from time to time to hear some of the typical" complaint ": When the typical non- freedom, the old was staring at. However, the high brilliance do not think so.
Military glorious high road is almost typical of the way, when the company commander at the military "model company commander," was the General Political Department, the Central Propaganda Department, the State Board of Education awarded the "outstanding college graduates 80 years "honor, attended military heroes Congress established over a first, took a field division of the 43-year-old Shi Hai dissatisfaction. It can be said, the way he is "being stared at," came to be.
"I am more calm it. Propaganda to me, I told myself, I did not you say so well. Some criticism, I also told myself, I did not say to you as bad."
the entire interview, whether they deal with any problems, high brilliance are smiling, calm and indifferent tone, pace unhurried, almost no gestures.
a soldier who was chatting with reporters, said that forces one out, my heart hanging, old afraid of something happening, always wanted to hurry back to camp the troops on pragmatic today. "And you always ask of ourselves, a large mid-division personnel and equipment out, you have no such worry?" Reporters asked the high brilliance.
"no. Every time I lead the troops out, the kind of cavalry, armored rolling spectacular scene always makes me feel lofty, blood rushes, as true as on the battlefield, eager to fight, desire to win. "
this moment, shining like a high-field Division. But still no gesture.
Previous
1
2
Next