Russian Army main battle weapon fully unveiled in Moscow Arms Show 2008 (Figure)
Date:2011-09-03
Author:admin
Category:International military
Comment:0
weapons exhibition in Moscow in 2008, appeared on the S-300V anti-missile air defense system

" Tornado "multi-barrel rocket launchers debut

latest Tiger armored car debut in China ordered 100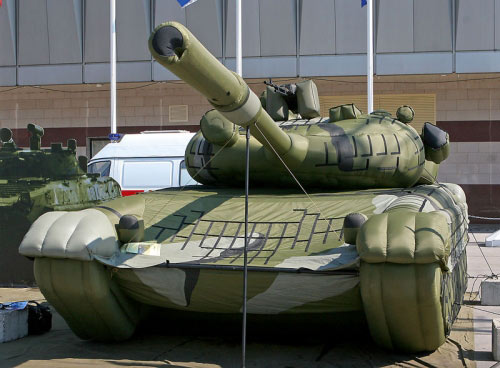 Simulation false camouflage tanks appeared
Itar – Tass," IDELF-2008 "international exhibition of arms and military technology, was opened on August 20. Russian army chief, General Vladimir Boulder Lev announced at the opening ceremony, there will be from Russia and 22 other countries, more than 350 companies participating in the arms exhibition, and exhibitors will reach 8000 kinds of products .
weapons in the current exhibition, a series of well-known Russian military enterprises exhibited almost all of their "masters" products and the latest research results. Visitors will be able to close access to the "Ural vehicle manufacturer," Inc., Instrument Design Bureau manufacturing company, "Diamond – Aetna" air defense system concern the company and a large number of famous military-industrial companies, military manufacturers.
in the exhibition of weapons and equipment, this can be said that Russia showed almost all the main marine weapons systems. It is reported that exhibitors, including through the modernization of weapons and modified BMP-3 infantry fighting vehicles, T-90A and T-80U main battle tanks, BTR-80A and BTR-90 armored personnel carriers, 2S19 self-propelled howitzers, 2S9 howitzer, 120 mm self-force , S-300V and "Doyle" anti-aircraft missile system "Tunguska" Gun air defense system, as well as the famous "Hail", "Tornado" and "Hurricane" multiple rocket launchers. It is particularly worth mentioning is that any weapons had never been on public display show the BMD-4 airborne combat vehicles will be based to meet with the public.
In addition, the Russian Museum of Military History in Kubinka will also "IDELF-2008″ exhibition on display at a number of international military meritorious "classic" class of weapons, including T- 26, T-30 and T-38 tanks, SAU-57 self-propelled guns, and BA-6 armored cars.
international arms exhibition in Moscow this will continue until August 24, more than 400,000 visitors are expected. (Compass)
more exciting site map: Photos Show 2008 Moscow's powerful weapons and equipment!
. OtherContent_01 p {line-height: 23px; margin: 0px;} . Pb {}. Pb textarea {font-size: 14px; margin: 10px; font-family: "Times New Roman"; background: # FFFFEE; color: # 000066}. pb_t {line-height: 30px; font-size: 14px; color: # 000; text-align: center;}/* page */. pagebox {overflow: hidden; zoom: 1; font-size: 12px; font-family: "Arial", sans-serif;}. pagebox span {float: left; margin-right: 2px; overflow: hidden; text-align: center; background: # fff;}. pagebox span a {display: block; overflow: hidden; zoom: 1; _float: left;}. pagebox span. pagebox_pre_nolink {border: 1px # ddd solid; width: 53px; height: 21px; line-height: 21px; text-align: center; color: # 999; cursor: default;}. pagebox span.pagebox_pre {color: # 3568b9; height: 23px;}. pagebox span.pagebox_pre a,. pagebox span.pagebox_pre a: visited,. pagebox span.pagebox_next a,. pagebox span.pagebox_next a: visited {border: 1px # 9aafe5 solid; color: # 3568b9; text -decoration: none; text-align: center; width: 53px; cursor: pointer; height: 21px; line-height: 21px;}. pagebox span.pagebox_pre a: hover,. pagebox span.pagebox_pre a: active,. pagebox span.pagebox_next a: hover,. pagebox span.pagebox_next a: active {color: # 363636; border: 1px # 2e6ab1 solid;}. pagebox span.pagebox_num_nonce {padding: 0 8px; height: 23px; line-height: 23px; color: # fff; cursor: default; background: # 296cb3; font-weight: bold;}. pagebox span.pagebox_num {color: # 3568b9; height: 23px;}. pagebox span.pagebox_num a,. pagebox span.pagebox_num a : visited {border: 1px # 9aafe5 solid; color: # 3568b9; text-decoration: none; padding: 0 8px; cursor: pointer; height: 21px; line-height: 21px;}. pagebox span.pagebox_num a: hover, . pagebox span.pagebox_num a: active {border: 1px # 2e6ab1 solid; color: # 363636;}. pagebox span.pagebox_num_ellipsis {color: # 393733; width: 22px; background: none; line-height: 23px;}. pagebox span.pagebox_next_nolink {border: 1px # ddd solid; width: 53px; height: 21px; line-height: 21px; text-align: center; color: # 999; cursor: default;}
Previous
1
2
3
4
5
6
7
8
Next