Home
»
China military
» Four PLA military exercise led 50,000 people outside the big media attention (Figure)
Four PLA military exercise led 50,000 people outside the big media attention (Figure)
Date:2011-09-03
Author:admin
Category:China military
Comment:0
data for: pledging to mobilize the People's Liberation Army troops ready for combat exercises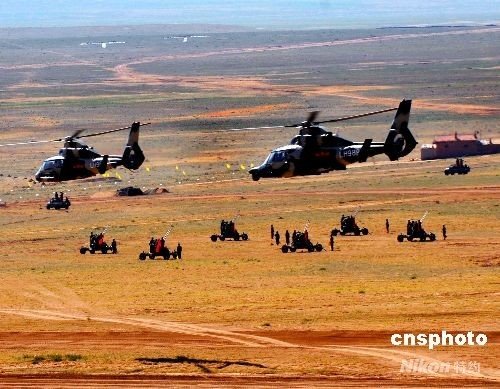 data for: large-scale maneuvers
PLA People's Liberation Army in the second half from the four military dispatched nearly 5 million people and Beyond "2009″ Large military exercises cause foreign media attention. Taiwan media even believe that the large-scale military exercises and did not participate in the Nanjing Military Region, is the policy of "a good show." National Defense University military expert Dr. Li Daguang 7 in "Global Times" reporter, said that under the conditions of large multi-combat arms contract military exercises, not only can improve the PLA's organizational and command capabilities, collaborative combat and combat skills, but also truly joint operations and joint command exercises the ability to test long-range movement of troops and the battlefield of speed and combat capability.
foreign media attention, "spanning -2009″
India Newkerala 6 news site reported that this exercise will be the PLA Shenyang Military Region, Lanzhou Military Region, Jinan Military Region, and Guangzhou Military Region, jointly, the PLA has begun to prepare for this large-scale military exercises. Itar-Tass reports also concerned that "China will carry out a large-scale military exercises." Reported, "and arrange four military divisions of four organic bases for cross-training exercises, this is the first time in the history of the PLA." The exercise included command and decision-making, land and air together, a complex electromagnetic environment of combat, combat assault landing, combat and multi-disciplinary integrated simulation of six parts, aims to comprehensively test and improve the overall conditions of military information operations capability.
Reuters quoted the Chinese media reported that this exercise will have four military regions from the 5 million people took part, including infantry, paratroopers and aircraft. This large-scale military exercises aimed at training continued modernization of the PLA in a complex, high-tech war fighting skills. Taiwan's "China Times" is concerned, in the exercise of a variety of vehicles and large weapons and equipment more than 60,000 units (vehicles, department), motor is expected to total mileage of more than 50,000 kilometers, will take the air mobility forces transport, railway transport, motorized road entered a variety of ways to start. In addition, the PLA Air Force will dispatch some troops, a variety of models to participate in training, Army aviation units will also tie in with the transition.
parties give different interpretations
the outside of the People's Liberation Army "across-2009″ exercises at different angles to give interpretation. Reuters reports that, "This exercise reflects China's growing confidence." Reported that the Navy through a large military parade in April, China has shown growing confidence as a military power. October 1 National Day parade will be, will once again demonstrated self-confidence. Reported that, for decades, the PLA has always been the focus of the training seeks to prevent "Taiwan independence." But in recent years China's military power has been extended to the country's economic interests can reach areas of the Navy to begin anti-piracy patrol, and the Army is also expected to be released quickly to where it is needed. Newkerala website that this exercise is mainly used for evaluation and promotion of the PLA in the information war in full operational capability, it will test a lot of tactics, verify the PLA command and control, precision strike, air and ground joint operations, complex operational electromagnetic environment and paratrooper assault operations and other aspects of capacity.
and Taiwan, "China Times" 7 noted, "the Nanjing Military Region for Taiwan operations in large-scale exercise in the unexpected defeat." The report quoted military observers as saying the exercise deliberately excluded from the Nanjing Military Region, and to ease the cross-strait relations, Taiwan may be in order to "show the good." However, Taiwan's "Vice Minister of Defense," Chang Liang-jen said Wednesday that "with this kind of thing to determine cross-strait military confrontation situation, too early." "China Times" also believes that the exercise will enhance the PLA's organizational campaign-level exercises and combat capabilities. Reported that the PLA Army last year, already held a "grind soldiers 2008″ thousands of miles cross maneuvers, then exercises to Beijing and Jinan Military Region, the main strength of each participating group a heavy and light armored mechanized infantry brigade, but times only a tactical exercise. This is completely different, across the four military regions, the participating units from the division level, to improve the level of the tactical battle drills.
to enhance combat capability is important
According to reports, the organization under the conditions of large-scale combat maneuvers, a powerful military general measures. U.S. Army Fort Irwin training center every year to meet the multi-branch division-level forces realistic combat training, the former Soviet Union and the Russian army at the "West" series of exercises, when hundreds of thousands up to participate.
Li Daguang that the People's Liberation Army soldiers in a number of cuts, each of the strategic direction of the force than in the past have been greatly changed. The four large-scale military mobilization, the PLA can be tested cross-regional mobility, and this ability is the future of defense and combat needs. Once a strategic direction because there shortage of troops, other military support to the timely arrival is particularly important. 5 million people, including four homogeneous loading of heavy weapons division total mileage of 50,000 km long-distance delivery are the Chinese military has never happened before, under the conditions of actual oil protection, ammunition and other military supplies to protect not only the demand, and requires high , the PLA logistics and organizational skills are also a great test. Last year, 5 ? 12 Wenchuan earthquake relief operations after the equivalent of a cross-regional mobility of the PLA test also revealed some problems. Through this cross-regional joint military exercises, can be further tested this wide range of mobility.
Li Daguang also believe that this exercise will really exercise joint operations and joint command capabilities. The world's military powers are carrying out military reform, to strengthen joint military operational capability, the formation of joint operations group, to adapt to modern warfare. Moreover, China's 7th largest military in the past 10 military drawdown from the model, is actually based on the concept of regional defense, military power is dispersed. Prior to the PLA exercises are mostly single military regions under a single arms of the exercise the troops, and the exercise, including four multi-service and military, coalition command structure needed to achieve cross-command, which will change the future military command systems explore the experience, ability to lay the foundation for rapid response exercise. (Special correspondent in India Lu newspaper research correspondent special correspondent Zhang Xuefeng Ma)
related topics: the first four military joint military exercises