Home
»
China military
» Ark said that China's peaceful foreign military hospital ship will not be obsolete in 10 years
Ark said that China's peaceful foreign military hospital ship will not be obsolete in 10 years
Date:2011-09-03
Author:admin
Category:China military
Comment:0
data for: the latest 866 Chinese Navy hospital ship at sea. Xinhua News Agency reporters Cha Chun and Ming She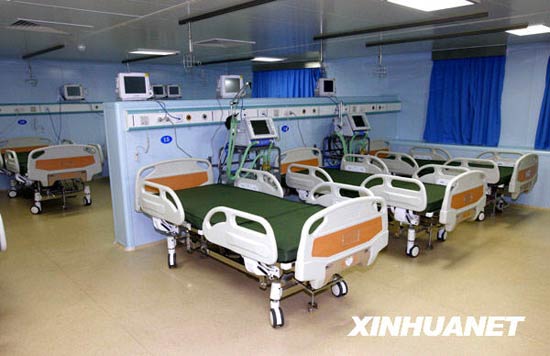 Data Figure: China Navy hospital ship large intensive care unit. Xinhua News Agency reporters Cha Chun and Ming She
the 60th anniversary of the Navy's naval activities in many countries, one marked "Red Cross"-ton wheel eye-catching, attracting the attention of various countries visit the Navy. It is the Navy's newest hospital ship – "Peace Ark". Despite the "peace Ark" is not the protagonist of the sea parade, but it is in a special way to showcase China's naval presence, convey friendship. During the event, which not only successfully completed the national military attache military delegation visited the reception task, but also successful implementation of the visiting foreign naval officers and medical care, has won in every praise. Foreign reviews, through this window, you can clearly capture the rapid development of China's naval modernization pace.
this with the "peace Ark" mission of the newspaper special correspondent Xu Xiaoyu, record foreign naval officers on board to visit, the process of medical treatment of many little-known highlights. In the eyes of foreign navies, "Peace Ark" exceptionally beautiful!
Minister of Naval Operations Admiral Roughead:
"Lady, you do not check!"
4 On the morning of May 20, waves lapping, groups of gulls and waves swept over, array chirping, as if aware of the distinguished guests coming today.
Yes, parking a naval pier in Qingdao "peace Ark" hospital ship, full of flags flying, boat crew and the Navy General Hospital medical team were dressed in Navy white dress, full of energy, ready to Minister to meet U.S. Navy operational Roughead and his party.
10 am, Roughead and his party deputy commander in the Navy, accompanied by Gu Wengen, set foot on the hospital ship's gangway. In the ramp mouth, Roughead, the Navy flag on the stern will respect a standard American military salute.
line with interest they visited the triage area, the surgical area, laboratory, special surgeries, CT room, the doctor studios, information centers, sterile supply room, and a variety of wards and so on. Roughead while visiting side asked when he learned that "peace Ark" was the hospital's medical equipment on board so advanced, the doctor's medical skills are superb, the doctor's qualifications are high, are not sent again and again praise.
when they came to the ENT clinic, the medical team Dr. Liu Ya fluent English introduced the consulting room equipment. After hearing reports, Roughead will be on his side of his wife humorously said: "This advanced equipment so comfortable, lady, you do not check!"
Mexican navy sailors Colorado:
"Chinese Navy doctor's medicine really superb!"
X-ray film preparation room, operating room prepared for surgery, pharmacy pharmaceutical preparations … … April 18 evening, "Peace Ark" received a multi-national naval task assigned by the command group of medical service activities: to participate in the multinational naval activities in Mexico, "Kwame Ute Mock No." sailing training ship will arrive, Colorado crew injured left arm, need emergency treatment.
whether the fracture of the wounded? Need surgery? Navy General Hospital medical team captain Sun Tao rapid pumping group of orthopedic surgeons, nurses, medical team, including the composition of the six treatment groups, to develop three sets of treatment programs. Evening 7:15, wearing a dark blue uniform of the Mexican Navy, Colorado, in the company of its ships to board a Military hospital ships. Hospital Ships medical team orthopedist Chao, in preoperative preparation room while a preliminary examination for the wounded, while his fluent English and talk in detail about the disease.
4 days ago, dancing on the deck of Colorado accidentally slipped, injured arm pain. As the ship was limited medical conditions, Medical temporary plaster can do for him a simple fixed. Dr. Zhang Chao gently open the plaster, carefully checking his inflamed elbow injury, the decision in accordance with the first set of treatment programs, the injured area immediately taking X-rays. Soon, the injured area by instrument perspective clearly shows: the left radial fracture. At this time, operating room nurses Lu Yingzi has plaster ready, Dr. Zhang Chao skillfully cast the wounded with the injured arm fixed. After dealing with injury, Colorado thumbs: "really advanced medical equipment on board, the Chinese navy doctor's medicine really superb!"
Bangladesh "Ottoman" missile frigate captain:
"You are truly an international humanitarian relief!"
4 21 evening 11 o'clock, Bangladesh "Ottoman" missile frigate crew Alem was rushed to the "Peace Ark", this time, severe pain that 37-year-old sailor Alem Yanmianerqi'd rather die. Medical team consultation on him immediately, immediately arranged for B-, biochemical tests and other items checked.
after diagnosis, surgical director of Xuedong night to lead the medical team for the implementation of Alem anal abscess surgery. After surgery, the medical team left for their ship to do the infusion observation arrangements.
surgery has been done late at night. When I heard, accompanied by the Bangladesh Navy Military do not eat dinner, board leadership immediately arrange for the kitchen to prepare a hot egg noodles. Sitting on the dining table, in the eyes of Bangladesh Navy Military some hesitation, Du Xin medical team immediately realized that he would not use chopsticks, so as he brought the spoon, he took the spoon happy to eat it. Eat a few bites, he picked up the chopsticks, said: "Let me try this!" Sitting on the side of the anesthetist Jun patiently taught him to use chopsticks. Such a simple meal, enhanced the friendship between Meng two sailors.
next day early in the morning, Bangladesh Navy, "Osman" guided missile frigate captain with a gift, to "peace Ark" express their gratitude. He firmly shook the hand of Sun Tao teams captain, said: "You are truly an international humanitarian relief!"
New Zealand sailor William:
"I want a doctor on board with a photo, the photo to take home to their families to see!"
4 21 morning, with the ships participating in the multinational naval activities in New Zealand sailor William, Steven and Daniel had come to "peace Ark" treatment.
William 20 days before the right wrist ligament injury in the diagnosis of X-rays taken after the lovely William lamented: "China's Navy hospital ship so advanced, our country has not, I hope you can visit look, I want a doctor on board with a photo, the photo to take home to their families to see! "
ENT clinic, the ENT Dr. Dr. Liu Ya is carefully supply ship for New Zealand sailors Steven has choked the ears clean cerumen. 23-year-old sailor Steven week before swimming canal leading to inflammation of the ears, with wax too, has seriously affected his hearing. When Dr. Liu Ya carefully soybeans large to remove cerumen from the ear when Steven, Steven said with surprise: "Oh, hear!" After half an hour of the ear canal clean-up, most of the obstruction is removed . Dr. Liu Ya recommended Steven first with anti-inflammatory effect of ear drops for the rest of the wax to soften anti-inflammatory and tomorrow and then continue to clean up. Steven and their accompanying Medical gladly accepted, and asked in detail about the use of ear drops, Dr. Liu made an appointment tomorrow goodbye.
foreign navies' Junsao ":
" I did not expect the Chinese Navy's hospital ship so advanced! "
4 月 22 日, is the Navy hospital ship the most popular day, this day, different colors, different races, different nationalities generals wives, gathered in "peace Ark" hospital ship. They dressed in colorful costumes, and interest to visit on board the cabin, not invited to the medical team posed for pictures.
surgical area is the most stable parts of the ship, wide corridors connecting the eight operating rooms, two operating rooms to radiology, to prepare a separate dressing room equipment, preoperative preparation room, clean room equipment , anesthesia preparation room, doctor's office, nurse's office, changing rooms, toilet room, changing his area, hand disinfection zones, two of the cleanliness of the operating room for the grade Ⅱ, 6 operating room cleanliness grade Ⅲ.
laboratory, medical team Rong Yang is well doing biochemical tests. Rong Yang for visiting guests on here with a dry biochemistry analyzer, blood gas analyzer, blood cell counter, freezer, oven, water bath and other equipment, can be blood, body fluids and other tests and biochemical tests; microbiological testing district, with biological safety cabinets, incubators, automatic identification of microbial analysis instrument, microscope, centrifuge and other equipment, is responsible for the clinical specimens were isolated and cultured pathogens, identification; blood preparation area, with blood identification instrument, dissolved pulp, platelet oscillation freezer, blood bank refrigerator, reagent refrigerator, cold storage boxes, etc.; sterile area, with lower exhaust autoclave, electric boiling sterilizer and other equipment used to test the use of samples, items disinfection.
"I did not expect the Chinese Navy's hospital ship so advanced!" "There is also less than the city's central hospital!" Generals who repeatedly praised his wife.
U.S. military attaches in:
"10 years of the Chinese Navy hospital ship will not lag behind!"
4 月 22 日morning, the beautiful harbor of Qingdao sunny. In the "Peace Ark" hospital ship, the deck conference is being held. Friendly eyes, warm greetings, soothing music, wife of Admiral from various countries, military attaches and the Navy hospital ship General Hospital medical team members come together, and friendly exchange. Sun Tao hospital ship captain teams around in a circle around the foreign guests, he politely answered the guests on China's Navy hospital ship a variety of issues; the other side, orthopedist Chao Embassy in Singapore military attache, Colonel Chen Shunli hospital board to carry out the exchange of medical work.
they heard the U.S. military attaches said: "The Chinese Navy's medical team is the best medicine, the Chinese Navy hospital ship will not be 10 years behind! I really hope that the Chinese Navy's medical team and the U.S. Navy Hospital ship's medical staff to conduct regular exchange visits, joint international humanitarian relief missions to complete. "
perfect at the child" performance "
Navy General Hospital vice president of Sun Tao
this is "Peace Ark" hospital ship for the first time in the major events responsible for medical care tasks.
To accomplish this mission, the Navy General Hospital in a short period of pumping by a group of 36 departments, with extensive clinical experience in master's and doctoral medical team consisting of 40 people. According to statistics, during the whole event, "Peace Ark" has over a hundred people were admissions of foreign navy, of which 6 were foreign sailors, carry out surgery five times, 48 ??times to carry out tests, B-ECG screening for 68 people , radiology film 55 times, CT examination five times, played successfully at sea "angels" role, has won praise from visiting navies.
this is "Peace Ark" hospital ship for the first time with "real" means comprehensive training.
2008 年底 has been fitted out, to make "peace Ark" was able to form a security force in the shortest time, we actively discuss maritime medical care issues. The mission provides us with an opportunity to study for some time before the results of a comprehensive, integrated testing. Qingdao Port in the East China Sea to the voyage, we conducted a naval battle at sea, rescue injured, wounded transport, maritime issues, more than 10 surgical training, and achieved good results, and marine equipment to achieve effective "butt." During the mission, also sent medical teams specialized in-depth border islands, ships officers and men of military service for the cumulative rounds over 1170 people.
this is "Peace Ark" hospital ship for the first time to multi-national naval open to receive from the "international look" scrutiny. From the Navy chief of operations to countries Roughead military attaché in China, to the common foreign sailors, after the visit they are given the same praise: the hospital ship's medical equipment is very advanced, the doctor's medical skills are superb. The praise means a recognition of medical support for our military capabilities and equipment at sea by the construction progress of the recognition.
To sum up, in the "Peace Ark" hospital ship into the future at the sub-sea battle of this "performance", we should say the performance is as compelling!