Home
»
China military
» 9 displaced Burmese Chinese Japanese Expeditionary Force veterans return home to visit relatives
9 displaced Burmese Chinese Japanese Expeditionary Force veterans return home to visit relatives
Date:2011-09-03
Author:admin
Category:China military
Comment:0
veterans returned to the motherland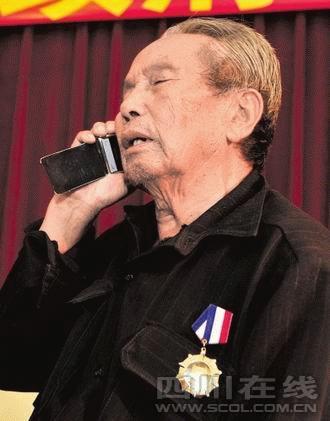 Expeditionary Force veterans and their families talk
CNS Ruili, 30 May (reporter Paul Xu) scattered nine Chinese Expeditionary Force in Burma veterans, today from Yunnan Ruili Wanding port set foot on the road to return home to visit relatives. Sixty-seven years ago, they go out from here to fight the Japanese invaders, returned home today, tracing them from here and feel the prosperity of the motherland.
afternoon, the city of Ruili, Yunnan these veterans held a grand welcoming ceremony. Then the young guy, now is the oldest elderly. Relatives and volunteers under the arm, they walked with faltering steps across the Wanding Bridge. Some red eyes, about to embark on some overlooking the land, some of China's armed police to guard answered with a salute.
settle in Wanding Expeditionary Force veteran Cai Zibin today specifically to meet the year Wanding port life and death battle with the brother. To this end, he also specifically to two by the Central Military Commission and Hong Kong "Ta Kung Pao" Medal of Honor awarded by hanging in the chest.
during World War II, the Japanese blockade of China all the sea lanes, Wanding became the headquarters of U.S. and British coalition forces and material distribution center, hundreds of thousands of Chinese anti-Japanese expeditionary force out of the country from here. Since then, due to various reasons, some expeditionary force to stay in Burma, 60 years, their growing desire to return.
It is understood that the veterans home leave nine people, their hometown in Sichuan, Shandong, Guangdong, Hunan, Jiangsu and Henan, the youngest has eighties, they were living in Myanmar's Mandalay and Myitkyina. In the community of caring people help these war veterans today who go abroad from the port of Wanding started on its way to a parting of the land contained more than sixty.
day, veterans also visited Nanyang Chinese Anti-Japanese Memorial and the mechanic to return Ruili port and feel the great changes in the motherland, the local children presented flowers to them.
War period, China's fight against the Japanese forces in Burma, in December 1941 under the "Sino-British joint defense agreement the Burma Road," compiled, a total of about ten million people. U.S. Army Chief of Staff of the Chinese Theater Command and commander Lieutenant General Stilwell. March 1942 into Burma. After losing most of the return Yunnan. April 1943 expeditionary force commander of the Department of reconstruction, later known as western Yunnan expedition, a withdrawal to India, said Chinese Ambassador to the Indian Army. October 1943-May 1944 Indian and western Yunnan in China has launched northern Burma Expeditionary Force fighting in western Yunnan, wiped out the Japanese three million people. January 27, 1945, the two armies joined forces in Wanding. March, completed the task of the Burma Road open after the withdrawal of the country.