Home
»
International military
» Russian media said the military conflict in U.S. manufacturing grid Russian agents hidden in China
Russian media said the military conflict in U.S. manufacturing grid Russian agents hidden in China
Date:2011-09-03
Author:admin
Category:International military
Comment:0
data for: Georgia's Su-25 fighter jets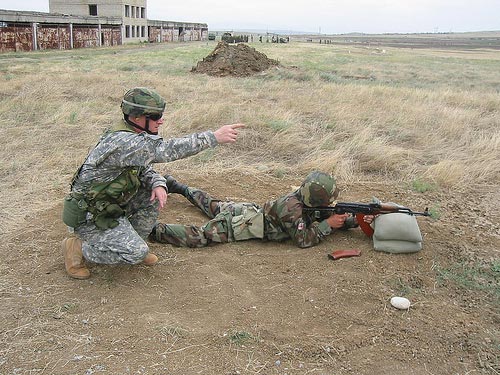 data for: the United States military forces in guiding the cell to fire training
Global Times article published on September 5 last month, 28 Japanese, Russian military spokesman, Deputy Chief of the Russian armed forces Nuoge Wei Cen show to the media in South Ossetia war zone to find a U.S. passport. Since then, passport owner Michael ? Lee ? White's name frequently boarded the U.S. and Russian media. Russia to him as "the deliberate creation of grid-Russia conflict," the U.S. Secret Service, the U.S. claimed he was just teaching in Guangzhou, China, ordinary teachers. September 4, the two media were published reports on the identity of White, saying different.
28, according to Itar-Tass reported Nuoge Wei Cen show to the White Russian media said the passport color copy of the passport is in a village in the southwest city of Tskhinvali found, Russian peacekeepers Interior Ministry special forces troops in the same cell where the battle occurred, the Russian sweep the battlefield found in this passport. He then said: "We do not know why there were U.S. citizens in the war zone," but confirmed that foreign consultants to help frame the military.
9 4, United States, "Wall Street Journal" on the front page about another version of things. The article said that White, 41, now a university professor in Guangzhou, China. Dormitories in Guangzhou, he accepted an interview with AP reporters Ban Ge and Xiao Shide, and claimed he had never been to Georgia. According to White's argument, in early August when Georgia and South Ossetia in full swing when he was home in Texas to take care of their 85-year-old father suffered a stroke. White's brother also confirmed this. According to White's passport with immigration records show that he left China on July 18, August 28, returned to Guangzhou, the passport without the U.S. entry stamp, but the paper said U.S. citizens are not stamped are common entry . 1992-1997, White had served in the Army, but both in the United States or serving in the military base to Germany, he was only responsible for the helicopter refueling tankers to open. Retired and complete the undergraduate degree, he became a teacher in 1998, worked in China, Vietnam, Japan and Kazakhstan working. Wife of Kazakhstan people. February to July this year, he taught English at a school in Shenzhen.
Associated Press, White initially involved in cell-Russia conflict on their own no knowledge back to China, her mother wrote him a message saying, "Internet search on your name, Putin and Georgia , you will find you — at least — your passport has at the center of international conflict. " White said that Russia could show his passport in 2005 en route from Moscow to New York loss, the U.S. State Department also said Wright who go through passport in 2005. U.S. Central Intelligence Agency (CIA) is a denial Wright is agent.
Also on September 4, Russia's "Morning News" to "hide U.S. pilots bombing in Tskhinvali in China" as the subject reported that Wright retired before the United States an elite airborne division pilot Although he came to the identity of English teachers in the Caucasus, but the actual job is the air attack instructors. Currently, he is in China. The paper, White admits that as a volunteer for the military services are not too common, and proud of it. Accordingly, the newspaper said, the military in the grid when the bombing of South Ossetia, indeed foreign mercenaries to help.
Russian Prime Minister Vladimir Putin told the United States August 29, Cable News Network (CNN) said, there is significant evidence that the Russian theater in the United States citizen, and thus suspect "was the deliberate creation of the United States conflict, one party for the presidential election 'campaign'. " The White House denied the allegation, Georgian officials in Putin's words will be known as the "KGB-style stupid propaganda." "The Wall Street Journal," said the Kremlin wanted to show White's passport repeat the Cold War approach to their practice of public relations. (Global Times special correspondent in the United States managed the Clinton-Jiang Liu Yupeng special correspondent in Russia)
. OtherContent_01 p {line-height: 23px; margin: 0px;} . pb {}. pb textarea {font-size: 14px; margin: 10px; font-family: "Times New Roman"; background: # FFFFEE; color: # 000066}. pb_t {line -height: 30px; font-size: 14px; color: # 000; text-align: center;}/* page */. pagebox {overflow: hidden; zoom: 1; font-size: 12px; font-family: "Arial", sans-serif;}. pagebox span {float: left; margin-right: 2px; overflow: hidden; text-align: center; background: # fff;}. pagebox span a {display: block; overflow : hidden; zoom: 1; _float: left;}. pagebox span.pagebox_pre_nolink {border: 1px # ddd solid; width: 53px; height: 21px; line-height: 21px; text-align: center; color: # 999; cursor: default;}. pagebox span.pagebox_pre {color: # 3568b9; height: 23px;}. pagebox span.pagebox_pre a,. pagebox span.pagebox_pre a: visited,. pagebox span.pagebox_next a,. pagebox span.pagebox_next a : visited {border: 1px # 9aafe5 solid; color: # 3568b9; text-decoration: none; text-align: center; width: 53px; cursor: pointer; height: 21px; line-height: 21px;}. pagebox span. pagebox_pre a: hover,. pagebox span.pagebox_pre a: active,. pagebox span.pagebox_next a: hover,. pagebox span.pagebox_next a: active {color: # 363636; border: 1px # 2e6ab1 solid;}. pagebox span.pagebox_num_nonce {padding: 0 8px; height: 23px; line-height: 23px; color: # fff; cursor: default; background: # 296cb3; font-weight: bold;}. pagebox span.pagebox_num {color: # 3568b9; height: 23px;}. pagebox span.pagebox_num a,. pagebox span.pagebox_num a: visited {border: 1px # 9aafe5 solid; color: # 3568b9; text-decoration: none; padding: 0 8px; cursor: pointer; height: 21px; line-height: 21px;}. pagebox span.pagebox_num a: hover,. pagebox span.pagebox_num a: active {border: 1px # 2e6ab1 solid; color: # 363636;}. pagebox span.pagebox_num_ellipsis {color: # 393733; width : 22px; background: none; line-height: 23px;}. pagebox span.pagebox_next_nolink {border: 1px # ddd solid; width: 53px; height: 21px; line-height: 21px; text-align: center; color: # 999; cursor: default;} Previous 1 2 3 4 5 6 7 8 Next