Home
»
China military
» Chen Hu: China-made Falcon aircraft carrier takeoff and landing performance advanced trainer aircraft capable
Chen Hu: China-made Falcon aircraft carrier takeoff and landing performance advanced trainer aircraft capable
Date:2011-09-03
Author:admin
Category:China military
Comment:0
05 架 Higher machine-made Falcon has completed its first flight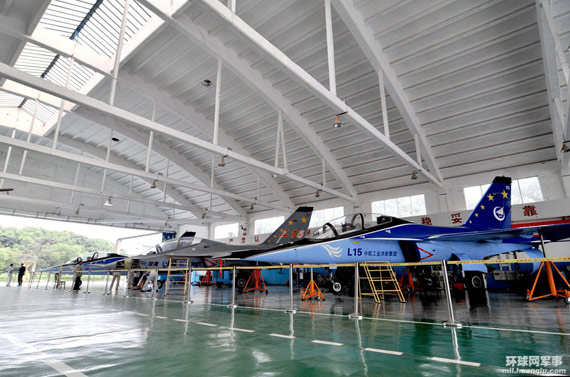 three Falcon advanced trainer aircraft L-15 family portrait
Editor's note: This week two news aroused the concern of users: First, China's large aircraft project assembly manufacturing center in Shanghai was set up 6; second is the "Falcon" L15 advanced trainer 05 8 successful maiden flight.
recent, rapid development of aviation industry reports very intensive, some foreign media took the opportunity to air power advocate China "threat" theory. In fact, with the international advanced level lags far behind. China's aviation industry to the current level of ability? How will the development of China's aviation industry? This week, "Chen Hu Troops" with you concerned about the status of China's aviation industry and the future.
"Falcon": not just Higher machine
"Falcon" advanced trainer 05 first flight successfully, we are very happy, also very exciting. But some people ask questions: It is after all just a trainer, meaning how important it?
In fact, the "Falcon" more than just exist as an advanced trainer. Set aside on technical sophistication, etc., from the wider sense, the "Falcon" 05 successful first flight at least three major significance.
solve the Air Force "quality" and "quantity" conflict between the key
new generation of aircraft and compared to the previous generation, a substantial increase in technical performance, but the cost also rose sharply. In the process of upgrading the Air Force fighters have been difficult to achieve a 1:1 ratio to update the old fighter. Therefore, almost all major Air Force is facing a conflict between quality and quantity.
Similarly, the Chinese Air Force in quite a long time, has also been troubled by this contradiction.
now we have three generations of machines. However, these three generations of machine cost is quite high, we can not completely in a relatively short period of time will change these old aircraft out. As a big country, how to solve the development of high-quality advanced combat aircraft and the Air Force to maintain the overall number of conflicts between is crucial.
In my opinion, like "Falcon" that the emergence of advanced machines of higher education can be said to resolve this conflict provides the key.
in a number of advanced combat aircraft and equipment at the same time maintain a large number of advanced trainer aircraft, the Air Force one can guarantee that we have sufficient training resources to ensure the pilot's talent pool; same time, this advanced high performance trainer can also perform as part of the wartime operational mission. So, like "Falcon" this machine in the world of higher education has also been a lot of national attention.
such as our neighbors South Korea, which jointly developed and the United States such an advanced T-50 advanced trainer, as its advanced aviation technology made the first breakthrough.
as Russia, some European countries are actively developing advanced trainer aircraft, we regard the development of advanced trainer and equipment quality and quantity as a solution to the contradictions of a possible approach.
develop military international market
"Falcon" aircraft could also open up export markets become a weapon.
whether military aircraft, civilian aircraft have the number or size of the aviation industry in China in the world are among the best. In this sense, we are an aerospace power.
does not mean that we are an aerospace power.
our aviation products, whether civil aircraft or military aircraft in the international market share is very limited. Like the "Falcon" this advanced trainer aircraft export constraints are less, so this may be beneficial to our military to develop the international market "weapons."
from past experience, China's domestic exports of military aircraft is the primary trainer of the most successful K-8, now we have a "Falcon" This advanced training aircraft, military aircraft in the export markets open up may be more beneficial.
way to achieve some special purpose
"Falcon" advanced trainer's own technical characteristics and performance of decision it may be to achieve some a way for special purposes.
example, the development of aircraft carriers on the need for aircraft to use the trainer. The "Falcon" This trainer has not only advanced takeoff and landing performance, while its technical performance of all aspects of art can achieve a considerable degree. Use of such aircraft to complete some of these special purpose, it should be said is a very convenient way.
made through the market test is the key to the successful development of large aircraft
we must also note that "Falcon" put the eye from the original developer of fixed on the huge military machine of international higher education market, "Falcon" or the development company had said its export volume may reach hundreds of aircraft.
This gives us a new measure.
In the past we measure an aircraft (either civilian or military aircraft machine) is successful when only be understood from a technical level. That is, if technically achieve the development targets, then the aircraft even if successful.
However, for the future of China's aviation industry, to just a technical indicator is not enough. We want to achieve from the air power to a leap in air power, we must take enough market share, our aviation products have to go to the world, and withstood the test of international markets.
China's large aircraft project and the "Falcon" advanced trainer, they are worthy of our attention is a common feature: the eyes to take aim, the international market. Only through a market test, be able to get a share of the international market, it can really be considered a double technical and commercial success. And China's aviation industry can only develop a large number of both technical success but commercial success of the military and civilian aircraft, will enable Air China are truly a great country to air power.
course, for today's aviation industry, the realization of such a leap is still long way to go.
the development of China's aviation industry long way to go
6 月 5, I attended the "China Air" magazine and the China Aviation Institute jointly organized the "Ping Rufei line Centennial Conference. " Many of the aviation industry experts and academics outside the military, experts attended the seminar to commemorate the feat of a century Ping Rufei line, the 21st century, space game, on how to promote the "Feng as spiritual" and the national aviation industry, air force building and national security space to start a topic of conversation across time and space.
dating back 100 years ago, a man named Feng, such as young people in the Wright brothers developed the first human powered aircraft manned aircraft after just six years, it developed the world's advanced level with time one called "Feng Ru No. 1″ of the aircraft. Such a young age of 20 years of age not only developed the advanced aircraft, and also proposed the "air power" of such a dream. Under the command of the Sun, he set up China's first "Air Force" to see the future of aviation technology for the importance of national defense, and made some important ideas of the Air Force strategy.
Until now, 100 years after von such as time, our aviation technology has never been reached as close as the world's leading Feng level as the extent of our current air power and the status of our country needs than there is still a considerable gap.
In this seminar, the aviation industry's elite, including four Academy of Engineering have expressed their views, many within the military experts and scholars have also felt a great sense of crisis, while we The aviation industry made a look.
Today, we have recognized the importance of air superiority. No air safety, national defense is difficult to be effectively guaranteed. Therefore, the aviation industry is of great significance for us. It is not only the development of national defense needs, but also China to move toward the road to recovery is an important material foundation.
In this seminar, all the experts and scholars such as Feng in the past 100 years before the brilliant, the face of today's gap between the aviation industry today, almost invariably with the words: long way to go.
In my opinion, whether it is "Falcon" flight 05 machine, or assembly of large aircraft manufacturing center project listed, this news should make us excited. At the same time, we should really understanding that we from the international advanced level is still huge in the future we want to develop the difficulties faced by the aviation industry is huge, efforts need to be made is enormous.
data links: China Airlines hundred Events
1909 年 9 21, China's first aircraft manufactured by the Von and driving in the United States as Auckland City suburb of successful test flight.
1913 In September, China's first aviation school – Beijing Nanyuan Aviation School was established. Qin Yong president.
1930 March Nationalist Air Force aircraft can plug Trek, landing in Henan, Anhui border region, was detained by local Red Guards; and transferred to a new set, Communist Party of China has become the first aircraft , named "Lenin" was. Long Wenguang pilots joined the Red Army.
1937 年 10 19, 129 Eighth Route Army in Shanxi division night attack mission on behalf of 769 Japanese yangmingbu County Airport, destroying, damaging Japanese machine 24, and annihilated more than 100 people.
1945 In September, the democratic coalition forces surrender on the Kwantung Army in Northeast 4th excel flight team, a total of 300 people, Japanese aircraft 46. On this basis, the establishment of the Northeast Democratic coalition air forces.
1946 年 3 1 March, the Northeast Democratic coalition set up aviation schools in Tonghua.
1949 年 3 30, CMC Aviation Authority was established in Beijing. Director-normal universe, any political commissar Wang Bi.
1949 年 10 January, the PLA's first squadron of 17 aircraft from Nanyuan Airport by over Tiananmen Square, the Party and state leaders of the review.
1949 年 11 11, People's Liberation Army Air Force, leading authorities in Beijing. Liuyalou appointed commander, political commissar Xiao Hua Ren.
1950 年 6 19, the people of the Air Force's first air force – 4 mixed brigades set up in Nanjing, Nie Fengzhi and Brigadier. Under the jurisdiction of two fighter regiment, a bomber regiment, an attack aircraft regiment.
1950 October to December, the People's Air Force 2, 3, 4 approved a total of 17 air forces around division has set up its pace of development in world aviation history is rare.
1951 年 1 21, volunteers for the first time the Air Force in the Korean war air combat with U.S. aircraft, captain Lee Han wounded U.S. F-84 aircraft 1. 29, Lee Han shot down or damaged in air combat F-84 aircraft each one. This is the first volunteer air force shot down U.S. aircraft.
1952 年 2 月 10, No. 4 Normal volunteers Air Force captain Zhang Jihui in the United States over the Yalu River, "ace" pilots shot down Davis.
1952 年 3 8, new China's first female pilot training, driving six years -2 transport aircraft took off from the western suburbs of Beijing airport, through Tiananmen Square over the report to show to the people of the capital.
1956 年 26 to 29 May, the Air Force three Il-12 transport aircraft, a CV-240 air transport aircraft, airworthiness Beijing – Yushu (Chengdu) – Lhasa route successfully.
1956 年 9 8, the Shenyang Aircraft Factory successful trial of the first Chinese fighter jet MiG-17Ф type (F-5), and approved production.
1958 In July, China to design and manufacture of the FT-1 type jet trainer in Shenyang successful maiden flight.
1959 年 9 30, manufactured by the Shenyang Aircraft Factory MiG -19 (F-6) fighter successful maiden flight.
1962 年 9 September, the first air-air missile shot down the Kuomintang forces in Nanchang Air Force U-2 high-altitude reconnaissance aircraft 1.
1966 年 1 17, F-7 aircraft made a successful maiden flight on December 28, shape into batch production.
1972 年 1 月 7, Nanchang Q-5 aircraft modification plant type of nuclear weapon delivery machine, by the 5th Air Force conducted a successful nuclear division Yang Guoxiang try to vote.
1979 December, the new China's self-developed high-altitude high-speed F-8 fighter design shape. Air delivery in December next year trial in 1981, began to equip the Air Force.
1984 年 6 12, Shenyang Aircraft Corporation trial of high-performance fighter aircraft F -8 Ⅱ song by the test pilot school Jen driving successful maiden flight.
1988 年 10 31, China modified Z-9 armed helicopters, type the first successful flight.
1991 年 12 23, F-8 – Ⅱ by oil-and H-6-type docking air refueling tanker for the first time success.
1993 年 7 22, the Air Force received the first bachelor's degree in female military cadets graduate, assigned to Air Force units in service.
1995 In April, China's first unmanned aircraft, supersonic aircraft first flight success.
1998 March, J-10 aircraft made the first successful flight test pilot Ray Strong.
1999 年 10 1st, the 50th anniversary of founding of new China air parade, a total of fighters, attack planes, fighter-bombers, bombers, refueling machines, new fighters, armed helicopters, seven models composed of 10 132 echelon, 11:05:20, 1st echelon over punctuality through Tiananmen Square, 11:12:19, and finally by plane over the square.
1999 December-made F-11A aircraft first flight success.
2003 December, "Eagle" advanced trainer aircraft first flight success.
2005 年 7 25, female cadets into the Air Force Eighth Air Force Aviation University.
2007 年 27 July to 22 August, some troops to the Russian air force took part in the armed forces of the Shanghai Cooperation Organization member states joint anti-terror military exercise (code-named "Peace Mission 2007″).
related topics: the 48th Paris Air Show