Home
»
China military
» Mao Xinyu: I hope that China's first aircraft carrier named Mao Zedong
Mao Xinyu: I hope that China's first aircraft carrier named Mao Zedong
Date:2011-09-03
Author:admin
Category:China military
Comment:0
CPPCC National Committee, Academy of Military Sciences Department of War Theory and Strategic Studies, Vice Minister, Mao Xinyu, grandson of a guest People power forum.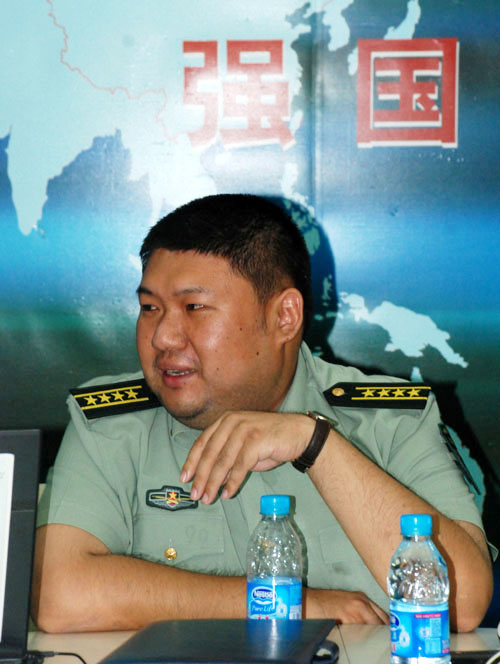 Mao Xinyu, grandson of a guest powerful forum.
Editor's Note: June 22, the CPPCC National Committee member, Academy of Military Sciences Department of War Theory and Strategic Studies, Vice Minister, Mao Xinyu, grandson of a guest powerful forum to "cherish the memory of ancestors Wei track, bravely assumed power mission — celebrate its 88 anniversary "in the title online communication with friends.
[Mao Xinyu]: Dear friends Hello, everyone! People are pleased once again to the guest, 88 anniversary of its founding, People to be able to communicate feeling very happy to answer questions, welcome to exchange questions.
Mao Zedong's practice philosophy is to transform the world of philosophy
[Zai Chang]: Does hair Minister: Ministry of Mao Zedong's what most influenced your thinking ?
Mao Xinyu] [:: I think my grandfather who influenced me most of the book, "China's revolutionary war strategy," "Contradiction", "Practice", and I think there are three "New Democracy", "On the Ten Major Relationships", "correctly handle contradictions among the people." Because these six works for me, my growth and ideas for the improvement of the theory, and research work has great influence. Because first of Chairman Mao's "two-theory" theory is based on China's revolutionary war strategy, this is not just a military book, not only is a summary of the Agrarian Revolutionary War lessons, is also a philosophy, talking about the methodology of Mao Zedong Marxism in China's most important works, a complete set of ideas theory.
Mao Zedong's philosophy is the practice of philosophy and Western philosophy is not the same, Mao Zedong's practice philosophy is the philosophy of changing the world, China is concerned, especially the "New Democracy" he solve our nation's semi-feudal China, how the old democratic over to the new democratic state. "On the Ten Major Relationships" for the current economic development of our country a more realistic guide, it is to break the Soviet Union, Mao Zedong's construction mode, in line with our national conditions to explore the road of socialist construction, great attempt. "On the Ten Major Relationships," is entirely based on the full investigation and study, combined with China's national conditions and the socialist road with Chinese-style guiding theory. Today, the elderly put forward in this brilliant book, "Ten Major Relationships," is still our socialist modernization action guidelines and methodology.
the elderly, "correctly handle contradictions among the people," the era of Mao Zedong Thought program works, not only elaborates on the basic contradictions of the great socialist doctrine, and the glorious people's democratic dictatorship proposed theory, especially Chairman Mao Zedong "correctly handle contradictions among the people," the book continues to talk about industrial prospects. So I think for us today in socialist construction, the Chinese revolution, strategic issues, these six articles always shining brilliant theoretical and methodological guidance.
[engaging beauty]: Can] [Xinyu, China Academy of Military Sciences Why create? ?
[Mao Xinyu]: from the Chinese Communist Party's history, Chairman Mao is a very focused study of military theory thinking with special emphasis on military theory construction and scientific and cultural academic, focusing on strengthening the armed forces more revolutionary, modern, knowledge-building. Chairman Mao led the Chinese revolution from the start of the war, his hands-on research issues of military theory, summed up the experience of war, wrote many immortal works of military theory. Also attaches great importance to the military establishment of military academies, military academies to train personnel to strengthen theoretical research as an important position. Founded back in Jinggangshan period of military schools, the military school to become a famous Kang Da Yan'an period, Kang Da is training for the Chinese Anti-Japanese War military and political talents and to strengthen military theory, strategic and tactical research. New China was founded, in the loving care and guidance of Chairman Mao, we set up a series of senior military military academy, except I just said the anti-Japanese Military and Political University, there Harbin Military Engineering Academy, Military Academy, Political Science, College of logistics, etc. . From now to see Chairman Mao is really far-sighted, with the modernization of our armed forces military academies have a large number of senior personnel, to form a number of important guiding theory, to speed up the modernization of our army has laid a theoretical foundation and talent.
Because of this, under the care of Chairman Mao, Academy of Military Science was established in 1958, Marshal Ye Jianying, as the first Dean of Academy of Military Sciences, Military Academy of very important work is to sum up China's Revolutionary War experience, research the people's army's war history, the development strategy of China's Revolutionary War to guide the theory and rules and regulations, so I think the establishment of Military Academy of the President wise strategic decision, it is very timely and necessary. Today, Academy of Military Sciences assumed the role of this glorious, is the Central Military Commission of the think tank.
Chairman Mao's hated patriarchal system lays down the law
[Ying Rong]: Xinyu comrades, your grandfather said, "people say, heaven will not down." How do you understand? Network is relatively free speech, do you think users cute?
[Mao Xinyu]: Our Party's fine style democracy and centralism, my grandfather Mao Zedong as a great man, as our party's leader, he always attached importance to give full play to democracy, so they proposed a flourishing, Flowers must form a lively atmosphere of democracy, had to listen to different views in order to improve our construction. Mao Zedong on the main full play to democracy, multi-channel listening to different views, we can CPPCC system, for example, the CPPCC organizations to be formed, Chairman Mao Zedong that the founding of New China that we engage in one-party Communist dictatorship, the Communist Party to other democratic parties a combined total of business affairs, corporate governance, our country, to play the enthusiasm of all parties, from the founding to the death of Chairman Mao has always supported, in favor of letting the parties speak freely and fully express their views, listen to the views of all walks of life, so brainstorming only then we do a good thing in China. Chairman Mao is the most hated patriarchal system of cadres, lays down the law, not fully democratic style. So in 1962, was held 七千人大会, the cadres of Chairman Mao said that if we do not promote democracy and become a loner, went to the point of Farewell My Concubine. And Chairman Mao in particular criticized the speech that the cadres are not high-handed style of people, the very image of Chairman Mao said, that 老虎屁股摸不得 it? Chosen to touch. So the President has said that he personally, airing, listen to various different ideas and views, to run our business, we create a lively party to the political situation.
[U.S. 2081]: Gentlemen, I heard that Mao Zedong Thought and domestic universities offer professional, you are also the Distinguished Teacher, what the main purpose of this professional setting is what? After the student employment go?
[Mao Xinyu]: Mao Zedong Thought is the result of a long-term practice of revolutionary war and the practice of building the new China has been proven in guiding the Chinese revolution and construction theory. Today, Mao Zedong Thought is still us the road of socialism with Chinese characteristics, a powerful ideological weapon and guide to action. Mao Zedong Thought is Marxism in China, history proves that only the Communist Party, socialism can save China, also, to be prosperous and powerful China, China's history to constantly move forward, we can only under the guidance of Mao Zedong Thought, our country and the nation continued to be prosperous and powerful. Mao Zedong Thought, Deng Xiaoping repeatedly stressed during his lifetime the banner can not be lost, and lost we will make big mistakes. If you lost this banner of Mao Zedong Thought, we are the cause of socialist construction the Party and the country is likely to face defeat.
This is now the University classes Mao Zedong Thought to be created inside the main theoretical basis in the current domestic and international situation, especially in contemporary Chinese youth, need to understand learning, Mao Zedong Thought, which is the University of Mao Zedong Thought, which opened the main purpose of specialized courses. Profound Mao Zedong Thought Mao Zedong Thought, wisdom can be applied to China's industries, including business, administrative work, to guide our research and business, including our military research and development, including health education, promotion of all aspects of the business, etc. item construction are inseparable from the guidance of Mao Zedong Thought. Contemporary youth and college students to learn and master Mao Zedong Thought is not just a solution to the problem of employment, but also about our personal destiny and the fate of the country's future development of the question.
innovation in the theory of Mao Zedong Thought, today we want to inherit and learn, which included Deng Xiaoping Theory and Three Represents, and General Secretary Hu Jintao put forward the scientific concept of development belong to the Mao Zedong Thought, we continue to inherit and carry forward the Mao Zedong Thought, to our cause from a victory party into another victory from victory to victory, from glory to glory.
Previous 1 2 3 Next