Home
»
International military
» Russian President said that the Arctic should become the main base of Russia's strategic resources
Russian President said that the Arctic should become the main base of Russia's strategic resources
Date:2011-09-03
Author:admin
Category:International military
Comment:0
Russian nuclear submarines have the capability in the Arctic. Data Figure: Russian Navy Oscar-class nuclear submarine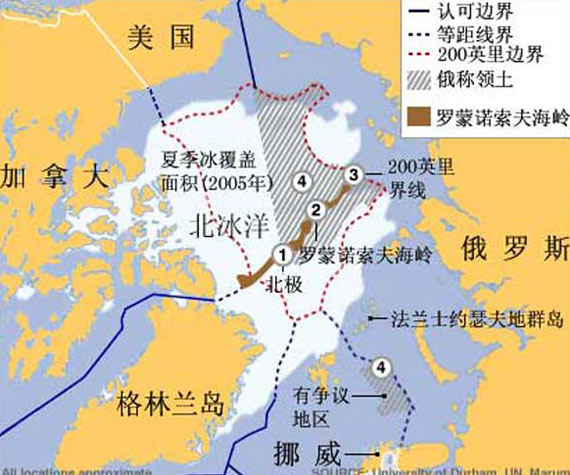 Data Figure: Arctic Arctic sovereignty of neighboring countries have advocated
China news agency, Moscow, September 17 (Reporter Tian Bing) – Russian President Dmitry Medvedev 17 here that the Arctic should be the twenty-first century Russia's main strategic resource base, Russia will step up efforts to develop the Arctic.
17, the Russian Federal Security Council approved on Russia in the Arctic 2020 years ago, the national policy framework and vision. Russian President Dmitry Medvedev and the Russian government authorized to be drawn up before 1 December of the Plan for Arctic development.
According to the official web site reports that the Russian president, Dmitry Medvedev, said at the meeting, the Russian National Security Council support for the improvement of the Russian state policy in the Arctic region, and ensure that Russia's national interests in the region and security and other critical direction.
Medvedev said, according to expert assessment, the Arctic continental shelf with the resources of the world's reserves, a quarter of all the continental shelf, "the development of these resources is the protection of Russia's overall energy security." A priority of Russia in the Arctic is a positive development of local natural resources, development of transport and border infrastructure construction. To this end, "must be on the shelf for the protection of Russia's national interests to provide security, reduce and Russia the Arctic compared to other regions in terms of level of development is not balanced state, while increasing efforts to protect indigenous peoples in northern Russia and ensure environmental safety requirements . "
Medvedev said: "It is no exaggeration to say that this region of strategic significance for our country and it's related to the development of long-term development mission to address national and global market competitiveness." He said that Russia is one of the initial phase of the mission and the establishment of full proof of Russia's activities in the Arctic a solid legal basis, first drafted and passed the southern border of Russia in the Arctic federal law, signed by Russia and the continental shelf outside the scope of the relevant international law .