Home
»
China military
» Network officially launched the war: the U.S. position of absolute dominance (Photos)
Network officially launched the war: the U.S. position of absolute dominance (Photos)
Date:2011-09-03
Author:admin
Category:China military
Comment:0
This is a shot in the field of Air Force network warfare command brochure. Xinhua News Agency reporter Zhang Yanshe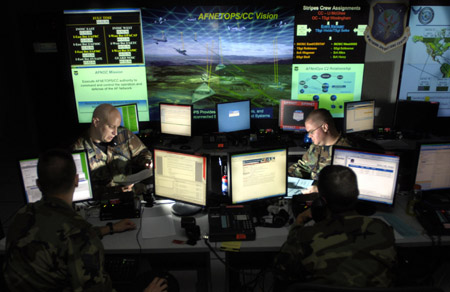 the inner workings of the U.S. Air Force Network Operations Command scene.
atomic bomb 64 ??years ago if the war had changed the form from the "Gulf War" to the Iraq war to let people see the seeds of war in space, now, I am afraid the world will not ignore another new term — cyberwar . In fact, last week, U.S. Defense Secretary Robert Gates ordered the setting up official "Cyber ??Command", the concept has clearly emerged.
the rapid progress of Internet technology to bring convenience to our lives, but the information revolution has also brought profound social change, because of its political, economic, cultural and military fields are becoming increasingly close, also making it available to Gonglue weapon. So to some extent, the system net power, but also become the sea, air, space supremacy in international competition after another important area.
the beginning of the rise of the Internet, take advantage of the Western network, it will be as different ideologies countries to ideological and cultural infiltration of tools, from Central Asia "color revolution" until the recent Iranian election crisis, are the shadow of a network attack. The formal establishment of the U.S. Cyber ??Command, is a landmark event, it means that war has a huge network of resources to the military, have begun to not see the smoke of this new form of war, officially put on the war agenda. No doubt, the military headquarters of the network function, will not be exclusively defensive, not only is the implementation of the "black" out of a few sites like pediatrics attack, but covers all aspects of the full range of combat strategy: for example, by attacking the opponent energy, communications, financial, military and other core network infrastructure, launch a "preemptive" attack; and rumors spread through the network for example, to create chaos in the domestic opponents, not fighting the enemy soldiers … …
fact , has been in Washington can be described as occupying the network society the right to speak. The core network system — most of the root servers in the United States by the U.S. administration, Microsoft and Google are almost control of the desktop and web content. However, its ability to seek hegemony and greater intentions did not stop. In the 1990s, the U.S. military began to network warfare research and practice. March 2005, the U.S. Department of Defense announced the "National Defense Strategy Report", more specifically the network space and land, sea, air and space is defined as the equally important need to maintain a decisive advantage in the top five U.S. space. This year, while rendering the network threat from China, while the establishment of the U.S. Cyber ??Command, is more prepared to strengthen the contention that the United States hegemony in cyberspace actions.
virtual network, the real fight is becoming a new battleground, Running with the game has entered the digital age. However, the network war is not a fun virtual games, history also reminds us that the emergence of any form of war, as they open a "Pandora's Box", its consequences may be far beyond our control. (Li-Qun Yang)