Home
»
China military
» Sino-Russian military exercises tank contrast: T80 Type 99 artillery missiles can be fired
Sino-Russian military exercises tank contrast: T80 Type 99 artillery missiles can be fired
Date:2011-09-03
Author:admin
Category:China military
Comment:0
PLA Type 99 main battle tanks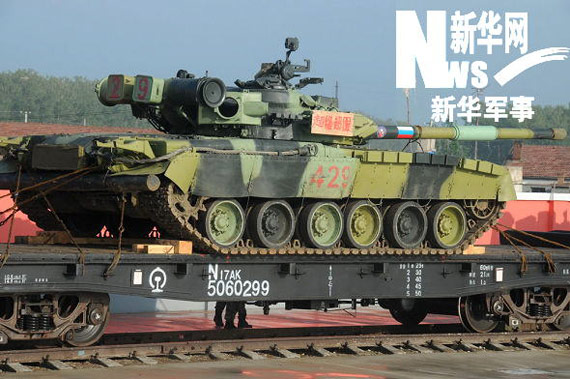 famous Russian T-80 main battle tanks. Xinhua reporter Li Yunshe
99 military tanks
with 99 main battle tanks in service, China began a third-generation tank history. 99 main battle tank is the overall performance of East Asia's most advanced main battle tanks. However, with the recent South Korea, Japan, introducing the newer main battle tanks, making the 99 main battle tanks of the technical advantages will be challenged.
99 main battle tank of the vehicle configuration and main battle tanks T-72 or less the same, the whole car a total of 3 crew. Licensed production of major weapons a Russian 125 mm smoothbore gun, equipped with T-72 tanks smoothbore gun of the same type 2A 46M, with self-loading machine, capable of launching anti-tank missiles, artillery, ammunition, base 41 made, usually 4 rounds anti-tank missiles, the Chinese claim that the Russian artillery in the production process than the original system, improved performance and maximum rate of fire of 8/min.
T-80 main battle tanks
T-80 series main battle tank is the extension of the former Soviet Union Branch Design Bureau developed, the beginning of large quantities of equipment 80 forces. After years of development, now has many improved T-80, such as: B, BV, U, UD, UM, UMl and so on. To 2004, serving various types of Russian T-80 tanks, about 3000. Which BV and U-type two up.
Its main weapon is a new 2A46M-1-type 125 mm smoothbore gun dual. In addition to this gun can fire conventional shells, but also advanced in the road between the launch of the "sniper" artillery missiles, tank shells were prepared by 45 various types of conventional hair, artillery missiles 6. Supporting arms are tied I 7.62 mm machine gun, one 12.7 mm machine gun, two types of weapons were sent and 300 rounds Beitan 2250. The engine is a platform 919 kilowatts of the GDT-1250 gas turbine. Maximum off-road speed 50 km/h, maximum travel 350 km.