Home
»
China military
» Third naval escort fleet set sail to Somalia waters today (Figure)
Third naval escort fleet set sail to Somalia waters today (Figure)
Date:2011-09-03
Author:admin
Category:China military
Comment:0
Video: Navy fleet ready to go third convoy Source: Xinhua, "Xinhua Video"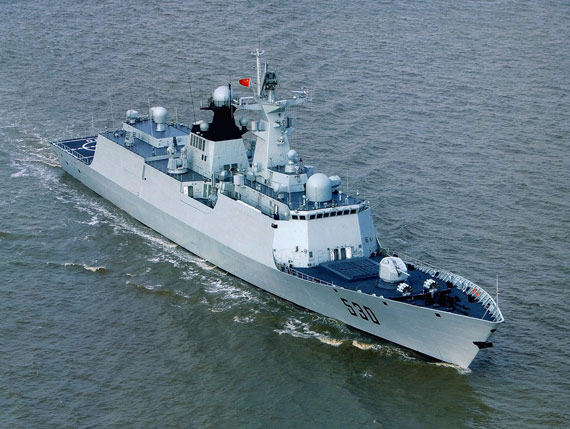 Data Figure: China's latest 530 054A-class, "Xuzhou" missile frigate

Data for: Zhoushan, East China Sea Fleet missile frigate 529 will go to Somalia to escort mission

Data Figure: China's Navy 886 "Lake" supply ship
BEIJING, July 16 (Xinhua) integrated reported that the Chinese naval fleet will be held today from third escort a military port in Zhoushan, Zhejiang, left, take over the Gulf of Aden off the Somali coast fleet carry out the second batch of escort missions.
third convoy commander of the formation, said Wang Zhiguo introduction of CCTV, the third installment of the domestic fleet by the latest missile frigate "Zhoushan", "Xuzhou", "Lake" comprehensive depot ship , and two ship-borne helicopters, and Navy special operations component parts. The formation of a total of 800 people.
as the third installment of this escort mission warships "Zhoushan" and "Xuzhou" are made of new missile frigates, the tonnage is relatively small. "Lake" comprehensive supply ship is designed and manufactured by China's second-generation offshore supply ship. It is high speed, seaworthiness, and can be accompanied by flooding, protect ships sailing fleet implementation of horizontal dry, liquid cargo supply, vertical replenishment liquid cargo, dry cargo helicopter vertical replenishment, but also on the sick and wounded early implementation of maritime medical treatment and evacuation mission .
the face of long duration, cross a large, complex environment, etc., third group will accept the more severe test.
Wang Zhiguo that, to the successful completion of all types of escort missions, escort fleet before departure basis of professional man has completed intensive training, unit training mission together, and the whole process simulation escort military exercise for the three stages of training. Of continuous day and night sailing, helicopter landing aid, marine supplies and other subjects for the exercise, various types of emergency response plans were revised and improved.
carry out the task during the third escort fleet, the ships will be organized regularly by the Hong Kong supply, to rest, and as appropriate to carry out friendly exchanges with foreign armed forces and actively participate in international humanitarian relief activities.
Earlier, the Chinese navy has sent two groups of convoy formation. The first convoy formation, including "Wuhan" and "sea" missile destroyer and the "micro-Lake" comprehensive supply ship; second convoy formation, including "Shenzhen" missile destroyer, "Huangshan" missile frigate, and continued perform escort missions, "Weishan Lake" comprehensive supply ship.
I am ready naval fleet escort third video
have _COUNT_ -bit user comments I want to comment
related Read:
Photos: China's Navy fleet ready to go to Somalia to escort third
Xuzhou, East China Sea Fleet Zhoushan No. No. Today, the new frigate to Somalia
Navy finished third escort fleet set off before the last exercise
third naval formation 16 will go to Somalia to escort mission
Rear Admiral: the third installment of the first escort mission times by the East China Sea Fleet take
third escort fleet of more than 800 people, including dozens of commandos
related topics: Chinese naval escort to Somalia waters