East Asia, South Korea's largest sea ship parade at China 112
Date:2011-09-03
Author:admin
Category:International military
Comment:0
South Korean Navy Aegis ship fleet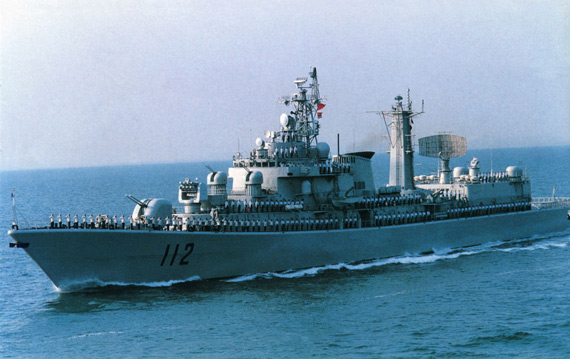 Chinese navy also sent the first" Harbin "destroyer participated in Korean naval parade. Data Figure: China's Navy 112 Luhu-class destroyer Harbin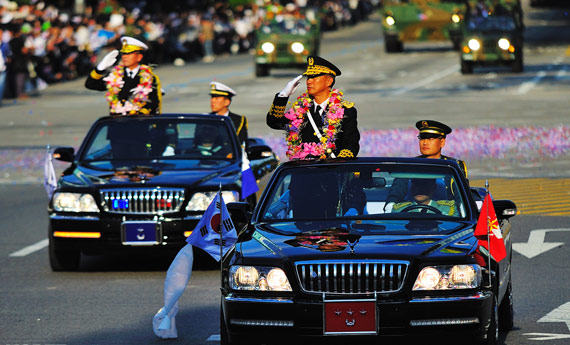 South Korea held a large military parade
published on October 6, according to the "Global Times" reported: from 12 countries participated in 50 naval vessels "international naval review," as recently Kyung Zhu Jianguo, and the climax of the 60th anniversary of founding. South Korean media reported that South Korea and East Asia which is the largest naval parade.
South Korea, "Chosun Ilbo" reveal "the international naval review" 5 day held in Busan, South Korea, to express concern about the US-ROK alliance, the U.S. sent by the "Washington" nuclear aircraft carrier, "the test, Peng Adams' missile cruiser, "McCain" destroyer and the "Buffalo," an extensive nuclear submarine fleet to participate in the marine parade. South Korean Navy's elite is out in force, 7600 tons of "King Sejong" Aegis destroyers, 14,500 tons of "Dokdo" was more than 30 landing craft and other vessels to participate in all the main vessels.
addition Japan's "Ring Wave" destroyer, the Russian "Saposnikov Marshal," the destroyer, the Indian "Ranjit" missile destroyers, the British "echo" number ocean exploration vessel , Singapore's "adherence to the" landing ship, Indonesia "Makassar" landing ship Navy and other countries attended the naval review. Chinese navy also sent the first "Harbin" destroyer participated.
"Chosun Ilbo" also describes that "the international naval review" will continue until 10, is the climax of the ceremony will be held at 7 by more than 50 warships and more than 30 aircraft participated in the marine parade. Participating warships in a row, the length will be more than two kilometers, which is South Korea's largest warship since the founding of the parade.
South Korea, "Central Daily" is also the 60th anniversary of founding of the 10 selected brand-name Korean weapons. This includes a range of 40 km of 155 mm K-9 self-propelled guns, K-21 infantry fighting vehicles, K-2 main battle tanks, K-11 composite rifle, KT-1 trainer, "Blue Shark" lightweight torpedo, " Bow "portable-to-air missiles," starfish "anti-ship missiles," basaltic "land-attack missiles, URC-700K military satellite communications systems. (Wang Yifeng)
. OtherContent_01 p {line-height: 23px; margin: 0px;} . Pb {} . pb textarea {font-size: 14px; margin: 10px; font-family: "Times New Roman"; background: # FFFFEE; color: # 000066}. pb_t {line-height: 30px; font-size: 14px; color: # 000; text-align: center;}/* page */. pagebox {overflow: hidden; zoom: 1; font-size: 12px; font-family: "Arial", sans-serif;}. pagebox span {float: left; margin-right: 2px; overflow: hidden; text-align: center; background: # fff;}. pagebox span a {display: block; overflow: hidden; zoom: 1; _float: left;}. pagebox span.pagebox_pre_nolink {border: 1px # ddd solid; width: 53px; height: 21px; line-height: 21px; text-align: center; color: # 999; cursor: default;}. pagebox span.pagebox_pre {color: # 3568b9; height: 23px;}. pagebox span.pagebox_pre a,. pagebox span.pagebox_pre a: visited,. pagebox span.pagebox_next a,. pagebox span.pagebox_next a: visited {border: 1px # 9aafe5 solid; color: # 3568b9; text-decoration: none; text-align: center; width: 53px; cursor: pointer; height: 21px; line-height: 21px;}. pagebox span.pagebox_pre a: hover,. pagebox span.pagebox_pre a: active ,. pagebox span.pagebox_next a: hover,. pagebox span.pagebox_next a: active {color: # 363636; border: 1px # 2e6ab1 solid;}. pagebox span.pagebox_num_nonce {padding: 0 8px; height: 23px; line-height : 23px; color: # fff; cursor: default; background: # 296cb3; font-weight: bold;}. pagebox span.pagebox_num {color: # 3568b9; height: 23px;}. pagebox span.pagebox_num a,. pagebox span . pagebox_num a: visited {border: 1px # 9aafe5 solid; color: # 3568b9; text-decoration: none; padding: 0 8px; cursor: pointer; height: 21px; line-height: 21px;}. pagebox span.pagebox_num a : hover,. pagebox span.pagebox_num a: active {border: 1px # 2e6ab1 solid; color: # 363636;}. pagebox span.pagebox_num_ellipsis {color: # 393733; width: 22px; background: none; line-height: 23px; }. pagebox span.pagebox_next_nolink {border: 1px # ddd solid; width: 53px; height: 21px; line-height: 21px; text-align: center; color: # 999; cursor: default;} Previous 1 2 3 4 5 6 7 8 Next