Home
»
China military
» Third of China's naval escort fleet set sail the Gulf of Aden (Photos)
Third of China's naval escort fleet set sail the Gulf of Aden (Photos)
Date:2011-09-03
Author:admin
Category:China military
Comment:0
Video: Navy third escort fleet left today Source: Xinhua, "Xinhua Video"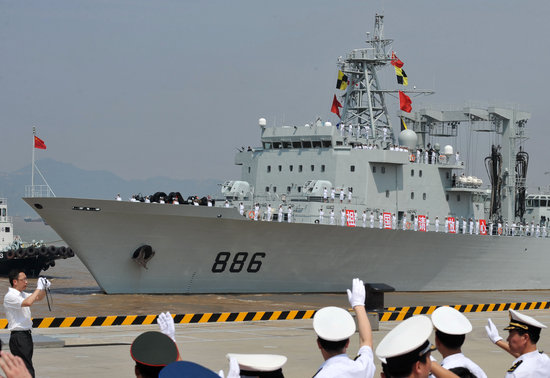 China East China Sea Fleet from the two missile frigates and a supply ship convoy consisting of the third installment of the starting formation from a military port in Zhoushan, the Gulf of Aden, Somali waters take over the escort mission execution. Photo: flying towards/CFP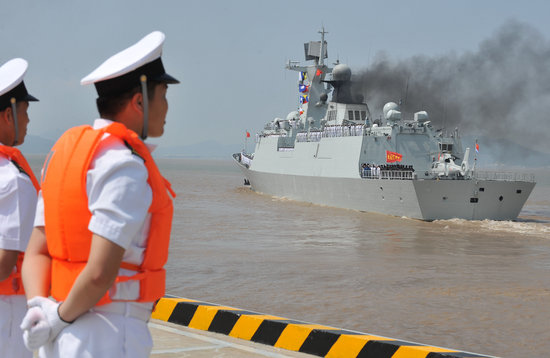 2009 年 7 16, Zhoushan, China's naval fleet escort the starting third. Photo: flying towards/CFP

entire fleet of more than 800 people, which includes dozens of naval commandos. Photo: flying towards/CFP
Zhongguang Wang July 16, Zhoushan, Zhejiang news (reporter Wang Liang, Xu Feng) the morning of July 16, the third batch of Chinese naval fleet escort the East China Sea Fleet from the naval port of Zhoushan sail, go to Gulf of Aden, Somali waters take over the implementation of the second Fleet escort escort mission, which marked the normalization of China's naval escort operations to run, there has been a new development.
navy political commissar Liu Xiaojiang farewell ceremony presided over the Central Military Commission member, attended the farewell ceremony, Navy Commander Wu Shengli and speech. Ministry of Foreign Affairs, Ministry of Transport, Zhejiang Province, the leadership of the four headquarters offices for staff to participate in a farewell ceremony.
Wu Shengli said in his speech, the escort mission is the State Council and CMC development to safeguard the interests of national security and to make major strategic decisions. Since December 26 last year, the Navy implementation of escort missions since the formation of the escort party and the people in mind, close coordination and continuous fighting. As has been the successful completion of 78 approved 432 foreign ships with escort ships and 121 foreign missions cover the region, rescued by pirates attacked foreign ships 5, for the effective protection and through the Gulf of Aden, Somali waters have made safe navigation of foreign ships outstanding contributions, to demonstrate my style of responsible power, showing the mighty army, civilized, peaceful army's image, showing the construction of the People's Navy brilliant achievements in the development and maintenance of a strong commitment to national development interests to party and the people to produce a qualified respondents, has won widespread international praise.
Wu Shengli said that the current Gulf of Aden, the Somali waters is still rampant piracy, bad weather changing sea, convoy operations face many new challenges, new tests. Officers and men of all tasks necessary to resolutely implement the Party Central Committee, the State Council's decision-making intention, always keep in mind the instructions of President Hu Jintao requirements, giving full play to our military "command of the Party and serve the people, heroic," the fine tradition, and strive to practice the "loyal party, love the people, serve the country, dedicated to the mission, respect honor, "the core values ??of contemporary revolution in military, with conviction, high morale, courage to meet all the challenges, determined to complete this escort mission, honors the 60th anniversary of the gift.
escort fleet from the East China Sea Fleet, the third installment of "Zhoushan" and "Xuzhou" two missile frigates and the "Lake" comprehensive depot ship, and two ship-borne helicopters and dozens of special warfare staff, the entire fleet of more than 800 people.
Navy escort fleet today left for the third installment of video
have _COUNT_ -bit user comments I want to comment
related Read:
HD Picture: Chinese Navy fleet set sail to Somalia to escort third
escort 78 Chinese naval fleet has approved 432 foreign vessels (Figure)
Photos: Navy escort fleet for the first time sent a third female staff
Photos: China's Navy fleet ready to go to Somalia to escort third
Rear Admiral : third escort mission for the first time by the East China Sea Fleet take
third escort fleet of more than 800 people, including dozens of commandos
related topics: Chinese navy escort to Somalia waters